Quentin Tarantino's 'Star Trek' Might Not Be R-Rated, Says Simon Pegg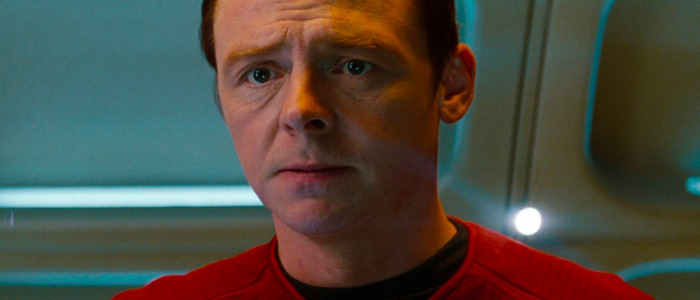 It's still hard to believe, but Quentin Tarantino is committed to making a new Star Trek film for Paramount. The Pulp Fiction filmmaker allegedly said he would only sign on to the film if Paramount approved an R-rating. But Star Trek franchise mainstay Simon Pegg says he knows some details about the Quentin Tarantino Star Trek Movie, and doesn't think it will be R-rated after all.
What's going on with Quentin Tarantino's R-Rated Star Trek movie? We're all still in a kind of disbelief that this is even happening, but Paramount wants to make Tarantino Trek a reality. News broke last year that Tarantino had pitched a Star Trek movie to J.J. Abrams, and Abrams dug the idea so much he convinced Paramount to set up a writer's room to hash-out Tarantino's idea. The plan is for Tarantino to direct the film after he finishes Once Upon A Time In Hollywood.
One of Tarantino's stipulations to Paramount was that his Trek film must be R-rated – a revelation that took several people by surprise. True, Tarantino has never not made an R-rated movie before. But do fans really want an R-rated Star Trek? If an R-rating is the one thing giving you pause about Tarantino's Trek, here's some potentially good news. Simon Pegg, who appeared in all three rebooted Star Trek films (and had a hand in writing the script for the recent Star Trek Beyond), says he's heard Tarantino's Star Trek idea, and doesn't think it will be R-rated after all.
Speaking with Hey U Guys, Pegg gave his thoughts on Tarantino's Trek and its potential R-rating:
"I don't think he's written an R-rated Star Trek script. I think what happened is he went to J.J. [Abrams] with an idea that he has had for a while – I remember he told us about it a long time ago. I think he told me and Edgar [Wright], about it a long time ago. He just put it to J.J. and J.J. is considering putting it into a writing room. We got an email just saying 'Guess who came in the office the other day!' So, I don't know much about it, other than the fact that it is sort of in the mix. So, we will see."
It's worth noting that Pegg says he heard about Tarantino's idea "a long time ago" – meaning some things could have changed since then. It's also worth noting that just because the story idea of Tarantino's Trek may not sound R-rated to Pegg, the final script – which will likely be written by Mark L. Smith – could turn out differently.
I'm sure we'll know more the closer Tarantino's Star Trek gets to production. For now, Tarantino is working on Once Upon A Time In Hollywood, which is due to hit theaters on August 9, 2019.