'Indiana Jones 5' Will Begin Filming In April 2019, Says Steven Spielberg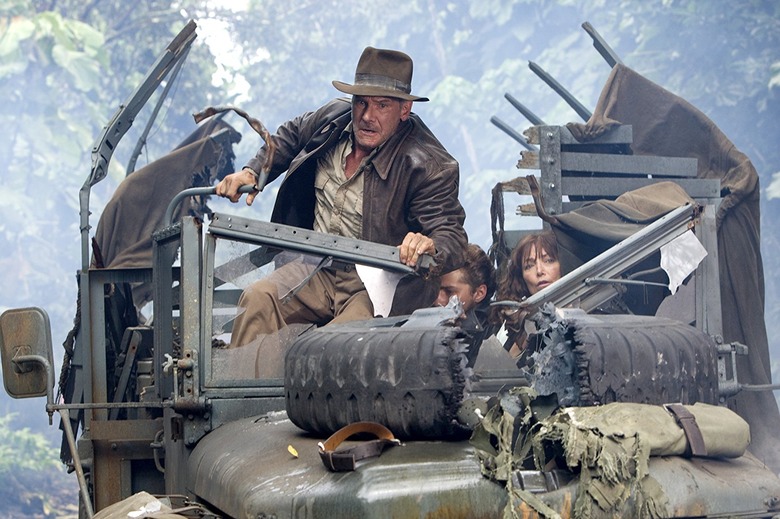 In the battle between West Side Story and a new Indiana Jones over which movie will capture Steven Spielberg's attention first, it looks like Indy won.
The Indiana Jones 5 filming start date has been set for April 2019, according to the acclaimed director. That will give Spielberg ample time to complete the film by its July 2020 release date.
Spielberg has wrapped up a whirlwind two years, with his Oscar-nominated The Post receiving critical acclaim in 2017 and the upcoming Ready Player One making waves at SXSW. But don't count on the 71-year-old director to take a break anytime soon.
Spielberg is already gearing up for his next big project. And while fans wondered whether that project would be his West Side Story remake or the long-awaited Indiana Jones 5, Spielberg has confirmed that Indiana Jones would be taking priority. Now, we know that Spielberg is planning to shoot Indiana Jones 5 as soon as next year.
In his acceptance speech for a special award at the Rakuten TV Empire Awards, Spielberg revealed that he plans to begin filming Indiana Jones 5 in April 2019 in the U.K. (via ComingSoon.Net):
"It's always worth the trip when I get to work with this deep bench of talent coming out of the UK. The actors, and the crew, the chippies, the sparks, the drivers — everybody who has helped me make my movies here, and will continue helping me make my movies here when I come back in April 2019 to make the fifth Indiana Jones movie right here."
Harrison Ford will return as our favorite whip-slinging archaeologist in the untitled Indiana Jones sequel. David Koepp is penning the script.
No plot details have been revealed for the film, though Spielberg promised one big thing to fans. "The one thing I will tell you is I'm not killing off Harrison [Ford] at the end of it," Spielberg told The Hollywood Reporter.
It's a reassuring promise after Ford's other most iconic character, Han Solo, saw his demise at the end of Star Wars: The Force Awakens. Many saw the fourth installment of Indiana Jones, 2008's Indiana Jones and the Kingdom of the Crystal Skull, as a sort of soft relaunch of the series, with young co-star Shia LaBeouf getting set up as Indy's heir apparent, but Koepp confirmed that LaBeouf's character won't appear in Indiana Jones 5.
So it will be up to Ford to carry on donning the fedora and whip. For how long, we can't be sure, though Disney CEO Bob Iger has suggested that Indiana Jones 5 won't be the last film in the franchise.
Indiana Jones 5 is set for a July 20, 2020 release date.