Shia LaBeouf To Play His Father In A Biopic About Himself; Lucas Hedges To Play Young LaBeouf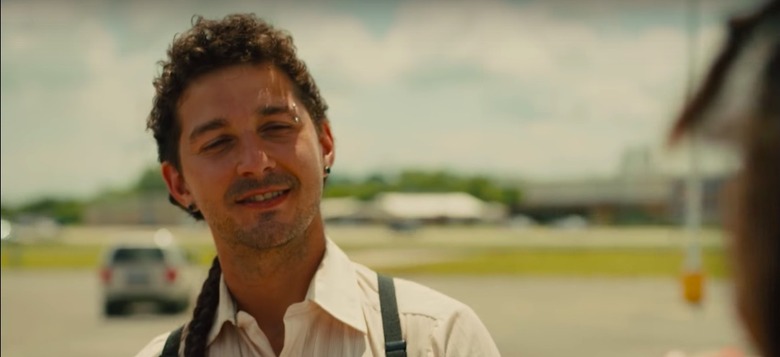 Shia LaBeouf will be starring in a Shia LaBeouf biopic, but he won't be playing himself. That honor goes to Lucas Hedges, who was nominated for an Oscar for Manchester by the Sea. Instead, in a casting twist that would have Freud in a tizzy, LaBeouf will be playing his own father.Honey Boy is a film based on LaBeouf's life that will detail the relationship between LaBeouf and his alcohol-abusing father during LaBeouf's Even Stevens years on the Disney Channel.
According to The Hollywood Reporter, Alma Har'el is set to direct Honey Boy, which will be loosely based on LaBeouf's tumultuous relationship with his father, a former clown performer and recovering heroin addict. The film will be told in a roman-a-clef style, changing the names of the characters and fictionalizing the real events of LaBeouf's life. The 21-year-old Hedges, who was last seen in Three Billboards Outside Ebbing, Missouri and Lady Bird, will play LaBeouf's character during his Even Stevens era.
LaBeouf co-wrote the script for Honey Boy under the pseudonym Otis Lort — a pen name that he revealed in a powerful Esquire cover story published this week. The title refers to the nickname that LaBeouf's father gave him.
The script landed on the Black List, which tracks the most popular unproduced scripts in the film industry. This is the description of Honey Boy according to the Black List:
"A child actor and his law-breaking, alcohol-abusing father attempt to mend their contentious relationship over the course of a decade."
LaBeouf has had a troubled relationship with his celebrity since his rapid rise to fame following Transformers and Indiana Jones and the Kingdom of the Crystal Skull in the mid-2000s, becoming known more for his red carpet stunts and clashes with law enforcement than his acting ability. However, the actor has made a critical comeback in smaller, auteur-driven indie films, delivering a tour-de-force performance in American Honey. Now, he's on the next step of his comeback.
It may seem odd and borderline narcissistic that LaBeouf's comeback involves a film based on his life. At 31 years old, how much life could he have lived? But in the Esquire profile (which I highly recommend you read in its entirety) gives a harrowing account of LaBeouf's troubled childhood, which was spent ping-ponging between 12-steps programs with his recovering drug addict father. In the interview, LaBeouf reveals that he struggles with PTSD from witnessing the sexual assault of his mother at a young age.
The profile also features LaBeouf speaking candidly about the state of his career, revealing, "I'm run out. No one's giving me a shot right now."
Honey Boy is being produced by Automatik's Brian Kavanaugh-Jones along with Christopher Leggett of Delirio Films and Daniela Taplin Lundberg of Stay Gold Features.