'Isle Of Dogs' Featurette: See The Work That Goes Into Creating These Very Good Dogs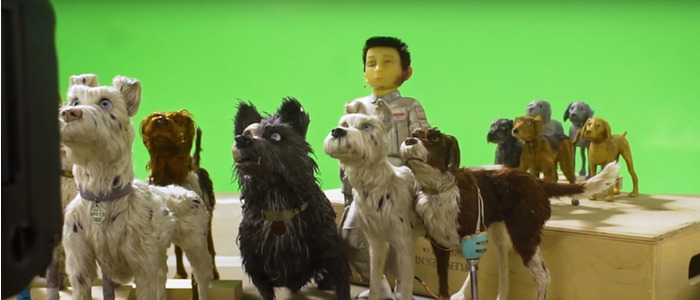 Wes Anderson's stop-motion Isle of Dogs wasn't easy to make. A whole team of animators worked obsessively to bring the detailed, animated world of the film to life. A new Isle of Dogs featurette takes you behind the scenes of Anderson's latest, and shows the meticulous work that went into creating these very good dogs.
I would very much like to see Isle of Dogs now, please and thank you. But I'll have to wait until the film shows up in my neck of the woods. For now, though, there's this delightful behind-the-scenes featurette that details all the exhausting-looking work that goes into creating a stop-motion animated film like this. It looks very frustrating, and meticulous, and potentially anxiety-inducing. But in the end, it's worth it to create something unique. Watch the featurette below.
Isle of Dogs Featurette
Just from watching this, I can confirm that I would never, ever want to be a stop-motion animator. I'm too impatient, and the key ingredient to stop-motion animation is time. It took a team of 27 animators and 10 assistants hours to create a simple on-screen movement for these characters, and it's not as simple as moving a limb or two here and there. The animators have to get an actual performance out of these puppets. As Mark Waring, head of animation, puts it in the video: "We're trying to get a performance out of these lumps of metal and rubber and silicone; they're inanimate objects, but we have to bring life to them."
The video also reveals that the personality of the actors playing the dogs was used to help create the characters. That cast includes Bryan Cranston, Edward Norton, Bill Murray, Jeff Goldblum, Kunichi Nomura, Ken Watanabe, Greta Gerwig, Frances McDormand, and many more.
My favorite part of this video is the reveal that the animators compiled "a database of dog action", attaching GoPro cameras to real dogs in order to better capture canine movement. I sincerely hope that dog database is included on the eventual Isle of Dogs Blu-ray, because I will watch the hell out of it.
Isle of Dogs opens in select cities March 23, 2018.
ISLE OF DOGS tells the story of ATARI KOBAYASHI, 12-year-old ward to corrupt Mayor Kobayashi. When, by Executive Decree, all the canine pets of Megasaki City are exiled to a vast garbage-dump called Trash Island, Atari sets off alone in a miniature Junior-Turbo Prop and flies across the river in search of his bodyguard-dog, Spots. There, with the assistance of a pack of newly-found mongrel friends, he begins an epic journey that will decide the fate and future of the entire Prefecture.