'Clarissa Explains It All' Reboot Starring Melissa Joan Hart In The Works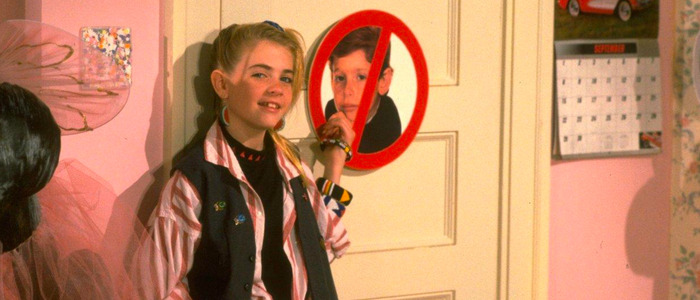 Everything old is new again! Nickelodeon is currently working on a Clarissa Explains It All reboot, with original star Melissa Joan Hart set to return. Clarissa's annoying brother Ferguson could not be reached for comment.
Remember Clarissa Explains It All? It's back, in reboot form. The Wrap reports Nickelodeon is eyeing a Clarissa reboot, and they plan to bring original star Melissa Joan Hart back. Original series creator Mitchell Kriegman is also in talks to write and executive produce.
The original series ran from 1991 to 1994 on Nickelodeon. Hart starred as as Clarissa Darling, a fourth-wall-breaking teen who lives with her parents and her annoying brother Ferguson. Occasionally, her best friend Sam would climb into Clarissa's bedroom window via a ladder to the tune of the same guitar riff every time. Even though I watched the show religiously as a youth, I honestly can't remember a single storyline for the show. Go figure. Here's a vintage promo for the show, featuring a scene involving worms!
Clarissa Explains It All
Clarissa Explains It All was one of the very first sitcoms on Nickelodeon. At the time Kriegman pitched the show to Nick, the network primarily ran game shows like Double Dare. The only other sitcom they featured was Hey Dude. "[Nickelodeon Program Manager] Gerry Laybourne had done a ton of studies with an ad agency about the potential audience," Kriegman said. "[S]he was really developing her philosophy, which had a lot to do with the network being on the side of the kid, rather than, say, on the side of the toy company. It would be really pure in its intentions—the shows had to be what kids wanted, instead of what adults wanted. It was a bit of the anti-Disney at that time."
The new Clarissa will feature Hart's character as a mom. This sounds like the latest attempt to drum up some TV nostalgia. Some others:
Netflix launched a Full House reboot/revival in the form of Fuller House, which featured the young characters from the original series all grown up with families of their own.
Netflix also brought back Gilmore Girls in the form of Gilmore Girls: A Year in the Life. 
After being cancelled for years, Fox brought back The X-Files, with mixed results.
NBC relaunched the sitcom Will and Grace last year.
A Roseanne revival will debut later this month.
And of course, David Lynch brought Twin Peaks back in the form of a weird, wonderful Showtime series.
A rebooted Clarissa isn't the worst idea, I suppose. And bringing Hart back is a nice touch. Interestingly enough, Sabrina the Teenage Witch, another character Hart played on TV, is getting an all-new take courtesy of Netflix. Perhaps Netflix can talk Hart into appearing there as well.