Steven Spielberg Explains His Love Of Nostalgia, Teases Doc Featuring His Fellow New Hollywood Legends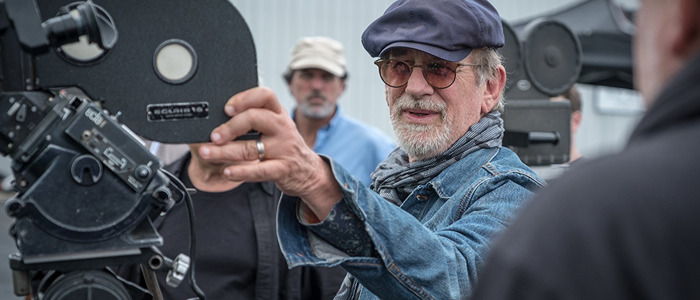 My biggest worry about Steven Spielberg's Ready Player One was that the film might sink under the weight of the sheer number of pop culture references it needs to juggle in order to be accurate to Ernest Cline's 2011 novel. While there are still plenty of references to be spotted, Spielberg thankfully manages to keep the film afloat amid all of its nostalgia.
But much of Spielberg's career has been devoted to the idea of nostalgia in one way or another. Whether it's making movies that remind us of being children, paying homage to adventure serials of days long past, or depicting bygone time periods in which characters make the right choices against all odds, Steven Spielberg may be one of the most nostalgic filmmakers working today. (Though he's never been afraid to push the envelope when it comes to utilizing technology in his movies).
/Film caught up with The Beard at the Ready Player One press junket and asked him about his relationship with nostalgia, and during his answer, Spielberg teased the possibility of one day releasing a documentary about his days with fellow New Hollywood filmmakers Francis Ford Coppola, George Lucas, Martin Scorsese, and Brian De Palma.
Since Ready Player One is basically a love letter to the 1980s, I asked Spielberg about his relationship with nostalgia and how it might have changed over the years. Amblin's official Twitter account captured the first portion of his answer, so you can check out the video (and the rest of his answer) below.
"That's a great question because I have the most intimate relationship with nostalgia. And it's based on the fact that from when I was twelve years old, eleven years old, I started taking 8mm movies of my family on camping trips when I was a kid growing up in Arizona. When videotape came in, I started taking videotapes. And then I started taking my 8mm sound movie camera when I was hanging around with Coppola and Lucas and Scorsese and De Palma, and that whole group, back in the '70s. I've got something like 60 hours of footage of all us growing up and making movies together, which someday might make an interesting documentary. If I can get the rights to any of these guys – probably 80% of the footage, they would not want released!
Today in my life, I do all the videos of my family growing up, and what we do every single year is, I have a really great editor, Andy, in our office. He cuts together the whole year in the life of my family. All of my children, my grandchildren, and we have little screenings. It's called the annual family video. So I basically live in nostalgia, and that might be the main reason I reacted so positively to Ernie [Cline]'s book and Zak [Penn]'s script. Because I'm living that way most of my life."
It's worth noting that last year, HBO produced a documentary about Spielberg (called, appropriately, Spielberg), and while that featured some behind-the-scenes footage of this merry band of upstart filmmakers in the prime of their lives, it sounds like the director has much more where that came from in his own personal archives. Does anyone have a useless online petition I can sign in the hopes of one day convincing him to make this happen?