'Ready Player One' Almost Had Another Classic Movie Reference, But Spielberg Axed It [Updated]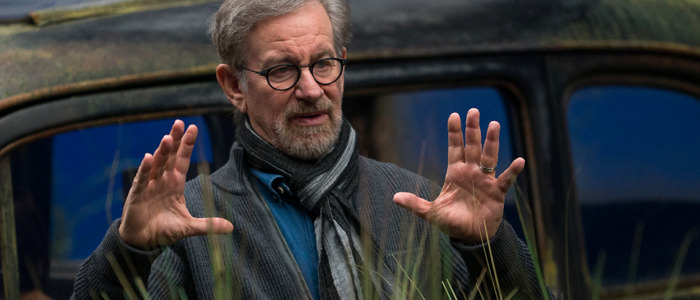 Update: In a new interview, Steven Spielberg clarified his comments about being able to secure rights to Star Wars franchise so he could reference it in Ready Player One. Our original article follows, as well as video of Spielberg explaining how Lucasfilm cooperated after all.Ready Player One is jam-packed with references to the pop culture of yesteryear, but an early version of the script featured a huge shout-out to a certain 1977 sci-fi classic which director Steven Spielberg ended up cutting out. And it may not be from the movie you're thinking about. Discover the story about the one big Ready Player One reference that was abandoned, and learn which huge film franchise Spielberg and his team could not secure the rights to below.
I had the chance to attend the film's press junket in Hollywood yesterday, where Spielberg, the cast, and writers Zak Penn and Ernest Cline were on hand to answer questions from a small crowd of journalists. The panel was asked to explain which of the movie's pop culture references resonated with them the most, and Penn's answer led to an interesting reveal: the spaceship from Spielberg's Close Encounters of the Third Kind almost found its way into the movie.
Penn: The spaceships [are my favorite]. I really like that there's the Galactica. The ship from Silent Running, which I think Steven was the one who pointed it out, and I was like, 'Oh my God, of course! The Silent Running ship!' Because you wouldn't let us put in the mother ship from Close Encounters, which I had originally –
Spielberg: There comes a point when I would have had to just refer to somebody else who liked my movies and not make a movie about my movies. I let a couple of little iconic characters in from my films – especially the DeLorean, which came from the book directly – but otherwise, there were a lot of things we could have put in but didn't.
Penn: Oh yeah, and if I could just say because it'll never see the screen, I had this joke about parking the mother ship and how difficult it would be. I don't blame Steven for [cutting it], I didn't know Steven was going to be directing the movie when I wrote it!
***
Back in 2016, we learned the director had removed many of the references to his own films from Ready Player One, but now we're slowly starting to learn exactly what those references were. The Close Encounters mother ship might have read as a huge neon sign that said, "Look at me!" Since there are still a few classic Spielbergian references that ended up in the final cut, leaving this one out was probably a wise move.
Turns Out Lucasfilm Cooperated After All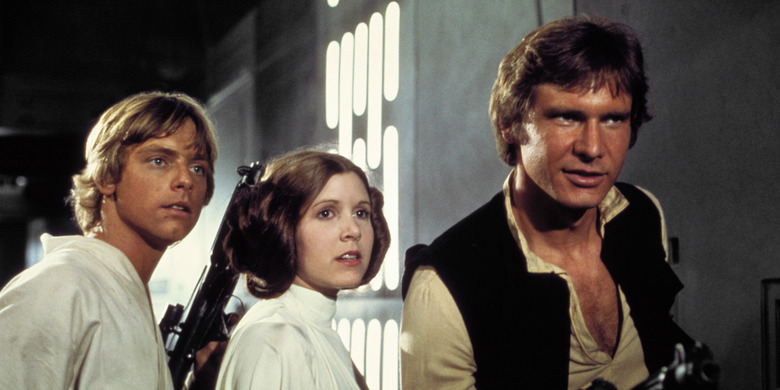 Update: In this video interview, Spielberg explains that, despite his earlier comments, he was able to secure the rights to Star Wars for Ready Player One:
EXCLUSIVE: Contrary to reports spreading now, Disney did let Steven Spielberg use #StarWars in #ReadyPlayerOne. Here, Spielberg explains to me how they snagged IP rights from all the studios and what STAR WARS Easter Eggs to look for in the new film, in theaters 3/29 pic.twitter.com/LslVQP1iCv

— Erik Davis (@ErikDavis) March 16, 2018
That's very strange, because here's what Spielberg said at the press conference when asked about how he managed to secure the rights to the film's plethora of pop culture properties:
Spielberg: Is [producer] Kristie Macosko up here? Kristie spent three years with all of the Warner Bros. legal people getting the rights to all of the – and we couldn't get all of them. We couldn't get any Star Wars rights. Very hard – they wouldn't give up the Star Wars rights.
Ben Mendelsohn: Could have called me on that one, Steve. (everyone laughs)
Spielberg: It took three years, Kristie, right?
Macosko: Yes. Weekly phone calls.
***
I'm not sure why he would offer that Star Wars comment (totally unprompted, by the way – no one mentioned Star Wars except him), only to backtrack on it a little while later. I thought it was strange that he wouldn't be able to secure these rights from Lucasfilm president Kathleen Kennedy since they had such a long working relationship (Kennedy produced a ton of Spielberg's movies, going all the way back to E.T.), but it turns out he was able to get what he needed after all.
In addition to the hidden R2-D2 and an X-Wing, there is one Star Wars reference in Ready Player One. I won't reveal it here, but it's spoken out loud, and you can't miss it.
Ready Player One hits theaters on March 29, 2018.