Shout! Factory Acquires Roger Corman's Library Of 270 B-Movies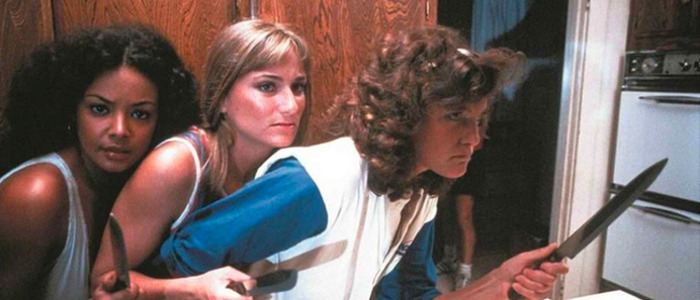 Shout! Factory has snapped up the rights to 270 films from B-movie master Roger Corman. This deal will enable Shout! Factory to not only redistribute the films on Blu-ray, but also reboot certain titles into new films. Time for the million dollar Slumber Party Massacre reboot! More on the Shout! Factory Roger Corman Library deal below.
Roger Corman is a legend. He's produced over 350 films and directed 60 others, and spent his career giving young talent their first big break in filmmaking. Jack Nicholson, Francis Ford Coppola, Robert De Niro, Martin Scorsese, James Cameron, Ron Howard, Peter Fonda, Jonathan Demme, Gale Anne Hurd, Joe Dante, and many more all got their starts at Corman's B-movie school. Corman's films were shot fast and cheap, yet their influence on the world of movies is immeasurable.
Now, Corman's New Horizons Picture Film Library has found a new home with home video company Shout! Factory. Shout and China-based Ace Film HK Company Limited (ACE) have purchased Corman's library, which encompasses 270 films an action sci-fi TV series. The deal grants Shout! Factory all rights to library, which includes films like Rock'N'Roll High School, Battle Beyond the Stars, Piranha, Galaxy of Terror, Bloodfist, Black Scorpion, Eat My Dust!, Humanoids from the Deep, Slumber Party Massacre, and Forbidden World.
Shout! Factory has made a name for themselves with boutique Blu-ray releases of cult classics as well as horror films through their off-shoot Scream! Factory. This is a great deal for Shout, because it gives them the opportunity to redistribute Corman's library on Blu-ray. But Shout is also trying to grow their brand beyond home video, and this deal will benefit that as well. Per the press release for the deal, Shout! Factory plans to also use the library to develop new content, including remakes, merchandise and more. Some of Corman's properties have already been remade – Piranha, for example. But there are numerous titles that would be ripe for remake as well – although I doubt any expensive remake will have the B-movie charm of the original.
Shout! Factory issued the following statement about the deal:
"We've been huge fans of the Cormans. Their great ingenuity and independent spirit have inspired us throughout our careers. We've loved working with them over the last 8 years and are thrilled to now be the custodians of these beloved films, making sure that film buffs and fans everywhere discover them like we did."
Roger and Julie Corman issued a statement of their own:
"During the past decade our personal and professional relationships with Shout! Factory's Bob Emmer, Richard and Garson Foos, and Ace Film's Henry Luk and Adam Yuchen Ren have shown us that their independent, entrepreneurial spirit, respect for our work and creative methods of distribution and production make them especially well-suited to carry on with the New Horizons film library."
As a Corman fan, I'm very excited about this. I don't know how I feel about the remake concept, but the idea of having Corman's library redistributed on Blu-ray via Shout! Factory is like a dream come true. (Yes, I'm one of those weirdos who still buys physical media. Speaking of which, read my latest Blu-ray column here!)
If you're looking for more info on Corman and his career, I highly recommend the in-depth interview he did with filmmaker Mick Garris. Check it out below.
Roger Corman Interview Part 1
Roger Corman Interview Part 2
Roger Corman Interview Part 3
Roger Corman Interview Part 4