Amazon's 'Good Girls Revolt' Brought In So Few Subscribers, Each New Customer Cost $1560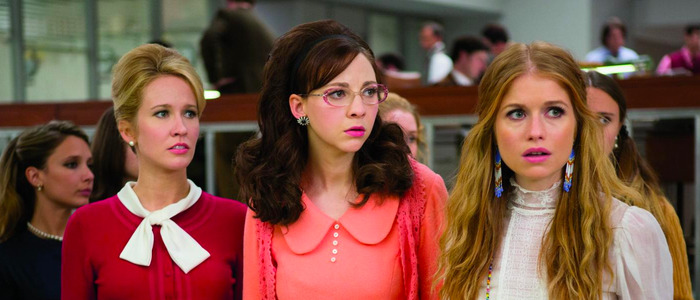 Despite generally positive reviews, Amazon cancelled their series Good Girls Revolt less than two months after it premiered. Stories of behind-the-scenes trouble with Amazon's former head of drama and comedy were cited as the death knell for the series, along with poor viewership. Now a newly released report reveals just how poor that viewership was.
Critics liked Good Girls Revolt, and the show's positive message of gender equality was rightfully lauded – and just the sort of thing we need more of on TV. Yet the viewership just wasn't there. Reuters has a new report on Amazon's internal numbers on Prime Video, and the numbers for Good Girls Revolt left a lot to be desired. Per the report, Good Girls Revolt "had total U.S. viewership of 1.6 million but cost $81 million, with only 52,000 first streams worldwide by Prime members...The program's cost per new customer was about $1560, according to the documents." For contrast, here's a chart Reuters ran to show their other show's "cost per first stream."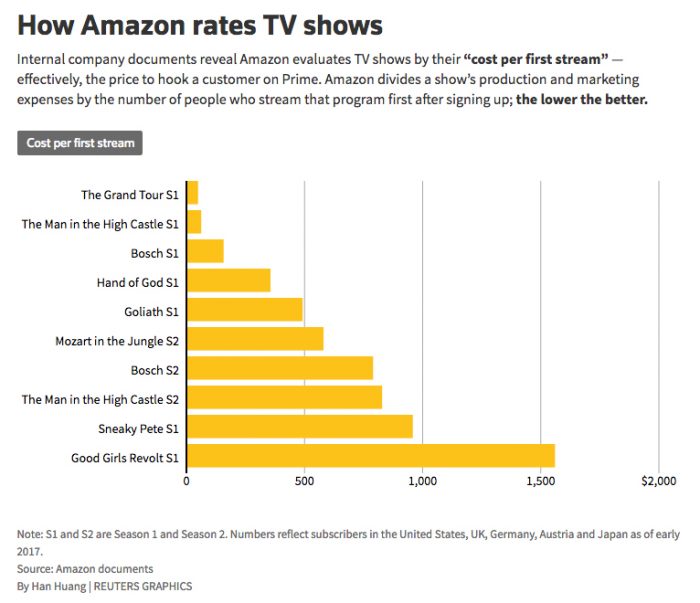 Good Girls Revolt
While those viewership numbers for Good Girls Revolt are damning, there were other issues at play as well. Good Girls Revolt creator Dana Calvo told THR that internal leadership at Amazon was to blame for the show's cancellation. Per Calvo, former Amazon Studios head Roy Price – who resigned from the company following a claim of sexual harassment – never gave the show a chance. "What we hadn't factored in is that [Amazon Studios head] Roy Price just doesn't care for the show," said Calvo. "He's representative of the Amazon culture in that he's just impenetrable."
Price allegedly took very little interest in the show, claiming it wasn't worth paying much attention to because it wasn't an "awards contender." Calvo added: "All I know is that in the [season two] pitch, he asked us to refer to the characters by the actors' names because he didn't know the characters' names."
Calvo went on to say:
"The Amazon corporate culture that everyone knows is a tough one, and it's not a great place for creatives. They run some people out."
In the end, it looks like a combination of Amazon's disinterest mixed with less-than-desirable viewership killed off Good Girls Revolt. As the chart above shows, Sneaky Pete, the second lowest-rated show on the lineup, still brings in considerably better numbers than Good Girls. The most effective of the pack, however, is The Grand Tour, a British motoring series.
Amazon has big plans for the future. They spent a ton of cash for the rights to a Lord of the Rings series. As Reuters reveals, The Lord of the Rings series "cost triple what Amazon paid for The Man in the High Castle seasons one and two, the documents show. That means it would need to draw three times the number of Prime members as The Man in the High Castle for an equal payoff." Good luck with that, Amazon.