New 'Solo' Posters Show Off The Cast, Avoid Ripping Off Album Covers This Time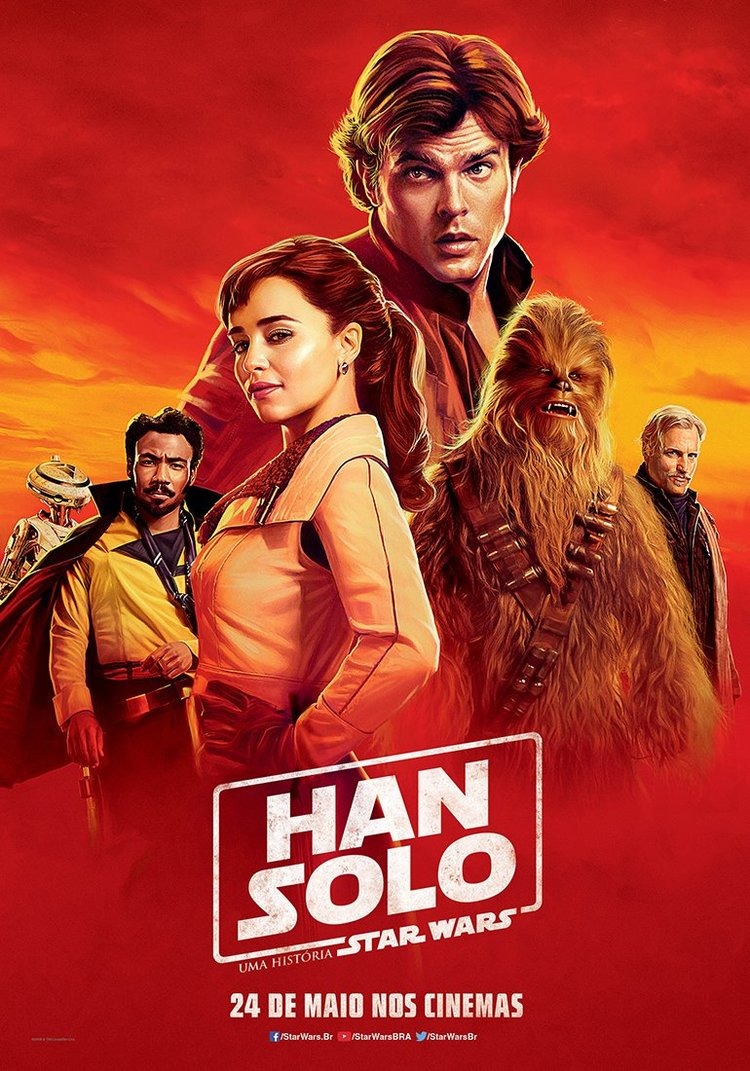 The Solo: A Star Wars Story posters continue their trend of giving off a funky pop-punk vibe with the latest international character posters. But this time, they won't run the risk of plagiarism.
You may remember when the Lucasfilm marketing department came under fire for allegedly lifting the artwork for the first batch of Solo posters from album covers created by French artist Hachim Bahous. While Disney hasn't yet responded to the accusations, the Solo marketing campaign has rolled out a new set of international posters.
The character posters feature Han (Alden Ehrenreich), Chewbacca, Lando (Donald Glover), and Qi'ra (Emilia Clarke).
Solo Posters
The posters still reflect the sunny, fresh vibe of the first posters, but without the shadow of possible plagiarism hanging over it. Maybe Disney is testing out these character posters in the international market before rolling them out Stateside to replace the initial one-sheets.
I like the consistent, eye-catching color schemes for each character, and how indicative it is of their personalities. The cool, regal purple of Qi'ra, the icy glamor of Lando, and the red-hot passion of Han Solo. It's all a bit on-the-nose, but so fun.
I wish we could get posters for Woody Harrelson's Beckett and Thandie Newton's Val as well, but maybe their characters need to remain veiled in mystery until the film's release in May.
Solo: A Star Wars Story was directed by Ron Howard, and also stars Thandie Newton, Phoebe Waller-Bridge, Woody Harrelson, Joonas Suotamo, and Paul Bettany.
Here is the official synopsis for Solo: A Star Wars Story:
Board the Millennium Falcon and journey to a galaxy far, far away in Solo: A Star Wars Story, an all-new adventure with the most beloved scoundrel in the galaxy. Through a series of daring escapades deep within a dark and dangerous criminal underworld, Han Solo meets his mighty future copilot Chewbacca and encounters the notorious gambler Lando Calrissian, in a journey that will set the course of one of the Star Wars saga's most unlikely heroes.
 Solo: A Star Wars story hits theaters on on May 25, 2018.