Now Stream This: A Stephen Hawking Documentary, '80s Action, International Horror, 'Power Rangers' And More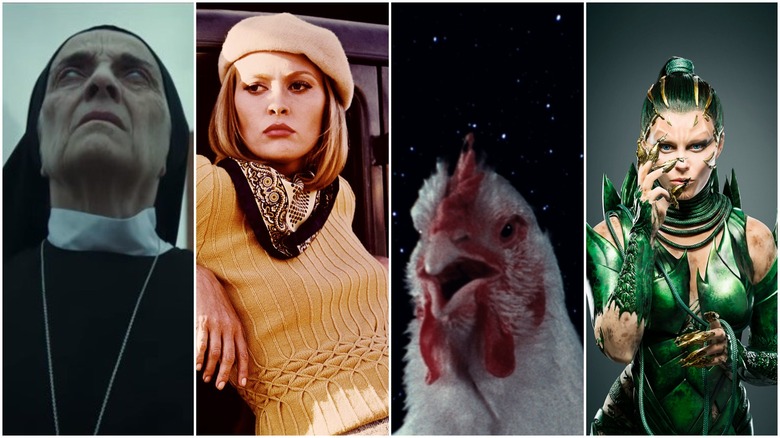 (Welcome to Now Stream This, a column dedicated to the best movies streaming on Netflix, Amazon, Hulu, and every other streaming service out there.) 
Greetings, streamers. Now Stream This has returned from an expedition from the uncharted lands of your favorite streaming services to bring you back a rich bounty of recommendations. In this edition of Now Stream This, we have a Stephen Hawking documentary, a scary-as-hell international horror movie, an influential classic, a surprisingly clever thriller, a gothic vampire film, a raunch comedy, an '80s action movie, a chilly British ghost story, and, believe it or not, Power Rangers.
These are the best movies streaming right now. Let's get streaming.
1. A Brief History of Time
Now Streaming on FilmStruck
Release Date: 1991Genre: DocumentaryDirector: Errol MorrisCast: Stephen Hawking
Physicist Stephen Hawking died this week – a brilliant man exiting an increasingly dumbed-down world. Hawking was diagnosed with ALS at the age of 21, and doctors expected him to only live for another 2 years after the diagnosis. He ended up living for 55 years instead. Hawking enjoyed a pop-culture infused popularity, appearing on The Simpsons, Star Trek and more. He even got his own weepy biopic, the mostly-bland The Theory of Everything. But the ultimate Hawking film is Errol Morris' documentary A Brief History of Time. The title comes from Hawking's 1988 book. Yet while Hawking's book is about cosmology, Morris' film is about Hawking's remarkable life. Featuring a haunting score by Philip Glass, A Brief History of Time is a must-see for anyone curious to learn more about the late, great Stephen Hawking.
For fans of: The Thin Blue Line, The Fog of War, Wormwood, the age old question: which came first, the chicken or the egg?
Now Streaming on Netflix
Release Date: 2017Genre: International HorrorDirector: Paco PlazaCast: Sandra Escacena, Bruna González, Claudia Placer, Iván Chavero, Ana Torrent, Consuelo Trujillo
You want to see something scary? Check out the nerve-jangling Veronica, now streaming on Netflix. This Spanish horror movie from Paco Plaza, one of the director's of REC, uses a somewhat familiar haunting/possession-style storyline, and then ramps it up to 11 with style and genuinely creepy moments. During a solar eclipse, high schooler Veronica (Sandra Escacena) uses an Ouija board to contact her dead father. As anyone who has ever seen a horror movie can tell you, using an Ouija board is always bad news. Soon, Veronica is plagued with terrifying visions and fears for her life, the life of her young siblings. There's nothing really new here in terms of subject matter, but Plaza's direction is so assured, and so attuned to creating maximum terror, that the film works like gangbusters.
For fans of: The Exorcism of Emily Rose, The Conjuring, Ouija: Origin of Evil, sleeping with the lights on.
Now Streaming on FilmStruck
Release Date: 1967Genre: Crime-DramaDirector: Arthur PennCast:  Warren Beatty, Faye Dunaway, Michael J. Pollard, Gene Hackman, Estelle Parsons, Denver Pyle, Dub Taylor, Gene Wilder, Evans Evans
In 1967, Arthur Penn's Bonnie and Clyde brought the aesthetic of the French New Wave to Hollywood. Warner Bros. founder Jack Warner hated the film, and didn't understand what the hell the point of it all was. He wasn't alone – screenwriters David Newman and Robert Benton spent years trying to get their script made, with one producer after another telling them no one would be interested in watching a film about two criminals. Eventually, the film got made, and while some critics were cold toward the film, a lengthy essay by Pauline Kael singing Bonnie and Clyde's praises helped turn the tide. Now, Bonnie and Clyde is regarded as an influential class; a post-modern crime pic with Warren Beatty and Faye Dunaway falling in love, knocking over banks, and racking up a body count in the process. The word "masterpiece" gets used far more often than it should, but Bonnie and Clyde earns that distinction, and then some.
For fans of: The Wild Bunch, Jules and Jim, Badlands, Natural Born Killers, unexpected Gene Wilder cameos.
Now Streaming on Netflix
Release Date: 2015Genre: ThrillerDirector: Joel EdgertonCast: Jason Bateman, Rebecca Hall, Joel Edgerton
Actor Joel Edgerton made his directorial debut with this surprisingly effective thriller. In perhaps one of the most clever bits of casting in recent memory, Edgerton hired the usually likable Jason Bateman to play a smug, condescending guy whose past comes back to haunt him. Bateman's character and his wife (the always underrated Rebecca Hall) move to a new house, and run into Gordon (Edgerton), an old high school classmate of Bateman's character. From there, Gordon begins to insert himself into Bateman and Hall's lives, with unsettling results. At first, this looks like a simple domestic thriller, with a happy couple's lives upended by a stalker. But Edgerton's script is sharp as hell, and takes the audience into entirely unexpected territories.
For fans of: The Hand that Rocks the Cradle, Unlawful Entry, Creep, running into old friends.
Now Streaming on Amazon Prime Video
Release Date:Genre: Silly-Yet-Fun-ActionDirector: Dean IsraeliteCast: Dacre Montgomery, Naomi Scott, RJ Cyler, Becky G, Ludi Lin, Bryan Cranston, Bill Hader, Elizabeth Banks
Alright, look. I avoided Power Rangers when it hit theaters last year. I did not grow up watching Power Rangers, and I have no attachment to the show. I also thought the trailers for the film made it look kind of...terrible. But multiple people told me time and time again that it was surprisingly fun. Still, I avoided it. Then, this month, Power Rangers appeared on Amazon Prime Video. I finally gave it a shot. And guess what? I enjoyed it. I won't sugarcoat things: this is a bit of a stupid movie – the script is choppy, taking ridiculous short-cuts to get from scene to scene. But Dean Israelite directs the hell out of this thing, and the cast playing the Rangers – Dacre Montgomery, Naomi Scott, RJ Cyler, Becky G, Ludi Lin – are all likable in their own specific ways. The real draw here, though, is Elizabeth Banks, who is gloriously over-the-top playing the film's gold-loving villain Rita Repulsa. There are times when Banks seems like she's in a completely different movie, and while that might sound distracting, it's actually a lot of fun. The story is by-the-book: a bunch of teen outcasts get superpowers and have to save the world. Whatever. Don't go into Power Rangers looking for a smart plot. Go into the film looking for a surprisingly entertaining action flick featuring a gonzo villain performance.
For fans of: The Breakfast Club, Chronicle, Pacific Rim, Robot Jox, Krispy Kreme Doughnuts.
Now Streaming on Shudder
Release Date: 1992Genre: Gothic HorrorDirector: Francis Ford CoppolaCast: Gary Oldman, Winona Ryder, Anthony Hopkins, Keanu Reeves, Richard E. Grant, Cary Elwes, Billy Campbell, Sadie Frost, Tom WaitsDracula has been adapted to the screen hundreds of times, yet Francis Ford Coppola actually found a way to make the story seem fresh. For one thing, Coppola's 1992 Bram Stoker's Dracula is closer to Bram Stoker's novel than any other adaptation. For another, Coppola loads the film with hundreds of mind-blowing in-camera effects, creating a visually stunning experience. This is a lush, gothic melodrama, rich with swooning moments and torrents of blood. Gary Oldman is Count Dracula, who ends up in England to prey on Winona Ryder. Meanwhile, a team of vampire hunters, lead by a zany Anthony Hopkins, tries to stop the undead fiend. The film still holds up. More than that, though: it's the last of a dying breed. I can't recall a single movie since Bram Stoker's Dracula that employs 100% in-camera visual effects; everything is digitally assisted now, and it can't hold a candle to what Coppola created here.For fans of: Crimson Peak, Nosferatu the Vampyre, Black Sabbath, Keanu Reeves trying really hard to use a British accent.
Now Streaming on Hulu
Release Date: 1986Genre: Action-ThrillerDirector:  Robert MandelCast: Bryan Brown, Brian Dennehy, Diane Venora, Cliff De Young, Jerry Orbach
We don't talk about F/X nearly as much as we should. In this slice of '80s cheese, Bryan Brown plays a Hollywood special effects artist who is hired by the Justice Department to stage a fake murder. The murder "victim" (Jerry Orbach!) is a former mobster about to testify against his boss, and rather than just stash him away in witness protection, the feds want to fake the death of the witness to better cover their tracks. Needless to say, things don't go according to plan, and soon Brown finds his own life in danger. Explosions, car chases, and special effects follow. Also, Brian Dennehy is on hand to steal the show. Bonus: the sequel F/X 2 is also streaming on Hulu. So after you finish F/X, give that a watch as well.
For fans of: To Live and Die In L.A., Nighthawks, Sudden Impact, international superstar Bryan Brown.
Now Streaming on Shudder
Release Date: 1977Genre: Low-Key British HorrorDirector: Richard LoncraineCast: Mia Farrow, Keir Dullea, Tom Conti, Jill Bennett, Robin GammellThe Haunting of Julia, aka Full Circle, is one of those classy British ghost stories from the '70s – full of slow burns, ticking clocks, long silences, and scenes that look as if the camera has been draped with cheesecloth. It's also creepy as heck. One sunny morning, Mia Farrow's daughter chokes to death right before her eyes. Farrow, understandably, suffers a mental breakdown. Two years later, she's left her husband (Keir Dullea) and moved into a new house. Farrow soon begins seeing things – is she going bonkers, or is the ghost of her daughter? Or is it, perhaps, another, malevolent supernatural force? The Haunting of Julia takes its time working its way up to anything outwardly ghostly, but there's enough atmosphere to keep you biting your nails through the whole thing.For fans of: Rosemary's Baby, The Haunting, The Woman in Black, ghostly children.
Now Streaming on Hulu
Release Date: 1996Genre: ComedyDirector: The Farrelly BrothersCast: Woody Harrelson, Randy Quaid, Vanessa Angel, Bill MurrayThe Farrelly Brothers had one of their biggest hits with There's Something About Mary, but for my money, their best pic is the film that came directly before it: Kingpin. This hilarious, sometimes raunchy film features Woody Harrelson giving arguably the best performance of his career as Roy Munson. Roy was a one-time bowling champ, but his career took a nose-dive after he loses his hand. Years later, Roy is a washed-up has-been who thinks he's found his meal-ticket when he meets an Amish man (Randy Quaid) who just happens to be a great bowler. Soon, the two have set off on a road trip, with hysterical results. Along the way, Bill Murray shows up and steals every scene he's in. If you're looking for high-class humor, Kingpin will not deliver. If you're in the mood for something unapologetically silly, look no further.For fans of: Dumb and Dumber, There's Something About Mary, The Big Lebowski, Tanqueray and Tab.
10. Jeff, Who Lives at Home
Now Streaming on Amazon Prime Video
Release Date: 2012Genre: Indie DramedyDirector: Jay and Mark DuplassCast: Jason Segel, Ed Helms, Judy Greer, Susan Sarandon
Marketing made Jeff, Who Lives at Home look like your typical slacker comedy starring funny people like Jason Segel and Ed Helms. But this quirky, somewhat somber indie from the Duplass Brothers doesn't play out the way you'd expect. Segel is Jeff, an unemployed stoner living with his mom (Susan Sarandon). Jeff has become obsessed with the movie Signs, and as a result, is constantly looking for hidden things connecting everyone to everything. Meanwhile, Jeff's successful brother (Helms), is dealing with his failing marriage, suspecting his wife (Judy Greer) of having an affair. Then there's a third storyline, involving Sarandon's character receiving a surprise at work. All these stories eventually come together in an unexpected way, and the result is surprisingly poignant. Segel is particularly good here, playing someone who, on paper at least, might seem annoying, but in actuality is quite sweet.
For fans of: The Puffy Chair, The Skeleton Twins, Baghead, learning about greatest day in the history of the world.