'Westworld' Star Jeffrey Wright Talks Bernard's "Unique Position" In Season 2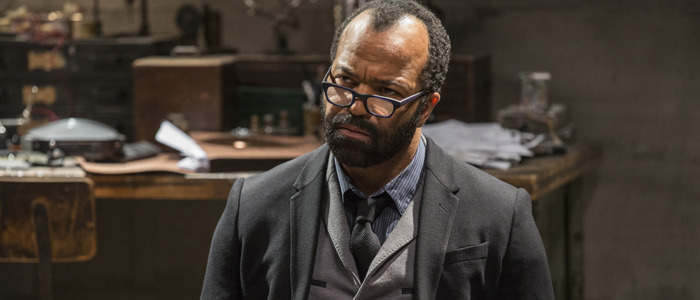 After more than a year off the air, we're a little more than a month away from the season 2 premiere of HBO's sci-fi series Westworld. Star Evan Rachel Wood has previously said that "the show might really start in season 2," implying that the whole first season essentially served as the pilot for what Westworld would eventually become. So what does the new season have in store for one of its key characters, Bernard Lowe? In a new interview, actor Jeffrey Wright spills the beans about Bernard's "unique position" in the second season and the character's "health issues" after the events of season one.
Jeffrey Wright Westworld Season 2 Comments
As Westworld season one comes to a close, we see Bernard shoot himself in the head at the behest of Dr. Robert Ford. But Maeve has him revived in the season finale, and trailers for season 2 show him working with the Delos team, seemingly to put an end to the robot uprising. But his plans may not be quite that simple.
In an interview with Deadline at the South By Southwest Film Festival, Wright was asked about how we find Bernard at the beginning of season 2. "He's got some health issues," the actor replied. "He's got some cognitive challenges as we enter the first episodes of season 2 and he has additional challenges that come up as he goes on board in terms of him being able to process."
"Bernard is in a pretty peculiar, kind of unique position in that he's got certain allegiances to both sides and I think that's part of the consideration for him. I think given his robot brain situation and given kind of the social situation around him in terms of having been human and then discovering he's a host, but he's aspiring toward kind of an awakening as the hosts are, the question for him at the beginning as you might expect is: 'Where am I? Where am I in all of this?' We lead from there."
Wright's dual performance as Bernard and Arnold Weber, the park's co-founder and Dr. Ford's former partner, was one of the best aspects of the show's first season, so I'm definitely looking forward to seeing the actor bring some new variations and shades – even damaged ones – to his role when season 2 arrives.
Westworld returns to HBO on Sunday, April 22, 2018.