'Deadpool 2' Reshoots Apparently Added More Domino And Cable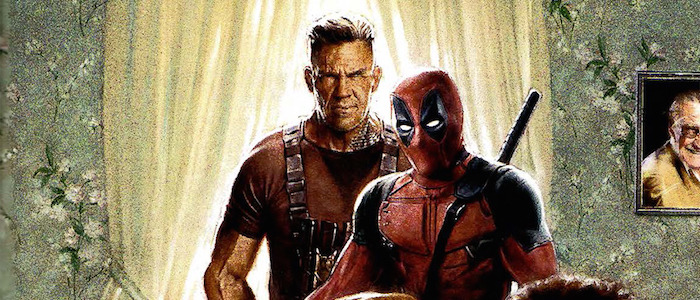 Reshoots and additional photography are a totally normal part of the moviemaking process. But the Deadpool 2 reshoots had some fans wondering there's cause for concern.
Reports of late reshoots surfaced this week, just two months before Deadpool 2's release date. But while the reshoots follow muddled reports about poorly received initial test screenings, it seems that the Deadpool 2 reshoots are simply adding scenes with two new fan-favorite characters.
Zazie Beets' Domino and Josh Brolin's Cable reportedly stole the scenes at test screenings for Deadpool 2, according to Collider. Reshoots for Deadpool 2 added more scenes for these characters, popular X-Men heroes making heir big screen debut.
Recent rumors swirled around the internet claiming that Deadpool 2 tested poorly at initial screenings. This was followed by frantic reports that reshoots had been ordered by 20th Century Fox to fix the movie's issues. However, Collider debunked those rumors.
Collider reports that the first Deadpool 2 test screening in January tested around 90 out of 100 points. The studio held another test screening after editing was complete, which tested in the high 90s. By all means, both screenings went well, though they had common complaints: audiences wanted more Domino and Cable.
Domino and Cable are both new characters introduced in the sequel to the 2016 comic book movie Deadpool, which became a runaway hit for 20th Century Fox. The sequel follows snarky, fourth wall-breaking mercenary Wade Wilson after he has rescued the love of his life Vanessa (Morena Baccarin) from the evil scientist who had mutilated him. Now, Deadpool 2 finds the Merc with a Mouth facing off against mutant mercenary and X-Force member Domino, as well as the stoic, trigger-happy mercenary with a metal arm, Cable.
Deadpool fan favorite Negasonic Teenage Warhead (Brianna Hildebrand) also returns, as do  T.J. Miller and Leslie Uggams. Atomic Blonde director David Leitch directs Deadpool 2, taking over from Tim Miller.
Here is the synopsis for Deadpool 2:
After surviving a near fatal bovine attack, a disfigured cafeteria chef (Wade Wilson) struggles to fulfill his dream of becoming Mayberry's hottest bartender while also learning to cope with his lost sense of taste. Searching to regain his spice for life, as well as a flux capacitor, Wade must battle ninjas, the yakuza, and a pack of sexually aggressive canines, as he journeys around the world to discover the importance of family, friendship, and flavor – finding a new taste for adventure and earning the coveted coffee mug title of World's Best Lover.
Deadpool 2 is set to hit theaters on May 18, 2018.