FandangoNow Joins Movies Anywhere – What Does That Mean?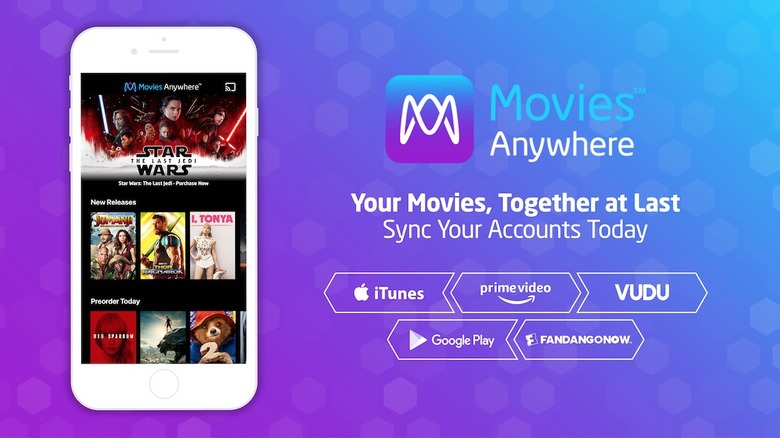 Fandango's video-on-demand service is the latest digital retailer to join MoviesAnywhere, a digital service that allows users to centralize their movies in one app.
The FandangoNOW MoviesAnywhere partnership marks the fifth digital retailer to throw in with the digital movie-collection service owned by Disney.
Under the deal, FandangoNow customers can use the Movies Anywhere app and website to purchase and access movies under the Walt Disney Studios umbrella — Disney, Pixar, Marvel Studios, Lucasfilm — as well as 20th Century Fox, Sony Pictures, Universal Pictures (including Dreamworks and Illumination), and Warner Bros.
Fandango joins four other digital retailers, including Apple's iTunes, Amazon Prime Video, Google Play, and Walmart's Vudu, on MoviesAnywhere.
In a statement accompanying the announcement, Movies Anywhere General Manager Karin Gilford said:
"We are thrilled to welcome FandangoNOW, a go-to online destination for movie fans, as our newest digital retailer. Movies Anywhere is rapidly revolutionizing the way that consumers access and enjoy their digital movie collections. The app has been used to store over 100 million movies to date. The popularity of Movies Anywhere is largely due to the extraordinary content, including exclusives and promotions, and the support provided through our growing list of online digital retailers."
Movies Anywhere currently has a library of nearly 7,500 digital movies.
In addition to titles purchased from the five retailers, consumers also can redeem digital codes included in Blu-ray and DVDs from participating studios and access them through Movies Anywhere. However, movies rented from digital retailers cannot be accessed from Movies Anywhere.
FandangoNow users can now link their account to Movies Anywhere. Then they can watch their redeemed and purchased digital movies from any participating digital retailer on platforms including Amazon Fire devices, Android devices and Android TV, Google's Chromecast, Apple products, Roku devices, and web browsers.
What Does This Mean?
This is another foothold in the digital market that you probably weren't aware that Disney had.
While Disney is preparing to launch its own digital streaming service, it launched Movies Anywhere in 2014 with titles available from Disney, Pixar, and Marvel, as well as the Star Wars films.
However, Disney has said that Movies Anywhere operates independently with input only from an advisory committee that has members from each of the participating studios. Last October, the company opened Movies Anywhere to partner with the four other studios.
Interestingly, Fandango still remains a member of UltraViolet network — a similar digital-entertainment locker service — but which never secured big players like Disney, Apple, Google, and Amazon.
Now that Fandango has joined Movies Anywhere, "FandangoNow customers will gain simple, streamlined access to their digital movies from Hollywood's major film studios," said Fandango chief marketing officer Adam Rockmore.