'Legacy Of A Whitetail Deer Hunter' Clip: Buck Ferguson Is Not Ready For Relationship Advice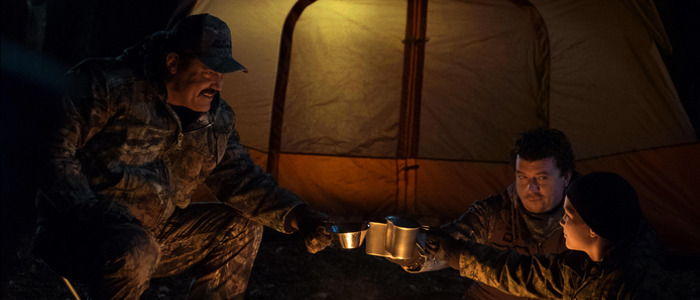 Josh Brolin and Danny McBride have teamed up for Netflix's The Legacy of Whitetail Deer Hunter, a new comedy from Jody Hill. In a new Legacy of a Whitetail Deer Hunter clip, Brolin's character Buck Ferguson gets some unwanted relationship advice from his young son.
Jody Hill, director of The Foot Fist Way, Observe and Report, and co-creator of Eastbound and Down and Vice Principals, re-teams with frequent collaborator Danny McBride for The Legacy of a Whitetail Deer Hunter. The film stars Josh Brolin as Buck Ferguson, a legendary deer hunter who attempts to reconnect with his estranged son. Hilarity ensues.
In a new Legacy of a Whitetail Deer Hunter clip, Brolin's Buck Ferguson receives some upsetting info regarding his ex-wife courtesy of his son (Montana Jordan).
Legacy of a Whitetail Deer Hunter Clip
Hill and McBride have been working on Whitetail Deer Hunter for some time now. The project was first announced back in 2015, and since then, the duo have produced an entire TV series – Vice Principals. The above clip is a little lackluster, but Hill and McBride's previous offerings have been consistently hilarious, so I'll give Whitetail Deer the benefit of the doubt.
That said, the film recently had its premiere at SXSW, where it didn't go over too well. Indiewire said, "There are some real missed opportunities here," and added:
"It's yet another streaming "original" that's best regarded as background noise, the kind of thing you'll have on while folding clothes or checking Instagram, and it'll pass the time just fine in that capacity."
Variety's review wasn't much better, saying:
"McBride is good for a few chuckles during the first two-thirds of the movie and continues to contribute a fair share of funny business after the plot takes a not altogether persuasive serious turn. But Brolin remains the main attraction, and the saving grace, during this lost weekend in the woods."
/Film's Jacob Hall caught it at the festival and wasn't impressed either:
THE LEGACY OF A WHITETAIL DEER HUNTER: The most earnest, and worst, project to bear Danny McBride and Jody Hill's names. Powerfully unfunny film from two of the funniest men alive. Even geniuses stumble.

— Jacob Hall (@JacobSHall) March 11, 2018
Here's hoping Whitetail Deer Hunter will turn out to be a pleasant surprise. The talented cast, which includes Carrie Coon and Scoot McNairy alongside Brolin and McBride, seems too good to waste.
The Legacy of a Whitetail Deer Hunter arrives on Netflix July 6, 2018.
Buck Ferguson (Josh Brolin), famous for hunting whitetail deer, plans a special episode of his hunting show around a bonding weekend with his estranged son, Jaden (Montana Jordan). With trusted – but hapless – cameraman and friend Don (Danny McBride) in tow, Buck sets out for what soon becomes an unexpectedly epic adventure of father-son reconnection in the great outdoors.