New Blu-Ray Releases: 'Justice League', 'Call Me By Your Name', 'I, Tonya,' 'The Age Of Innocence' And More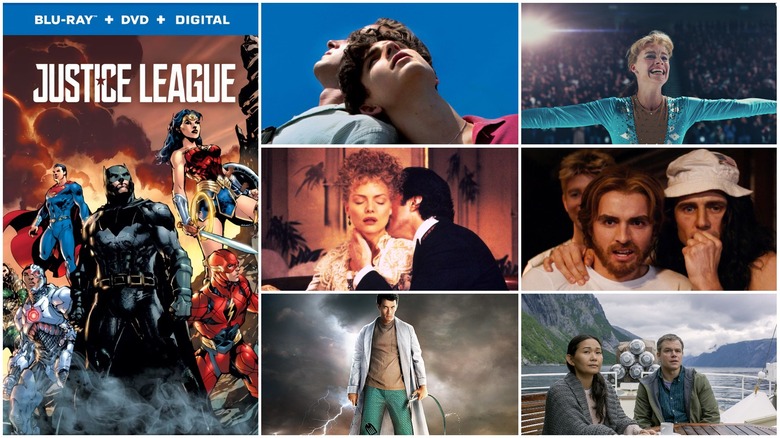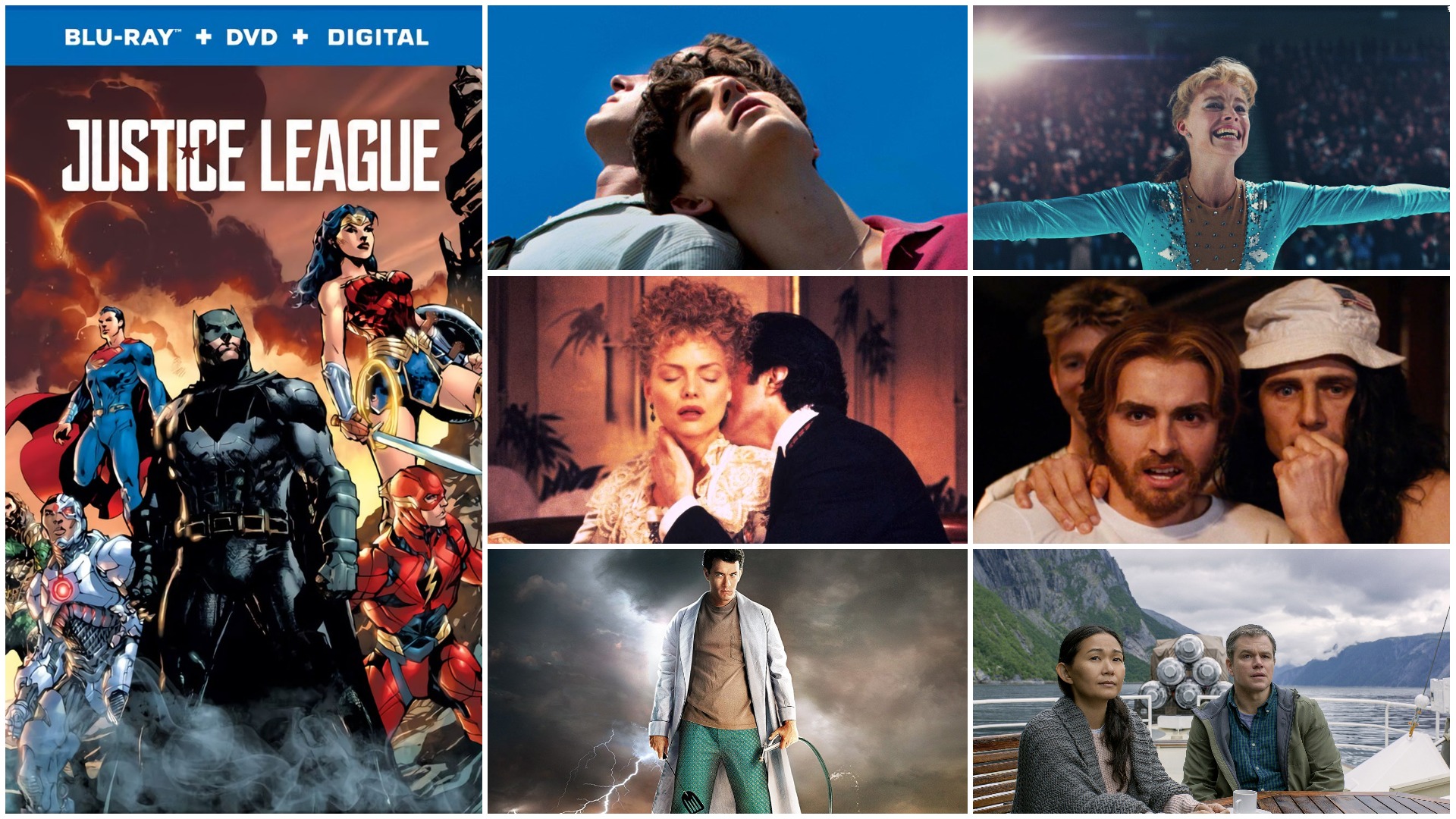 (Welcome to Not Dead Yet, a feature dedicated to new Blu-ray releases and what special features you should be excited about. Because yes, some of us still like to own physical copies of our movies.)
Welcome back to another Blu-ray round-up. There's something for everyone here! The comic-book bombast of Justice League; the romanticism of Call Me By Your Name; a Martin Scorsese masterpiece in the form of The Age of Innocence; indie comedy courtesy of The Disaster Artist and I, Tonya; the '80s charm of Joe Dante's The 'Burbs; and, uh, Downsizing!
Here are the new Blu-ray releases and their special features you should check out this week, and beyond.
Justice League
Justice League tried very hard to right the capsized ship that is the DCEU. It didn't succeed. At times, though, the film is almost interesting enough to work. The opening scene, featuring an aw-shucks Superman conversing with some kids, is the first time the DCEU got the Man of Steel right in over three films. And Ezra Miller's comedic take on the Flash is a hoot.
More often than not, however, Justice League succumbs to behind-the-scenes issues. Zack Snyder left the project and was replaced by Joss Whedon. While Whedon was hand-picked by Snyder, the two filmmakers are nothing alike, and their styles clash constantly. The end result is a schizophrenic tale that jumps from being comedic to dreary and then back again. Worse than that, the big action set pieces – which should be the main draw for a film like this – are lackluster and un-exciting.
The premise has Batman (Ben Affleck) and Wonder Woman (Gal Gadot) gathering up a team of heroes to do battle with Steppenwolf, perhaps the worst comic book bad guy in movie history. Along the way, the team raises Henry Cavill's Superman from the dead. A film in which the Flash digs up a grave and cracks a Pet Sematary joke should be at least entertaining, but Justice League falters.
Warner Bros. and their DC films can still recover. Patty Jenkins' Wonder Woman 2 will hopefully right the ship, and James Wan's Aquaman might turn out well. Also, now that this big team-up is out of the way, perhaps DC can scale things back a bit and give the characters their own smaller, more compelling adventures.
Special Features To Note:
Much has been made of the fact that Justice League has a wealth of deleted scenes. Trailers for the film feature a slew of shots that never made it into the final film. And then there's the persistent rumor of the infamous "Snyder Cut" (which probably doesn't even exist). If you were hoping to get a look at these deleted scenes on the Justice League Blu-ray, I regret to inform you that is not the case. There are two deleted scenes included here. One has already been released online: Superman, freshly risen from the grave, wanders around the crashed Kryptonian ship. There, he finds both the famous "black suit" (that he never puts on in the theatrical cut), and also his classic costume. The second deleted scene comes immediately after this, and was seen in one of the trailers for the film. In it, Superman shows up at the Batcave and has a quick conversation with Jeremy Irons' Alfred. And that's it!
Perhaps one day, a deluxe Blu-ray will be released with the deleted scenes. For now, though, we just have these two snippets.
Beyond the deleted scenes, there are several featurettes and mini-documentaries that go behind-the-scenes of the film. "Road to Justice" provides a background on the Justice League from the comics, starting out with the Justice Society first in the 1940s, moving forward through time, and going into Crisis on Infinite Earths.
There are individual featurettes that look at specific action scenes, which reveal just how much green screen was used to create the movie. Spoiler: a lot. Almost everything was greenscreened in this movie, to the point of silliness.
The best feature of the bunch features costume designer Michael Wilkinson discussing "The Look of the League." Here, we get a quick shot of Superman's infamous black suit (see screenshot below).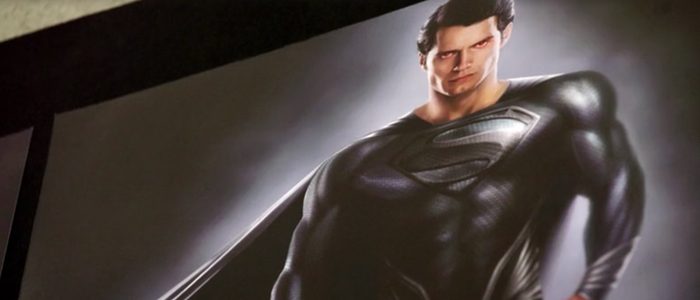 We also learn that Zack Snyder wanted Aquaman's costume to look "ancient and broken down", and that the Flash's costume was designed to be like a "sports shoe." The more you know!
Special Features Include:
Journey alongside DC comic creators as they explore over fifty years of the Justice League, from comic books to animated adventures to their cinematic debut.
Discover the heart, soul and mind of the Justice League, as the cast and filmmakers share their admiration for DC's iconic Trinity: Superman, Wonder Woman and Batman.
Technology of the Justice League
From Batman's arsenal to Cyborg's alien tech, interface with the Justice League database to learn their most advanced secrets.
Justice League: The New Heroes
Join Ray Fisher on a personal tour to meet the newest members of the Justice League: Aquaman, the Flash and Cyborg.
Bonus scenes not seen in theaters
Steppenwolf the Conqueror
Join actor Ciarán Hinds and the filmmakers as they reveal the story behind mankind's ancient enemy and the Justice League's greatest challenge.
Scene Studies: Revisiting the Amazons
Take a closer look at the filmmaking process behind Justice League's most visually exciting and action-packed sequences
Scene Studies: Wonder Woman's Rescue
Take a closer look at the filmmaking process behind Justice League's most visually exciting and action-packed sequences
Scene Studies: Heroes Park
Take a closer look at the filmmaking process behind Justice League's most visually exciting and action-packed sequences
Scene Studies: The Tunnel Battle
Take a closer look at the filmmaking process behind Justice League's most visually exciting and action-packed sequences
Suit Up: The Look of the League
Costume Designer Michael Wilkinson explores the innovation and artistry that goes into creating the costumes of DC's iconic heroes.
The Age of Innocence
On the surface, Martin Scorsese's The Age of Innocence seems like an outlier. A gorgeous costume drama free of most of Scorsese's on-screen depictions of violence and vice, Innocence catches you off guard. But Scorsese one claimed Age of Innocence to be "the most violent" film he ever made. In an interview with Roger Ebert, Scorsese said:
"What has always stuck in my head is the brutality under the manners. People hide what they mean under the surface of language. In the subculture I was around when I grew up in Little Italy, when somebody was killed, there was a finality to it. It was usually done by the hands of a friend. And in a funny way, it was almost like ritualistic slaughter, a sacrifice. But New York society in the 1870s didn't have that. It was so cold-blooded. I don't know which is preferable. I grew up thinking in one way, but in my own private life the past 10 years, I've started to appreciate the ability to say a little in certain emotional situations and mean a lot."
Scorsese's film, set in 1870s New York, concerns Newland Archer (Daniel Day-Lewis). Archer is engage to marry the sweet, somewhat boring May (Winona Ryder). Then May's cousin comes to town. The cousin, Ellen Olenska, is everything May is not: blunt, passionate, often shocking, and, of course, played by Michelle Pfeiffer. What follows is a battle to tamp down passion, as Archer lusts after Ellen without making things fully physical.
Filled with lush cinematography courtesy of Michael Ballhaus, jaw-dropping production design via Dante Ferretti, and masterful performances from Day-Lewis, Pfeiffer and Ryder, The Age of Innocence is one of Martin Scorsese's very best films. It's a sumptuous visual and emotional feast.
Special Features To Note:
The must-have Age of Innocence Blu-ray release from the Criterion Collection features interviews with Martin Scorsese, co-screenwriter Jay Cocks, production designer Dante Ferretti, and costume designer Gabriella Pescucci.
Scorsese spend a good part of his interview comparing the film to other classic movies, like Luchino Visconti's The Leopard and Senso and William Wyler's The Heiress.
The director also says that before he made the film, he became aware of the power of passivity; the power of not saying what was wrong: "For me, it's really about the power of what you think you know, and what you think you're doing, and the reality of how people perceive you."
Scorsese also reveals he had his actors listen to recordings of Franklin Roosevelt and Alice Roosevelt and also Walt Whitman to learn the correct way to speak. He also defends his use of narration, saying he likes it because it adds "tone and atmosphere."
In Jay Cocks interview, Cocks says he and Scorsese wrote the movie in 17 days. The two had already been doing research for the film that would eventually become Gangs of New York, and they drew on that for Age of Innocence.
The interviews with Dante Ferretti and Gabriella Pescucci go into the overall design of the film, from Ferretti's production design to Pesucci's costumes. "If the film is set in the 1800s, I automatically become an architect of that period," Ferretti says. Pescucci says she begins her research by looking at paintings. For Age of Innocence, she referenced the paintings of James Tissot.
Special Features Include:
New, restored 4k digital transfer, approved by director Martin Scorsese, with 5.1 surround DTS-HD Master Audio soundtrack
New interviews with Scorsese, coscreenwriter Jay Cocks, production designer Dante Ferretti, and costume designer Gabriella Pescucci
Innocence and Experience, a 1993 documentary on the making of the film
PLUS: An essay by film critic Geoffrey O'Brien
Call Me By Your Name
What a lovely, near-perfect film this is. Director Luca Guadagnino and writer James Ivory have crafted a heartbreaking tale of first love set against the backdrop of the 1980s, "somewhere in Northern Italy." Almost every moment, every beat, every scene in this film works magnificently, loaded with emotion, humor, and pathos. It's a remarkable feat, and Ivory's recent Oscar win for screenplay was highly deserved.
As I said in my write-up of Call Me By Your Name from TIFF:
"Luca Guadagnino is the king of summer. Few directors are able to capture the thick, heavy air and hot, humid nights rich with whirring insects that are prevalent during summertime as well as the

Bigger Splash

director. Here he crafts another lush summer experience, set in Italy during the 1980s. Timothée Chalamet, in a break-out role, is Elio, a young man who finds himself enamored with his father's new assistant (Armie Hammer, once again reminding us he's an excellent actor who deserves better parts than The Lone Ranger). Romantic, hypnotic, and ultimately a touch melancholy, Call Me By Your Name is one of the year's best films. A speech near the end by Michael Stuhlbarg, playing Chalamet's father, will take your breath away."
2017 was a surprisingly strong year for film, and Call Me By Your Name was among the best of the bunch. Now it's available to take home, and I can't imagine why you wouldn't want to own it. Do yourself a favor and pick this up.
Special Features To Note:
"Snapshots of Italy: The Making of Call Me By Your Name" takes you into the production, featuring interviews with Armie Hammer, Timothée Chalamet, Michael Stuhlbarg and Luca Guadagnino.
Guadagnino talks about how, over a period of 9 years, the film kept going through different versions with different directors until he finally decided to direct it himself, and what drew him to it was the actors.
Armie Hammer reveals he read up on the '80s and "the rest of it was being present."
"Everything about the project was delectable," says Stuhlbarg, because of course that's something he'd say.
A particularly interesting reveal about the project: virtually the entire film was shot with one lens, rather than changing lenses for different shots. The result was less scene setups, and less coverage than a typical film. This is described as "the least-intrusive" way to possibly make a film.
Beyond this feature, there's a 25-minute on-stage interview with Armie Hammer, Timothée Chalamet, Michael Stuhlbarg and Luca Guadagnino. There's also a commentary track featuring Chalamet and Stuhlbarg. The actors are laid-back and amusing, but there are also long stretches of silence that make for a less-than-thrilling commentary.
Most maddening of all: Chalamet and Stuhlbarg are completely silent silent during the famous ending speech that Stuhlbarg delivers. Perhaps they were just too caught-up in the moment to speak, but I would've loved some insight here – particularly from Stuhlbarg, who is incredible in the scene. The only real comment made comes from Chalamet, who reveals that when Stuhlbarg's character says he "doesn't think" Elio's mom knows about the relationship with Oliver, you're not supposed to know if he's telling the truth or not.
Special Features Include:
"Snapshots of Italy: The Making of Call Me By Your Name"
"In Conversation With Armie Hammer, Timothée Chalamet, Michael Stuhlbarg & Luca Guadagnino"
Commentary with Timothée Chalamet & Michael Stuhlbarg
Music Video for "Mystery of Love" by Sufjan Stevens
The Disaster Artist
James Franco takes the story of the making of Tommy Wiseau's The Room and turns it into comedy gold. Franco's version of events is definitely idealizing for mass consumption, and its portrayal of Wiseau as a tragic artist who dared to dream, even if his dreams were dumb, probably gives Wiseau more credit than he deserves.
Still, it's hard to deny how fun this film is. While Franco's direction is a bit point-and-shoot, The Disaster Artist is cut from the same cloth as Tim Burton's Ed Wood – a film about an inept artist who refuses to give up, even when he probably should.
Wiseau's story is told from the point-of-view of Greg Sestero (Dave Franco), a would-be actor who hitched himself to Wiseau's insane vision. As played by James Franco, Tommy Wiseau is a mystery; an enigma; a weirdo who constantly lies about himself, and wants nothing more than to be an actor. When his impenetrable accent and gonzo acting style keeps him from landing roles, Wiseau decides to take matters into his own hands and make his own movie. That movie is The Room, which would go on to find its place in the hallowed "so bad it's good" halls.
The Disaster Artist is a fun, often hilarious film. I have issues with some of its choices – the opening scene, with a parade of famous people talking about The Room – is a huge misstep and should've been cut completely, for instance. But issues aside, The Disaster Artist is a hoot.
Special Features To Note:
Special features on The Disaster Artist take you behind-the-scenes of the film in a very light-hearted, easy-going fashion. If you're looking for depth, you won't find it. What you will find are fun little interviews with the cast and crew discussing both the film at hand and The Room.
"The Room has heart and passion," James Franco says, explaining what drew him to The Disaster Artist, and describes it as "a strange, ironic success story."
"[The Room] constantly reinvites how it was bad and why it was bad," says producer and co-star Seth Rogen.
Behind-the-scenes footage shows that producers Seth Rogen and Evan Goldberg worked a lot behind the scenes on the film, and that James Franco directed pretty much every scene in character.
"Just a Guy Leaning on a Wall: Getting to Know Tommy" attempts to decode the real Tommy Wiseau with an actual interview, but the filmmaker is his usual enigmatic self. When asked if he read The Disaster Artist book, Wiseau replies:  "No comment, next question." The bulk of this segment is focused on interviews with other people talking about how damn strange and mysterious Wiseau is.
Beyond that, there's a quick, fun gag reel.
Special Features Include:
Audio Commentary with James Franco, Dave Franco, Tommy Wiseau, Greg Sestero, and More
"Oh, Hi Mark!: Making a Disaster" Featurette
"Directing a Disaster" Featurette
"Just a Guy Leaning on a Wall: Getting to Know Tommy" Featurette
I, Tonya
I, Tonya is wildly over-the-top, but perhaps that's warranted for a story like this. Director Craig Gillespie attempts to get the truth behind the tabloids, chronicling the life of infamous figure skater Tonya Harding. As the film unfolds, however, it becomes clear that fact is stranger than fiction. Harding's life was such a garbage fire that it's easy to sympathize with her. At the same time, the film's version of Harding – much like the real person – has a very hard time admitting when she's done something wrong, and sees persecutors everywhere.
There are flaws a'plenty here. There's too much hack and slash going on; too much style over substance. And don't even get me started on those needle drops. Yet at the same time, the film is entertaining, engrossing, and often surprisingly sympathetic. One of the final scenes, in which Tonya pleads her case in front of a judge, is heartbreaking. However, it's worth nothing such a scene never happened in real life.
What makes I, Tonya work is the lead performance from Margot Robbie. Robbie is dynamite here, and without her, the film would suffer. The supporting cast is great too, especially recent Oscar-winner Allison Janney as Tonya's nightmarish mother. But this is Robbie's film. As I said in my theatrical review:
"Margot Robbie plays Tonya, and she's damned good in the part. It's a fine reminder of what a talented actress Robbie is, especially after her shaky performance in Suicide Squad. Robbie plays Tonya as rough around the edges; a self-proclaimed redneck who never fit in, and only really came alive when she was on the ice."
Special Features To Note:
Special Features on the I, Tonya Blu-ray included some deleted scenes. These are mostly brief, amusing moments that don't add a lot to the film. The funniest of the bunch is a scene at a buffet, where it's revealed Tonya's mother has dumped a bunch of chicken wings into her purse – much to the disgust of the buffet manager.
There's also an extra scene with featuring Nancy Kerrigan. In this scene, narrator Tonya says her violent husband Jeff and Nancy might have planned the attack on Kerrigan themselves to ruin Tonya's career. It's a weird scene, and clearly intended to not be taken seriously – Kerrigan turns to the camera and calls bullshit on the whole thing.
Beyond these deleted scenes, there's a making-of feature. Here, writer Steven Rogers says the film is a "cautionary tale" about the beginning of tabloid stories becoming mainstream. "Things aren't just black and white; things are gray, and grays a lot more interesting."
There's also a featurette about how visual effects were used to combine Margot Robbie's head on the body of a real figure skater to pull off all those fancy skating sequences.  
Special Features Include:
All Sixes: The Perfect Performances of I, Tonya
Irony Free, Totally True: The Story Behind I, Tonya
Working with Director Craig Gillespie
The Visual Effects of I, Tonya
VFX: Anatomy of the Triple Axel
Feature Commentary with Director Craig Gillespie
(available March 20, 2018)
Shout Factory's speciality line Shout Select brings Joe Dante's bonkers dark comedy The 'Burbs to Blu-ray in all its glory. The 'Burbs is one of those syndication movies – the type that  used to play constantly on rainy Sunday afternoons on channels like TNT or TBS. As a result, it has a bit of a built-in following that's granted the film more life than it had in theaters.
So does The 'Burbs hold up? Yes and no. There's a lot to like here: the ensemble cast is a lot of fun, and some of Dante's direction is superb. Here's just one example: the opening shot, which starts off zooming into the Universal Pictures "globe" logo until it zeros in on neighborhood in middle America sets a memorable, ominous tone right from the get-go.
At the same time, The 'Burbs is so manic at times – this is a shouting film, where every character delivers their lines at full volume – that it can be exhausting. One of the most interesting takeaways of the film is the lead performance from Tom Hanks. This was right at the start of Hanks' rise to fame, after Big had revealed him to be a movie star. As a result, Hanks' role here – as a paranoid suburbanite – feels out-of-step with most of his filmography. Hanks' character is kind of an asshole – something he hasn't played often. Even his cold-blooded hitman in Road to Perdition seemed kind of likable when compared to the yelling, pouting jerk he plays here; the type of guy who ignores his wife (played wonderfully by Carrie Fisher) and kids so he can sneak off to spy on the neighbors – neighbors he suspects are murderers.
Had this been a typical Hollywood production, Hanks' character perhaps would've learned a lesson at the end. A lesson about valuing his family. To the film's twisted credit, there's no such lesson here. We get the sense that despite all he's been through, Hanks' character will still be the same jerk he was at the start of the film.
Special Features To Note:
The Shout Select Blu-ray comes with multiple interviews with director Joe Dante and various cast and crew members (sorry, no Hanks interview). Dante reveals that Tom Hanks didn't want his character have a kid because he didn't want to play family men at this point in his career. The eventually convinced him otherwise, but you can tell how much disdain Hanks has at playing a father in the film.
The 'Burbs was shot during a writer's strike. As a result, improv was encouraged, which explains why the film often feels so disjointed and shouty. Everyone is just going for broke instead of referring to a script.
Dante also reveals that he worked hard to have a lot of color coordinating in the film, with the intention of creating a "heightened reality" – in Dante's mind, the film is something of a fantasy.
Here's a fun piece of trivia that also gets brought up: the toy poodle that appears in the film is the same dog owned by serial killer Buffalo Bill in Silence of the Lambs. That dog was a star!
Special Features Include:
NEW 2017 2K Scan Of The Interpositive
NEW Interviews With Director Joe Dante, Editor Marshall Harvey, And Director Of Photography (Additional Scenes) John Hora
Audio Commentary With Writer Dana Olsen, Moderated By Author Calum Waddell
There Goes The Neighborhood: The Making Of The 'Burbs – Includes Interviews With Director Joe Dante, Actors Corey Feldman, Courtney Gaines, And Wendy Schaal, Director Of Photography Robert M. Stevens, And Production Designer James H. Spencer
Original Workprint From Joe Dante's Archive (Includes Deleted And Extended Scenes)
Behind-The-Scenes Still Gallery
Stills And Posters Gallery
Downsizing
(available March 20, 2018)
There's a great movie buried somewhere in Alexander Payne's Downsizing. Unfortunately, that great movie gets lost somewhere along the way. It starts out with a seemingly comedic premise – humanity finds a way to shrink itself down in order to consume less and end overpopulation. From here blossoms a story rife with social commentary; a tale of the haves and the have-nots struggling for their place in the world.
Great. In theory. But the script, by Payne and Jim Taylor, never finds the right approach. Matt Damon is a nice guy who gets shrunk down, thinking it will solve all his problems. Instead, he finds himself stuck in a rut and caught in a mini-rat race. Everything changes when he befriends a house cleaner, played by Hong Chau.
There are flashes of brilliance here – the miniature world that Payne and company create looks great, and Hong Chau's performance is fantastic. But Downsizing is ultimately a frustrating film. It's a frustrating film worth seeing, simply because it has a lot on its mind. But the end result is unfortunately disappointing.
Special Features To Note:
There are several behind-the-scenes featurettes included. Most of them are light and harmless, and the first one – where the cast and crew talk about working with Payne – is gushing to the point of being slightly embarrassing.
The best features of the bunch are "A Visual Journey" and "A Matter Of Perspective", which go into the work done to create the downsized world of the film. One detail that serves as an ah-ha moment when you hear it: production designers worked hard to make the buildings in the downsized world look "less detailed", which ends up creating a "toy like" effect.
Special Features Include: