'Solo: A Star Wars Story' Theater Standee Puts You In The Millennium Falcon Cockpit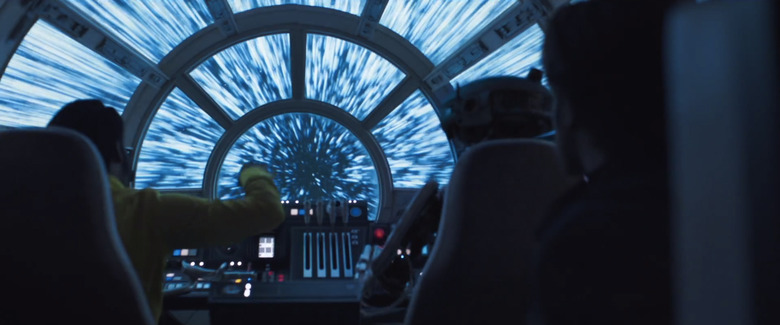 What would it be like to ride in the cockpit alongside Han Solo, Chewie, and Lando Calrissian? You'll probably never know, but at least you'll get a little taste of it thanks to a new Solo: A Star Wars Story cardboard standee.
The Solo Millennium Falcon standee was revealed by Disney last week, previewing the cockpit of Han Solo's famous spacecraft just as it's about the jump into hyperspace.
Solo Millennium Falcon Standee
Prepare to make the jump into hyperspace. Solo: A Star Wars Story is in theaters on May 25. #HanSolo pic.twitter.com/Mf39OAGW7M

— Star Wars (@starwars) March 9, 2018
The standee was revealed by the Star Wars Twitter last week, in a video that shows the cardboard cut-out as its assembled from scratch. It's pretty nifty, and gives you a real satisfying feeling when you see the Han Solo (Alden Ehrenreich), Chewie (Joonas Suotamo), Lando (Donald Glover), and new characters Tobias Beckett (Woody Harrelson) and Qi'ra (Emilia Clarke) standing in the famous cockpit. Naturally, there's an empty seat just for you to take pictures in when Solo premieres in theaters in two months.
The cockpit of the Millennium Falcon has remained warmly familiar throughout the ads and trailers for Solo: A Star Wars Story, the prequel film that follows the misadventures of our favorite space smuggler before the events of A New Hope. But we know that the rest of the starship is wildly different under the care of Lando, with a stark-white interior and even an entertainment hub. We'll likely get to see how it changes to the shabby "piece of junk" that we know and love in A New Hope.
Here is the synopsis for Solo: A Star Wars Story:
Board the Millennium Falcon and journey to a galaxy far, far away in Solo: A Star Wars Story, an all-new adventure with the most beloved scoundrel in the galaxy. Through a series of daring escapades deep within a dark and dangerous criminal underworld, Han Solo meets his mighty future copilot Chewbacca and encounters the notorious gambler Lando Calrissian, in a journey that will set the course of one of the Star Wars saga's most unlikely heroes.
Solo: A Star Wars Story is directed by Ron Howard and also stars Thandie Newton, Phoebe Waller-Bridge, Joonas Suotamo, and Paul Bettany.
The film is set to hit theaters on May 25, 2018.