'Ghost Stories' Review: A Bonkers And Bloody Brilliant Existential Mystery [SXSW]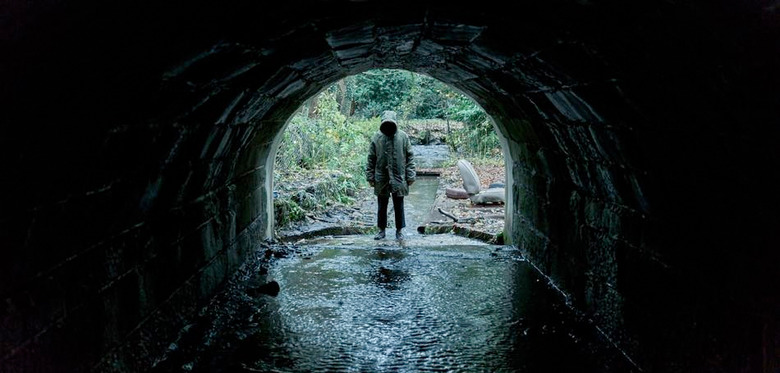 Jeremy Dyson and Andy Nyman's remarkably ambiguous Ghost Stories is unconventional, structurally bonkers and bloody-freakin'-brilliant. As an adaptation of their widely-popular West End theater fixture, both men translate stage cues to fainthearted filmmaking in ways that never feel stuffy or overproduced (something like Miss Julie). Tear-away backgrounds that connect wholly different locations are just as astounding cinematic tricks as they'd be in person if only to ensure this daring blend of dread and inquisition be that much more an unsolvable puzzle. How do you get away with crafting a successfully sublime "Whothunkit" about the unknown? I don't know – ask Ghost Stories.
Nyman plays Professor Phillip Goodman, an outspoken debunker of the paranormal and spiritual realms. His mentor, Charles Cameron (Leonard Byrne), once uttered a motto that'd forever shape Goodman's life – "The brain sees what it wants to see..." – but in Cameron's late age, he's come to a crushing realization. What if there really was an afterlife, and three unsolved cases could prove it? Goodman's lifelong dedication to denying afterlife realities lands him in front of a dying Cameron, with an opportunity to prove once and for all that Earth is all we have – if, in fact, the three opened cases can be intellectually explained.
Fans of Jesse Holland and Andy Mitton's We Go On should be familiar with the film's answer-chasing format, in that Ghost Stories puts our own existential terrors on mega-blast. With each case – playing out in episodic fashion – Dyson and Nyman address the very complexities that reveal what it means to be human. Our constant demanding of answers, even for something like death that can never be fully understood. We fabricate whatever truth fits our personal narrative, just to sleep a bit sounder at night. Maybe it's a professor who's much more comfortable never being judged for his lifelong behavior or an upset audience member who clings to a fake psychic's every preached word – anything but the big, bad "unknown."
As Goodman chases leads and interrogates "believers," direction takes the most intentionally rigid "haunting" vibes and spins them faster and farther out of control. Tony Matthews' (Paul Whitehouse) flickering-flashlight night watchman encounter is a far reach from Mike Priddle's (Martin Freeman) pregnancy heartbreaker – but that's merely where Ghost Stories only begins to amass intrigue. Pay close attention to every shot, because this is a veritable "I Spy" of recurring clues and imagery. If you find yourself feeling like Goodman's opening line of questioning is generic, know this is for a reason. Patience is paramount! Good little boys and girls will be rewarded by theatrical implementations that bulldoze dimensional walls with disorienting – re: astounding – creativity.
Consider Ghost Stories a "kitchen-sink" apparition tale that dashes in a bit of everything. As stated, Matthews tells Goodman a campfire story like something from Insidious – a little girl in a yellow dress who torments the surly security man. Then it's to young Simon Rifkind (Alex Lawther), who has a chance encounter late one night with a goat-thing, satanic influences and long-lasting psychosis. He is, quite phenomenally, a skittish and sleep-deprived subject who becomes an easy standout – if only to be challenged minutes later by the dapper, business-minded Riddle. Freeman's rambler walks Goodman down a long, wavy-grassed countryside while recounting the passing of his pregnant wife and the poltergeist-like haunting that plagued his would-be child's room. Three encounters with the "undead," three extremely curious cases of one-shot effects work and optical tomfoolery that should not be.
Of course, Goodman's own mental state is tested and pushed as the facts pile against him. Hallucinations of his corpse become intertwined with stories of demons and disfigured children. But as pitch-perfect a moment Rifkind's "Fuck this!" escape is, Goodman's persistence and uncertainty are far more interesting focal points to follow. He spends countless breaths trying to "help" others by exposing falsehoods, and you'd be right to assume it's all a thematic device – one that I won't divulge. Goodman makes it through all the cases only to unlock something larger. Something that could be dissected and analyzed and made into anything you'd like because, as stated, the brain sees what it wants to see.
Even the film's thesis is brashly subjective in the most confounding way.
Ghost Stories is deliciously unexpected and gravely provocative in the bleakest, most under-the-skin manner. I think, for some, the narrative's continual tailspin will become a bit dizzying – but those like me who thrive on addressing existential cynicism head-on will be left psychologically pummeled and entertained. Dazed, only to wonder whether it's death we fear or life itself and all its imperfectly replaying memories. We cannot control it, nor knowledgeably describe it, and even the most "decorated" students lack almighty powers that'd assert otherwise. Have fun with this one, and please enjoy an utterly mystifying graveyard concoction that will rattle genre fiends long after their fourth, fifth or twentieth watch reveals yet another angle that might have first slipped by.
Ghost Stories opens in the United Kingdom on April 6, 2018 but doesn't have an official US release date yet.
/Film Rating: 8 out of 10