'Cloak And Dagger' Review: Freeform's Marvel Pilot Promises A Great Superhero TV Show [SXSW]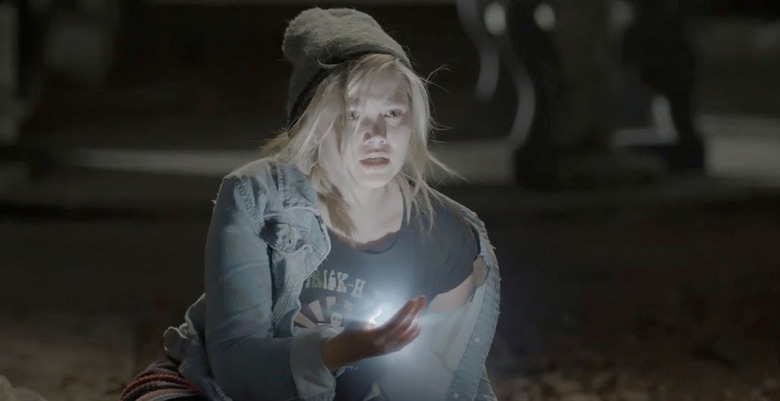 Freeform debuted the pilot of Cloak & Dagger, the new young adult Marvel series hitting small screens on Freeform in June, at SXSW today. An hour into this world, it's clear that it'll be among the upper echelon of Marvel television. Granted, that's not a terribly high bar to cross, but Cloak & Dagger does so with style and powerful storytelling.
For those unfamiliar with the world, Cloak & Dagger started as a Spectacular Spider-Man comic spinoff featuring Tyrone Johnson (Cloak, played here by Aubrey Joseph) and Tandy Bowen (Olivia Holt as Dagger). In the comics, they're New York runaways, and their origin story pretty seriously diverges from the source material here (not least because the location changes from NYC to New Orleans), but the spirit of the characters absolutely remains the same. Ty and Tandy are misfits, outcasts (a theme hammered home through Tyrone's required reading of The Outsiders). As pilot director Gina Prince-Blythewood (Love & Basketball) put it, "These are two very damaged souls finding each other – and that's kinda my jam." (Same.)
Joseph and Holt have tremendous chemistry onscreen. The first hour of what will be a two-hour pilot brings them together very sparingly, but the moments they share onscreen are electric. In an intriguing departure from the comic, here Tandy's the street kid while Ty's living at home with his wealthy and (at least so far) seemingly attentive parents. But they have a shared tragedy in their past, an offshore rig explosion that robbed each of them of someone they love and first brought them together when they were just kids. The performers are so compelling on screen, separately and together. In such a short amount of time, I found myself deeply invested. They're wounded, and angry, and lovely, the kind of broken that only becomes whole when they're together.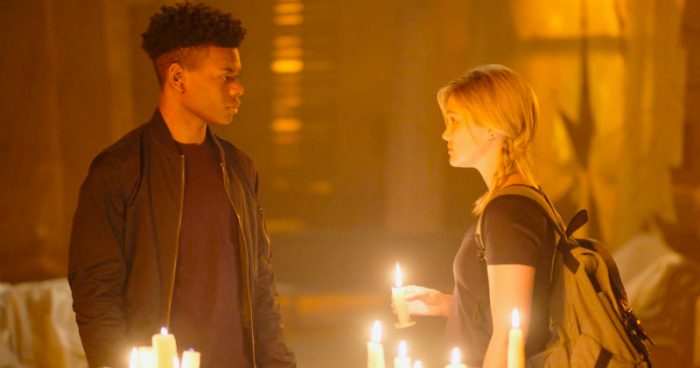 The episode moves much faster than most Marvel shows, while never feeling frenetic. Flashbacks to Ty and Tandy's childhoods are peppered throughout, furthering the narrative thematically even while pausing the present-day plot. In only one episode, we learn so much about who Tyrone and Tandy are, what motivates them and haunts them, but we also have reason to believe that there's much more to learn.
The thing looks great, too. It's much richer and more textured than a lot of these superhero shows (and, for that matter, than most Freeform shows). As Tandy and Tyrone begin to discover their powers (for Cloak, that means the ability to teleport himself through the Darkforce dimension, and for Dagger, the ability to create daggers of light), they manifest in a really visually organic way, miles from the corny effects that most of superhero television delivers. The move from New York to New Orleans is smart, as there's an earthy, soulful feel to Cloak & Dagger. New Orleans has such a dramatic history, and the locale sets the series apart from the many superhero shows that take place in New York (and are mainly filmed in Vancouver).
And the music's great! Mark Isham (a previous collaborator of Prince-Blythewood) scores the series, and the pilot features a ton of great soundtrack songs, all providing just the right amount of depth and emotion without ever feeling pushy.
It's a really thrilling first entry, and a pretty huge bummer that we have to wait until June to see more. And it's certainly worth noting that the pilot is directed by a woman of color, a still new and badly-needed perspective to the increasingly overcrowded superhero genre. Cloak & Dagger feels new in every particular. It feels exciting and significant. We're lucky to have it.
The two-hour pilot airs on Freeform on June 7th, 2018. You can check out a trailer here.
/Film Rating: 9 out of 10