What Is The Future Of Your Favorite Marvel Characters After 'Infinity War'?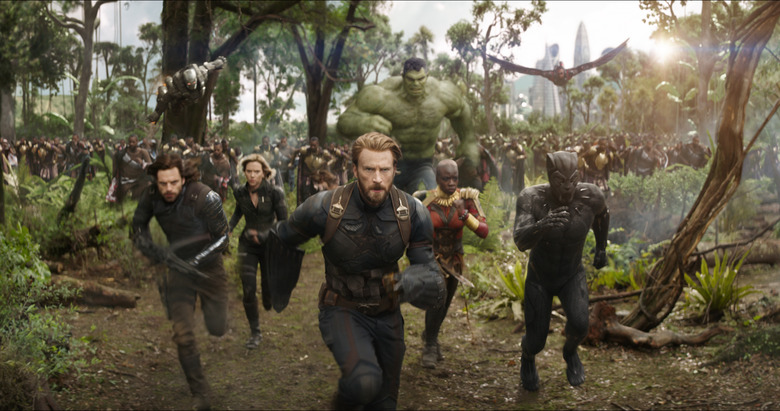 Avengers: Infinity War threatens to change the Marvel Cinematic Universe as we know it. We just don't know how.
We have an inkling though, judging by interviews from stars like Robert Downey Jr., and ominous fan theories scattered throughout the internet. Now, the latest cryptic interview from Marvel Studios chief Kevin Feige gives a more detailed picture of Marvel characters futures.
In an interview with Entertainment Weekly, Feige vaguely says that some "character's stories are coming to a close," while some are "only just beginning."
"I think they'll continue in surprisingly different and unexpected ways after these two Avengers films," he says.
A massive change to the MCU after Infinity War and Avengers 4 is something that Feige has been hinting at for a while. But in this interview, he offers us a better picture of what those changes could entail. "[Death] isn't necessarily what we're talking about," Feige says.
"I talk a lot, because I'm a big-ass nerd, about Star Trek: The Next Generation, "All Good Things." That to me is one of the best series finales ever. That wasn't about death. Picard went and played poker with the crew, something he should have done a long time ago, right?"
"All Good Things" was the series finale of Star Trek: The Next Generation and followed Captain Picard as he found himself jumping to three different points in time. In the future, he sees his crew drifted apart, and the end of the Enterprise. However, the episode ends with Picard playing poker with his crew in the present, armed with his knowledge of what could be. No one dies in the end, but we are left with the weighty feeling that the future comes for us all.
But that doesn't mean that there aren't a few beloved character deaths ahead. The biggest possibility is Downey Jr.'s Tony Stark, who has been a mainstay of the MCU since Iron Man launched the cinematic universe in 2008. Iron Man has appeared in a eight of the 18 of Marvel movies, but his future after Infinity War and Avengers 4 is seemingly empty. Even Downey Jr. hinted that "this is a heads-will-roll scenario."
Feige hinted that there could be some fatal consequences ,not just for Tony Stark, but for everyone:
I mean, I could always list off the characters that we've killed in our movies that haven't come back, but the big ones, which I know they're looking at ...? [Pause.] I would just say, yes. People need to be careful what they wish for.
Avengers: Infinity War is set to hit theaters on April 27, 2018.