The Obamas May Be Developing TV Shows For Netflix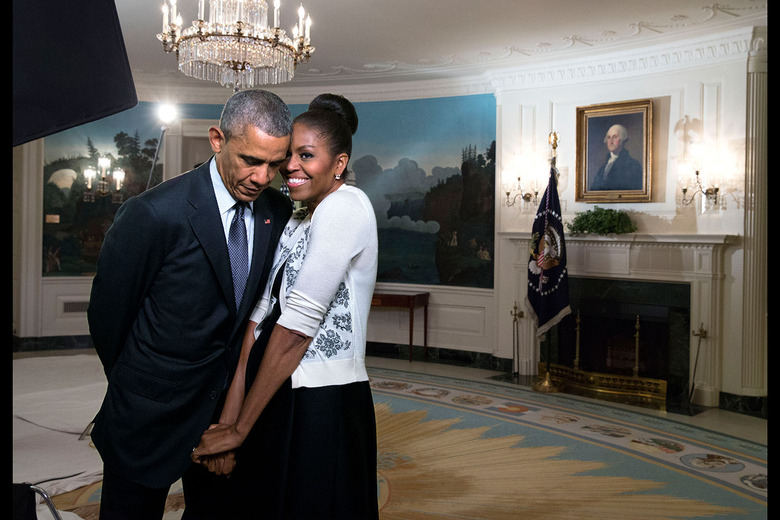 The Obamas can soon add TV producers to their long, distinguished resumes.
Former President Barack Obama and former First Lady Michelle Obama are reportedly in talks to produce a series of TV shows for Netflix. The number of shows and episodes are not get confirmed, but will focus on sharing inspirational stories with the streaming service's 118 million subscribers around the world.
When Netflix goes high, they really aim high. The streaming service has been partnering with high-profile showrunners and filmmakers like Shonda Rhimes, Ryan Murphy, and now, the two former occupants of the highest office in the world: the Obamas.
President Obama is reportedly in advanced negotiations with Netflix to produce a series of high-profile shows, according to the New York Times. The deal would provide Obama a global platform after departing the White House in 2016.
Netflix is not the only streaming service to approach the Obamas with a deal. Both Apple and Amazon have expressed interest in working with the Obamas for similar content deals.
Netflix declined to comment, and representatives for the Obamas have not responded to reports of the deal.
However, Eric Schultz, a senior adviser to the former president, told the New York Times:
President and Mrs. Obama have always believed in the power of storytelling to inspire. Throughout their lives, they have lifted up stories of people whose efforts to make a difference are quietly changing the world for the better. As they consider their future personal plans, they continue to explore new ways to help others tell and share their stories.
There are no details yet on what kind of shows they will be, though the Times confirms the series will highlight "inspirational stories." The Times report suggests that the shows could include a President Obama-moderated roundtable on topics such as healthcare or climate change, while Michelle Obama could have a similar show on nutrition. The Times suggests that the deal could also see the pair endorsing "documentaries or fictional programming on Netflix that align with their beliefs and values."
Because of their lack of television experience, it's not clear what the Obamas would be paid. Netflix recently inked a historic $300 million deal with Ryan Murphy — the largest for a TV producer in history — but Murphy is a seasoned producer and showrunner.
However, the Obamas are not entirely unfamiliar with TV or Netflix. The duo have frequently appeared in the talk show circuit, and President Obama recently appeared on David Letterman's new show My Next Guest Needs No Introduction.