'Santa Clarita Diet' Season 2 Trailer: Zombie Drew Barrymore Is Back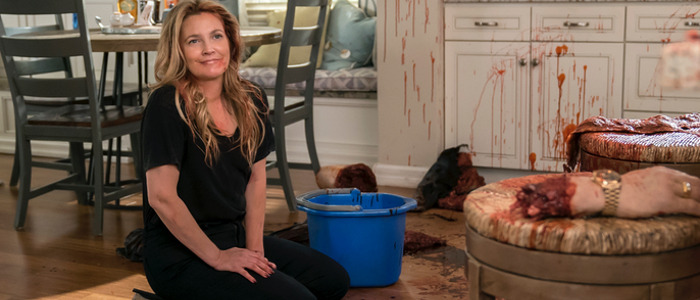 Santa Clarita Diet, the Netflix dark comedy featuring Drew Barrymore as a cannibalistic zombie, is back for an all-new flesh-eating season. The show focuses on a suburban couple dealing with zombie-like virus, in humorous ways. Watch the blood-soaked Santa Clarita Diet season 2 trailer below.
Is it possible Netflix has too many original shows? We've reported in the past that Netflix has a plan to crank up 700 original shows and movies this year alone. While that may be great in theory, I do wonder if some titles will get lost in the shuffle. Case in point: I feel like a comedy series where Drew Barrymore plays a cannibal zombie should seem like a bigger deal. Yet I don't remember much buzz surrounding Santa Clarita Diet when it debuted last year. No matter – the show must have done well enough to warrant a second season, which brings us to this trailer. Barrymore and Timothy Olyphant are back as a suburban couple dealing with the fact that a virus has turned Barrymore into a flesh-eating ghoul. The season 2 trailer promises more plasma-covered comedy.
Santa Clarita Diet Season 2 Trailer 
This is a fun trailer, and I'm 100% certain this is the first zombie-related story that makes use of Hootie & the Blowfish's "Only Wanna Be with You", so it has that going for it. Still, I feel like there should be more hype about this! It's a show about Drew Barrymore eating people! That's kind of wild! The little girl from E.T. is all grown-up and devouring human hearts! Why aren't we all talking about this just a little bit more? I really do think the constant barrage of Netflix originals is causing shows like this to get overlooked, and that's a shame.
Santa Clarita Diet also stars Liv Hewson, Skyler Gisondo, Gerald McRaney, and Natalie Morales. Joel McHale, Maggie Lawson, Zachary Knighton, and Andy Richter are all expected to make guest appearances as well. The show is the brainchild of Victor Fresco, who also created Better Off Ted and Andy Richter Controls the Universe. Fresco, Drew Barrymore, Timothy Olyphant, Aaron Kaplan, Tracy Katsky, Chris Miller and Ember Truesdell all serve as executive producers on the series.
Santa Clarita Diet season 2 arrives on March 23, 2018 on Netflix.
Joel (Timothy Olyphant) and Sheila (Drew Barrymore) are husband and wife realtors leading vaguely discontented lives in the L.A. suburb of Santa Clarita with their teenaged daughter Abby, until Sheila goes through a dramatic change sending their lives down a road of death and destruction...but in a good way.