'Star Wars: The Last Jedi' Featurette: How The Filmmakers Created Crait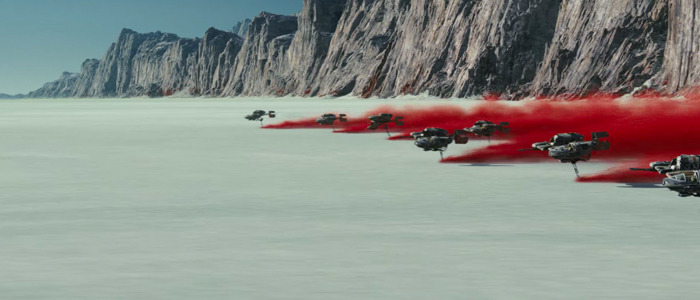 A wobbly ship flies into frame, scratching the top of what appears to be an icy white planet. But as soon as it makes contact, it tears a gash in the ground, revealing the deep red hue beneath the salty surface. This was our first look at Crait, a new planet imagined by writer/director Rian Johnson and brought to life in Star Wars: The Last Jedi.
A new featurette for the film (unlocked by today's #JediDay Twitter promotion) has debuted, and this one examines how Johnson's team created that world. Plus, /Film speaks with the film's special effects supervisor, who gives us even more insight into the work that went into achieving the final result.
Star Wars The Last Jedi featurette
Right around the time The Last Jedi hit theaters, I spoke with a bunch of the filmmakers in order to put together the definitive oral history of the lightsaber fight scene in Snoke's throne room. One of the people I talked to was special effects supervisor Chris Corbould, and while the majority of our conversation focused on the throne room sequence, we also chatted a little about the creation of Crait. I feared I'd never be able to find a good place to publish this part of our conversation, but it works perfectly in concert with this featurette. Enjoy:
***
Corbould: [Rian] tried to get us to do as much as we possibly could practically. One of the things he was very specific about was the red explosions on Crait. It's something I thought was going to be easy to do, but he was very specific about the look and wanted it to look like crystals going up in the air. We did lots of tests with red dust. We dyed ice red. We dyed water red. None of them were right. In the end, we got a company to specifically make us some red paper granules up, and each explosion we filled this great big steel pot of them up with all this red paper, and we soaked it all in water, and that finally gave us the look that Rian was looking for. He was very specific.
How long did it take you to come to that solution? How many different iterations of things did you try?
Corbould: We probably did eight to ten different types of explosions – some using high explosives, some using traditional black powder, some with different compounds of red mixes. It took us about four months to get those explosions right, strangely enough. You'd think it'd be an easy thing to do. But it all paid off. You've got that magnificent shot where all the rebels are in their trenches, and this great big wave of explosions came across them, red explosions. One minute the whole set was white, and ten seconds later, after the shot, the whole set was red. Including the actors! (laughs)
***
For even more about the creation of Crait, be sure to check out this visual effects featurette that reveals how some of those effects came together.
Star Wars: The Last Jedi will be available for digital download on March 13, and hits Blu-ray/DVD on March 27, 2018.