Wesley Snipes Auditioned For Al Powell And More Stories From A 'Die Hard' 30th Anniversary Screening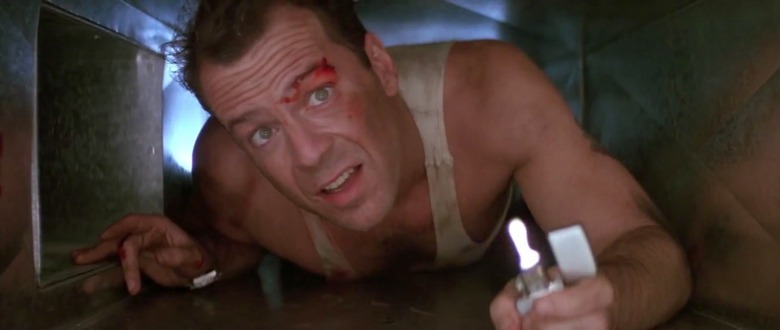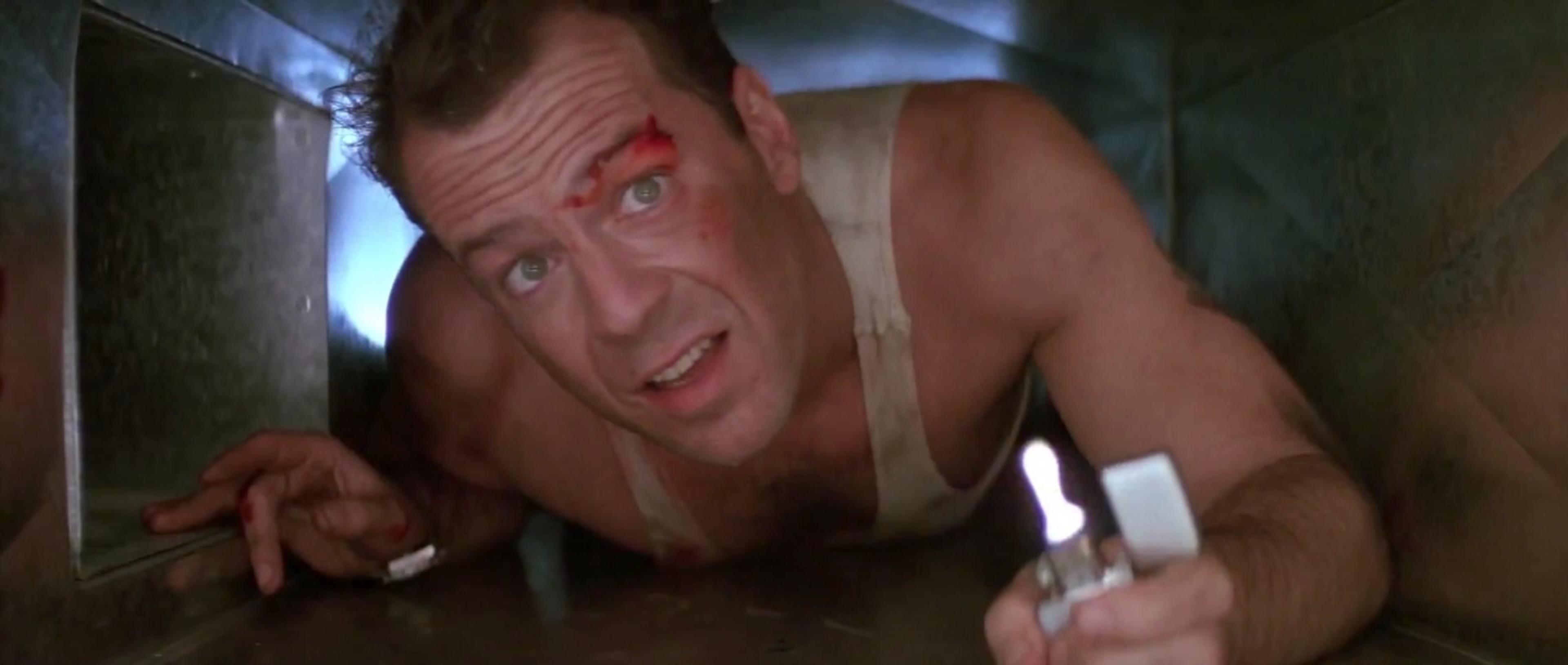 This year marks the 30th anniversary of the landmark film Die Hard. To children of the '80s, it feels like we've never not had Die Hard in our lives. New fans may not even realize how they're still feeling the impact of Die Hard today.
/Film attended a 30th anniversary screening of Die Hard this week as part of Laemmle's Anniversary Classics series. They screened a new 4K restoration of the film, which may have been sharper than the original film prints in 1988. Since most of the film is set at night in darkened building hallways, 4K makes sure every punch McClane throws lands clearly on a terrorists' face.
Produced by action king Joel Silver, Die Hard was the movie that made Bruce Willis a movie star. He was popular on the TV series Moonlighting, but playing John McClane brought him up to the ranks of Arnold Schwarzenegger and Sylvester Stallone (the trio would together open the short-lived Planet Hollywood restaurant too). There'd be no Armageddon, Looper or Death Wish remake for Willis without Die Hard.
Willis played John McClane, a New York cop visiting his wife Holly (Bonny Bedelia) for Christmas. Stopping by her office Christmas party at Nakatomi Plaza (the real Fox Plaza that still stands next to the studio lot), McClane sees terrorists take over the building. McClane singlehandedly takes out terrorists one by one to foil their plan.
Die Hard has never stopped playing in theaters. Every December, theaters like the Arclight or L.A.'s New Beverly show Die Hard because of its Christmas setting. Expect 2018 to have a lot more Die Hard celebration.
Stars Bonnie Bedelia and Reginald VelJohnson were present at the 30th anniversary screening we attended, along with screenwriter Steven E. DeSouza. With all the DVD bonus features and interviews the makers of Die Hard have done in 30 years, one would think there's little we don't yet know about the film. However, their Q&A revealed several things that were new even to this Die Hard connoisseur.
Wesley Snipes or Gene Hackman could have been Al Powell
Al Powell (VelJohnson) was John McClane's man on the outside of Nakatomi Plaza. A desk cop sent to check out the emergency calls McClane sent from Nakatomi, Powell becomes the only man on the LAPD who believes McClane. Through the course of the night, over a walkie talkie, McClane and Powell bond, with Powell even revealing the tragic accident that sent him back to the desk.
It's hard to imagine anyone but VelJohnson as Al Powell now, but when he auditioned for the role, VelJohnson saw another famous face vying for the role.
"I was living in New York at the time and I went in to audition," VelJohnson said. "There was a lot of well known actors that were there. I don't want to name the people there, Wesley Snipes, but I was desperate."
Even before the casting call, an A-lister was supposed to play the role. His casting would have made Powell more of a gruff veteran than a haunted patrolman.
"The person they had before, they told me it was Gene Hackman," VelJohnson. "I heard he had the role but couldn't do it, so they decided to cast an unknown for the part and I was right there."
Bedelia and Willis improvised their marital problems
When McClane gets to Nakatomi Plaza, he learns that Holly has been using her maiden name Gennero. This brings up the old argument that led her to move to LA for six months. The heart of the movie becomes McClane learning, in a trial by fire, that he's been petty about his wife's success.
De Souza gave credit where it was due. While the plot did require Holly to use the name Gennero, so that terrorist leader Hans Gruber (Alan Rickman) wouldn't suspect her until later in the movie, Willis and McClane improvised the argument that reveals all their backstory.
"Bonnie and Bruce largely improvised the argument they have in her suite," De Souza said. "Somehow they managed to bring an argument from who knows where, and I was the stenographer there incorporating all their improv into that scene."
John McTiernan didn't do character work
Die Hard was only John McTiernan's third movie, following Predator. McTiernan became a highly sought after action director for the following decade, with credits like The Hunt For Red October, Last Action Hero, The Thomas Crown Affair and of course, Die Hard with a Vengeance.
McTiernan sadly has been out of commission for much of the 2000s. He went to prison for his involvement in the Anthony Pellicano wiretapping case. He is released and will hopefully return to filmmaking. Looking back on his legendary work, Bedelia shared how he focused on the filmmaking and left the actors alone.
"I met John McTiernan while I was being fitted for my costume," Bedelia said. "He said, 'Hi, I'm the director, John McTiernan. I just want you to know that Elia Kazan I'm not. So if you've got any questions about your character, don't come to me.' It's true, what I recall most about him is sitting in the director's chair with his feet up on the other one in front of the monitors. He was all about putting the film together."
Joel Silver liked Christmas movies to secure TV airplay
Die Hard became a Christmas tradition be the mid-90s, and the last decade or so has seen much debate over it. Thinkpieces have declared it both not a Christmas movie and definitely a Christmas movie. For the record, not only does it take place on Christmas Eve, but the soundtrack includes "Winter Wonderland" worked into the score, Christmas decorations are a major plot point and it is about the repairing of a broken family.
De Souza weighed in on the pro-Christmas side, confirming it in a Twitter exchange with Jake Tapper last year. It was Silver's second Christmas action movie after Lethal Weapon and a tradition he continued, often with screenwriter Shane Black. De Souza explained how Christmas was a business strategy for Silver.
"The reason it takes place at Christmas is because in the novel it was Christmas," De Souza said. "That's why he was coming out to the coast. Joel Silver said, 'I want this movie to take place at Christmas, I want all my movies to take place at Christmas so they rerun on television at Christmas.' The Nice Guys was Christmas. I think The Last Boy Scout is Christmas. He does it over and over again as a theme."
Don't expect the McClanes to work things out in Die Hard 6
Willis and Live Free or Die Hard director Len Wiseman keep talking about a sixth Die Hard film. Holly's last Die Hard was Die Hard 2. Die Hard with a Vengeance had McClane stubbornly holding out on calling her, but the closest we get is a phone call as the sequel rolls credits.
By Live Free and A Good Day to Die Hard, McClane is estranged from his kids. Live Free sees McClane reunite with Lucy (Mary Elizabeth Winstead) and in A Good Day, McClane shares the adventure with his son Jack (Jai Courtney). Bedelia all but ruled out a reconciliation in the next Die Hard sequel, assuming the series has moved on to the younger generation of McClanes.
"No," Bedelia said. "Didn't they kind of move on to my daughter being grown up?"
In a 2004 interview, Bedelia implied that early scripts for Die Hard 3 (eventually Die Hard With a Vengeance) included Holly, but now she clarified she was never in it.
"I was never spoken to about Die Hard 3," Bedelia said. "I think they called to ask if they could use my voice. They wanted me at the end of the phone. Is there someone talking? Is that supposed to be me? Does it sound like me? They have actors who can do that."
Die Hard 2 wanted more Al Powell, and VelJohnson wished he could have done more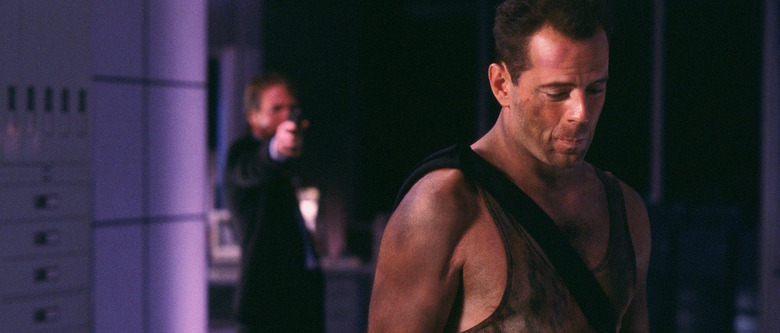 After Die Hard, VelJohnson landed an even more pivotal role for himslf. He played Carl Winslow, a policeman father in the TGIF sitcom Family Matters. VelJohnson shared how a producer of Family Matters saw Die Hard and asked VelJohnson to audition for the series.
By the time Die Hard 2 was in production, VelJohnson was filming Family Matters. Powell still has a cameo in the sequel. Since it is set at Dulles Airport when terrorists overtake the airport to free a dictator, McClane faxes some fingerprints to his old buddy Al in Los Angeles.
"I must say, Joel Silver was very angry with me because I couldn't be in the whole second film because I was doing Family Matters at the time," VelJohnson said. "He said, 'That show is never going to work.' I said, 'Well, you know, I'm contracted to do this TV show.' I was only in the second film for one little scene. I was very upset I wasn't in the whole film because I wanted to be in the second film, but I couldn't."
Bedelia filmed her entire Die Hard 2 part in three days
Die Hard 2 was able to reunite much of the cast of Die Hard one. Having reconciled, the McClanes were visiting Holly's family in D.C. Besides Powell's cameo, TV reporter Richard Thornburg was on Holly's flight.
Since Holly's role in the sequel was sitting on the plane waiting to land, it only took three days to film. Holly figures out there's a problem the flight crew isn't sharing, and once again stops Thornburg from using the situation to forward his career, but there's only so much she can do sitting on a plane.
"It wasn't as much fun though," Bedelia said. "You know, I only worked about three days on Die Hard 2. I'm on the plane."
DeSouza almost wrote Die Hard 3 on a boat
The original plan for Die Hard 3 was to have the McClanes on an oceanliner. By 1992, Under Siege already did "Die Hard on a boat," but De Souza said he was still working on the boat sequel before it fell through.
"Joel and I and Larry [Gordon] had talked about doing Die Hard 3. The third one was going to be on an oceanliner. Not Speed [2: Cruise Control]. It was going to be they take a vacation to get away from all this stuff and it happens."
Ultimately, Silver and Gordon left the Die Hard franchise. Cinergi hooked up with 20th Century Fox to produce Die Hard with a Vengeance, based on Jonathan Hensleigh's script Simon Says. McTiernan returned though and did ask De Souza to work on it.
"Then when the property was I guess sold to the independent production company, John McTiernan brought me in," De Souza said. "[Holly] would've been in the movie had I done it. McTiernan brought me in originally to adapt that script but I was contractually involved with another project I started and couldn't get away from it."
De Souza's subliminal reference for Hans Gruber
With Alan Rickman's portrayal, Hans Gruber became one of the most memorable villains in cinema history. However, De Souza realized after the fact that he'd borrowed the name Hans Gruber from a 1966 spy comedy.
"I realized it was Our Man Flint," De Souza said.
The Flint series only lasted two movies, with James Coburn playing secret agent Derek Flint in an answer to the then-new James Bond franchise. Michael St. Clair plays a character named Hans Gruber in the sequel to In Like Flint. 
St. Clair's Hans Gruber was merely a henchman for the evil organization known Galaxy. Flint easily kills him in a toilet. De Souza liked the name and the rest is history.