Get A Fresh Look At The New Iron Man Armor, A New 'Infinity War' Photo, And Other Details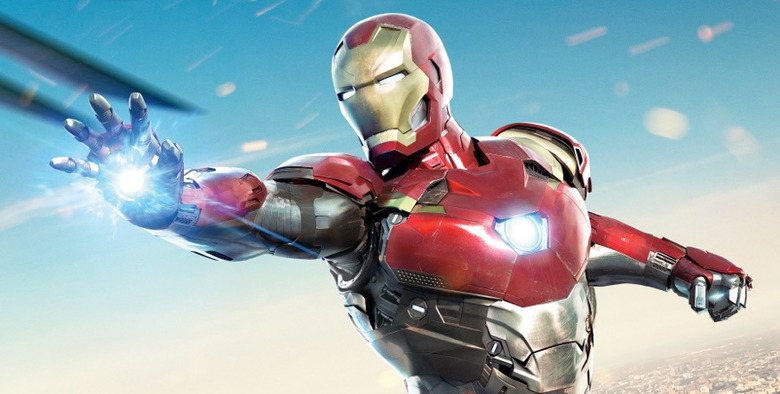 It all began 10 years ago when Tony Stark built a suit of high-tech armor out of scraps in a cave, launching an entire cinematic universe that has taken over the world.
And in 2018's Avengers: Infinity War, Robert Downey Jr.'s Iron Man will be at the center one again. He's got new armor and everything.
Entertainment Weekly has released a slew of bright and shiny Infinity War covers featuring our favorite Marvel heroes ahead of a massive cover story. Naturally, EW has already begun the slow trickle of new information about the film. First up: the superhero who started it all.
New Iron Man Armor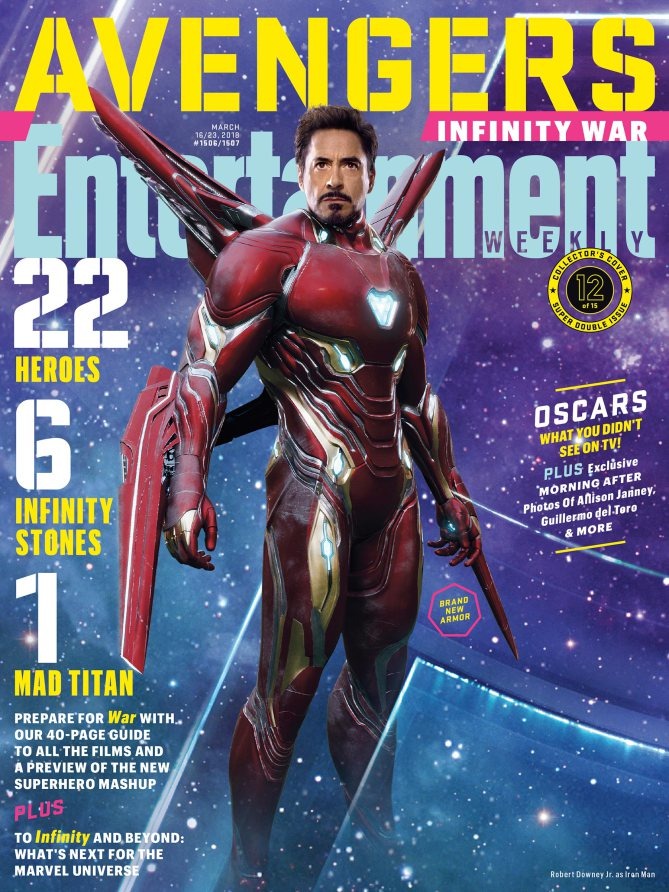 Tony Stark has always been on the cutting edge of technology. But he may have outdone himself with his newest suit, called the Bleeding Edge armor.
This isn't the first time that we've seen it — based heavily on the Prime Armor from the comic books  — but this is our first detailed look at the Bleeding Edge. This time, the entire armor is an arc reactor, EW reports. When activated, it spreads over Tony's entire body — much like the technology we saw in the recent Black Panther. Could this be an invention of Stark himself (great minds think alike, after all) or have its capabilities been honed by Shuri (Letitia Wright)?
"My favorite part of Iron Man 3 is [director Shane Black's] whole idea that he's a tinkerer," Downey Jr. tells EW. "So the nice thing is that there just happened to be 40 other suits he'd been playing with that all came into Act 3."
With wings and rocket thrusters that jut out from the arms and back, Tony Stark can now propel himself into deep space. Which is something he'll need to help defeat the alien overlord Thanos.
A Strange and Stark Team-Up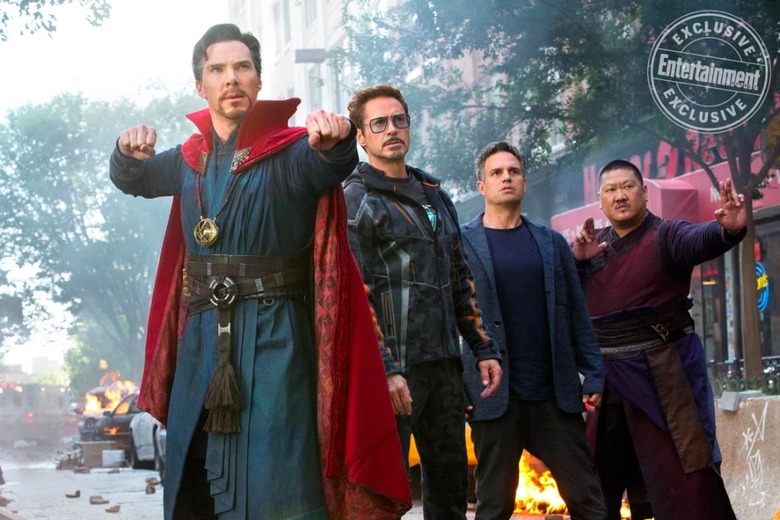 With dozens of characters packed into the movie, Infinity War directors Joe and Anthony Russo had to figure out how to give the beloved characters equal screen time. Their solution: team-ups.
Tony Stark gets immediately partnered with Doctor Strange (Benedict Cumberbatch), the warrior-librarian Wong (Benedict Wong), and eventually Bruce Banner (Mark Ruffalo) after Hulk comes crashing down to Earth right in the middle of Strange's Sanctum Sanctorum. Downey Jr. was thrilled with the dynamic of this team, telling EW:
I love how Cumberbatch just comes in and kind of draws flaming circles anywhere and can basically step into your movie. That's fun. And we wanted to keep a little bit of the Science Bros thing alive, even though Ruffalo has been on such an amazing Banner/Hulk journey himself. I really, really, really enjoyed getting to know and work with and play around with Benedict as Strange. Benedict Wong also, by the way is fantastic.
Peter Parker (Tom Holland) also joins in to bring back the popular "Parker/Stark thing" that stole scenes in Spider-Man: Homecoming. The movie keeps Tony and Peter "at close quarters as long as we can," Downey Jr. says.
Is Robert Downey Jr. Hanging Up the Suit?
Tony Stark has long shown to have an unhealthy relationship with his super suit. After chucking his arc reactor off a cliff at the end of Iron Man 3 to live a blissful life with Pepper Potts (Gwyneth Paltrow), he went back to his old ways in Avengers: Age of Ultron, trying to build a "suit of armor around the world."
"Now I think his goals are smaller," Downey Jr. tells EW.
As for Pepper, we saw that the two had reconciled in Spider-Man: Homecoming, despite "taking a break" because of Stark's inability to quit the hero life. "It was hard to thread Pepper through every story that Tony was in," Downey Jr. says, but she remains central to Tony's life.
"Pepper remains the heart of the [Iron Man] story. I think we wanted to get back to that reality. Not just for them, but let's really see how that can add to the something-worth-fighting-for of it all."
"The future" is something that Downey Jr. keeps referring to, both for himself and for Tony Stark. Does he see a future for Iron Man in the Marvel Cinematic Universe? Downey Jr. remains coy, calling up an anecdote about characters "who still haven't gotten their relationship together...and they're looking at the back nine. Because you kind of go, like, are you going to be that Dad? [With a kid] who people are wondering if your grandpa came to the soccer game? So I think there's probably some of that going on."
It sounds like Downey Jr. is hinting at Tony's possible retirement to focus on life with Pepper. Though he mentions that this is a "heads-will-roll scenario," so perhaps not everything will be lawns and soccer games for Tony. As for his own future playing Tony Stark, he only has this to say:
"I'm definitely a hang up your jersey before they boo you off the court type guy, just because I still have an appropriate fear of embarrassment."
Avengers: Infinity War hits theaters on April 27, 2018.