Could 'Black Panther' Be The First Superhero Best Picture Nominee? Christopher Nolan Thinks So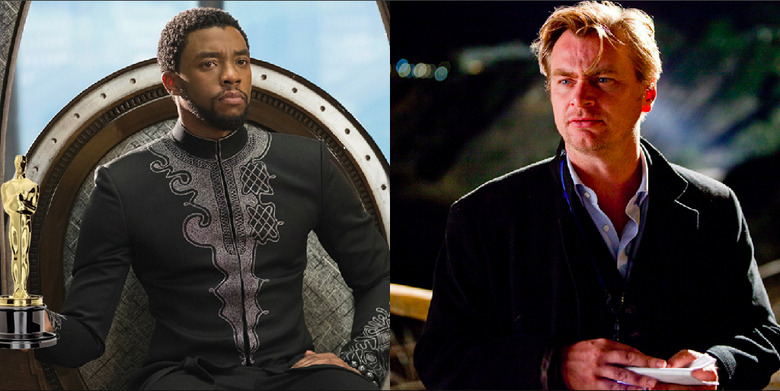 With the double-whammy of the critically acclaimed Logan and Wonder Woman, it looked like 2017 was going to be the year that a comic book movie finally earned a Best Picture nomination. But that wasn't the case. Logan received a historic nod for Best Adapted Screenplay, but Wonder Woman was spurned by the Oscars. However, things may change when next year's Academy Awards roll around.
A Black Panther Best Picture nod could very well be possible. That is, according to Dunkirk director Christopher Nolan.
It's a little early to be making 2019 Oscars Best Picture predictions, to be sure. But shortly after the 2018 Oscars ceremony wrapped up, Deadline caught up with Best Director nominee Christopher Nolan to ask what movies he thought had a chance.
Black Panther, Nolan predicted.Black Panther is a box office behemoth and a critical darling. But more so than Logan and Wonder Woman, it's become a bonafide cultural touchstone. That is why Nolan predicted that Black Panther could be the first superhero movie to earn a Best Picture nomination.
And Nolan has experience when it comes to superhero movies and Academy Award nominations. The Dark Knight was snubbed in the top category in 2008 (although it received eight nominations), prompting the Academy to expand the Best Picture category to 10 nominees.
The Oscars have always trended toward traditional films, awarding prestigious biopics or bloviating character dramas. But 2017 marked a huge shift. Suddenly, genre films like Jordan Peele's social horror movie Get Out was a Best Picture contender, walking away with the Best Original Screenplay win. Guillermo del Toro's unconventional monster-romance The Shape of Water won Best Picture.
Black Panther hit the zeitgeist at just the right moment. It taps into the racial anxieties of Get Out, but wraps it up in an action-packed superhero story. It carries huge political weight, but is astonishingly accessible. And it's so, so good, guys.
But would Disney be willing to throw its weight behind Black Panther? Deadline reporter Pete Hammond says the company already plans to. A Disney executive reportedly told Hammond that the company is planning a huge Oscars campaign for both Black Panther and Mary Poppins Returns, which stars Emily Blunt as the character that won Julie Andrews an Oscar.
If this is true, it's completely deserved. Black Panther taps into so many themes: oppression, colonization, the African diaspora, toxic masculinity. It's a movie that would easily be considered a front-runner at the Oscars, were not wearing a skin-tight super suit. Let's just hope that reported Oscar campaign pays off better than Wonder Woman's.