John Boyega Reveals Who He Wants Finn To End Up With In 'Star Wars'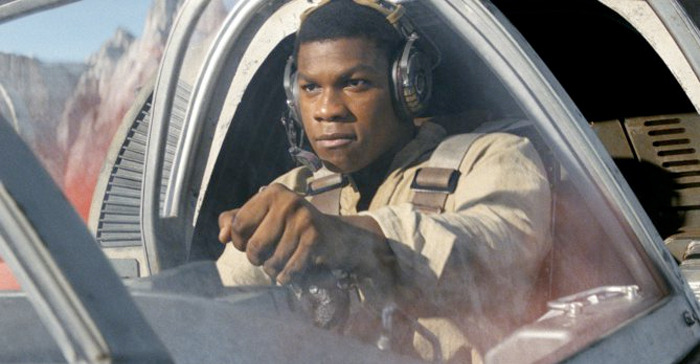 Within the first few minutes of Finn meeting Rey in Star Wars: The Force Awakens, it's obvious he has a crush on her. But one of the movie's smartest decisions was to not actively fuel that particular fire, instead allowing for a blossoming friendship that never tipped into full-on romantic territory. But by the time Star Wars: The Last Jedi wraps up and Rose Tico plants a kiss on Finn, it feels like the seeds of a love triangle may have been planted. Now it's up to J.J. Abrams to handle what happens moving forward.
I spoke with actor John Boyega at the press junket for Pacific Rim Uprising yesterday afternoon, and between questions about jaegers and kaiju, I asked him to tease the evolution of Finn in Star Wars: Episode 9 and who his preferred Finn love interest is. I have a feeling his answer is going to be somewhat controversial.
What's the Next Step for Finn?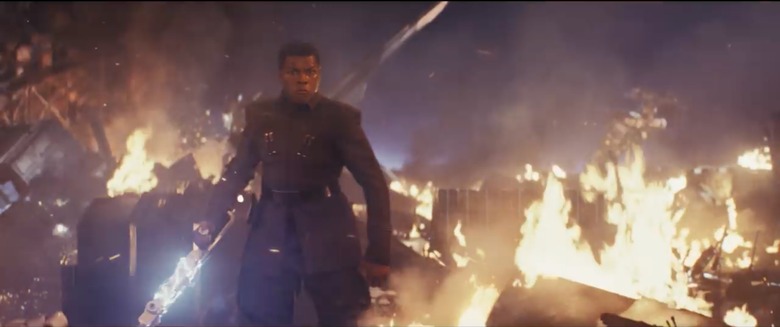 When I asked Boyega to tease the next phase for Finn, he told me that he hasn't yet spoken with Episode 9 writer/director J.J. Abrams about his character yet:
Star Wars: The Last Jedi sees Finn essentially go from somebody who's running away to being a Resistance leader. Han Solo became a general when he stopped running in Return of the Jedi. Have you talked to J.J.? Can you tease the next step for Finn?
Boyega: I really don't know, but I'm going to try to meet him on my trip to L.A. before I head to China just for him to talk me through what his plans are, because I'm so intrigued to hear what he wants to do.
Who Should He End Up With?
But the actor had a definitive answer when I asked him who he'd like to see Finn end up with in the long run:
The Force Awakens didn't feature a romantic relationship between Finn and Rey, and I think a lot of people loved that. But it seems like those same fans now really want to see Finn in a romance, whether it's with Rey or Rose –
[Both at the same time]: – or Poe.
Boyega: Or Chewbacca, or anyone. You guys are going savage! [laughs]
[laughs] Why do you think that is, and who would you like to see Finn end up with?
Boyega: Because Finn is the one character, for me, who has a distinct, unique relationship with everybody. He had this kind of banterous relationship with Han, then he has this loving relationship with Rey. Now with Rose, it feels like he has this great relationship. Personally? Rey. Yeah, Rey.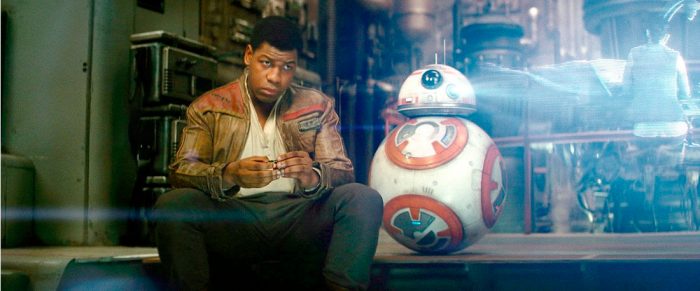 I somehow didn't realize there were Finn/Chewbacca shippers out there, but of course there are.
I think a case could be made that Rey doesn't need to get involved in a romantic relationship at all, but audiences have been conditioned to expect love stories to be woven through big blockbusters like these, and I have a feeling a lot of fans will agree with Boyega's choice. (Sorry, Rose.) I loved The Last Jedi, but I was really hoping to see how the Rey/Finn relationship changed after The Force Awakens. Now that those characters are both healthy and on the same ship again, maybe Abrams will be able to pick up the baton and provide an answer in the next chapter of the story.
Pacific Rim Uprising arrives in theaters on March 23, 2018.