'Solo: A Star Wars Story' Partners With Solo Cups In A Genius Marketing Move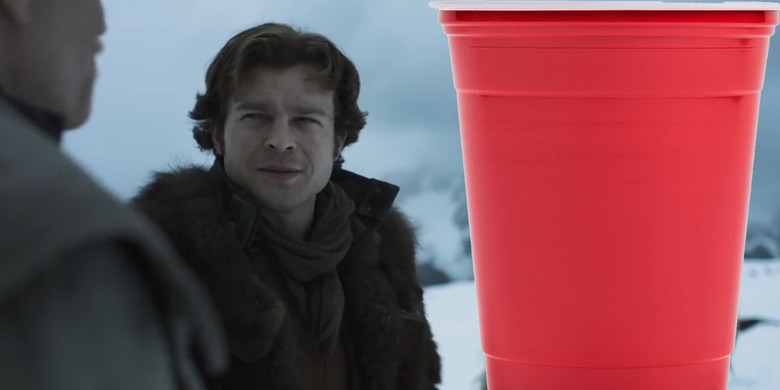 It's a match made in branding heaven.
Lucasfilm has announced that it will be partnering with six different companies in anticipation of the release of Solo: A Star Wars Story. And one of those six films is none other than Solo cups.
Han Solo is a great name, one that immediately brings to mind the most famous space smuggler in cinematic history. But what does "Solo" bring to mind? A loner? A copyright nightmare? A party cup?
It turns out Lucasfilm was thinking the same thing, as they've struck up a partnership with the iconic red cup company that shares a name with the Star Wars hero. While the shared name makes the Solo Solo Cups an obvious choice, there are deeper connections that make this partnership even better. While Solo was initially filming, its codename was Red Cup — a reference to the famous color of the cup commonly used at parties.
And in October 2017, Solo (the Chicago-based cup company, not the movie) said in a statement that it was thrilled to share a name with the Star Wars movie.
"We're delighted our Solo fans are having fun with the correlation with our brand," brand manager Becca Bikoff said. "Unfortunately Han Solo lives in a galaxy far, far away, so don't expect to see the Solo cup integrated into the movie."
There may be no Solo cups in the movie, but can we expect to see Han Solo's face decorating the red party cups? Lucasfilm didn't go into detail about the extent of the partnership, but I hope we get some Star Wars-themed Solo cups. It would make Star Wars watch parties all the more exciting.
The six other companies participating in the worldwide promotional campaign are Denny's, Esurance, General Mills, Nissan,  and Symantec.
Here is the synopsis for Solo: A Star Wars Story:
Through a series of daring escapades, young Han Solo meets his future co-pilot Chewbacca and encounters the notorious gambler Lando Calrissian.
Solo: A Star Wars Story is directed by Ron Howard and stars Alden Ehrenreich as Han Solo, alongside Woody Harrelson, Emilia Clarke, Donald Glover, Thandie Newton, Phoebe Waller-Bridge, Joonas Suotamo, and Paul Bettany.Solo is set to hit theaters on May 25, 2018.