'Tully' Trailer: Charlize Theron Gets A Life-Saving Nanny In Diablo Cody/Jason Reitman Drama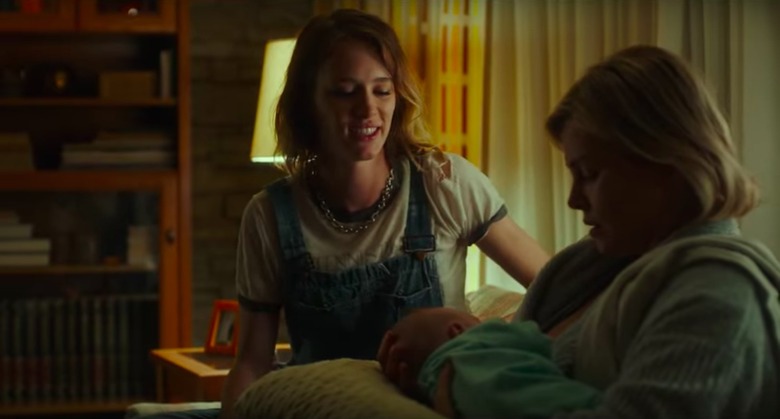 Charlize Theron is a woman on the edge of a nervous breakdown in the Tully trailer.
The Sundance favorite about an exhausted mother of three (Theron) who resorts to hiring a night nanny named Tully (Mackenzie Davis) has dropped a new trailer.
Tully Trailer
Charlize Theron has battled warlords, secret agents, and huntsmen. But this time, she takes on motherhood.
Tully is a brutally real and dreary portrait of motherhood, following Theron's Marlo, a mother of three who is on the brink of collapsing after the birth of her latest child. Her brother (Mark Duplass) suggests that she hire a night nanny to help her recover from her post-partum depression, but Marlo protests, quipping, "That's like a Lifetime movie, where the nanny tries to kill the family and the mom has to walk with a cane at the end." She ultimately relents and hires a life-changing nanny, Tully.
Other than a few darkly funny lines like the one above, Tully looks remarkably snark-free for a Diablo Cody and Jason Reitman film. In tackling their first film about parenthood, the pair seems to have taken on a more mature tone.
Tully is a reunion for writer-director power duo Diablo Cody and Jason Reitman, the team behind Juno and the Theron-led Young Adult. The movie premiered at the Sundance Film Festival earlier this year to rave reviews, with many critics calling the sharp, bleak drama Cody and Reitman's best collaboration yet.Tully also stars Ron Livingston and Elaine Tan.
Here is the synopsis for Tully:
A new comedy from Academy Award-nominated director Jason Reitman ("Up in the Air") and Academy Award-winning screenwriter Diablo Cody ("Juno"). Marlo (Academy Award winner Charlize Theron), a mother of three including a newborn, is gifted a night nanny by her brother (Mark Duplass). Hesitant to the extravagance at first, Marlo comes to form a unique bond with the thoughtful, surprising, and sometimes challenging young nanny named Tully (Mackenzie Davis).
Tully hits theaters on April 20, 2018.