Star Wars Bits: Deconstructing The 'Star Wars Rebels' Finale, Scanning Donald Glover, And Excerpting The Solo-Centric 'Last Shot'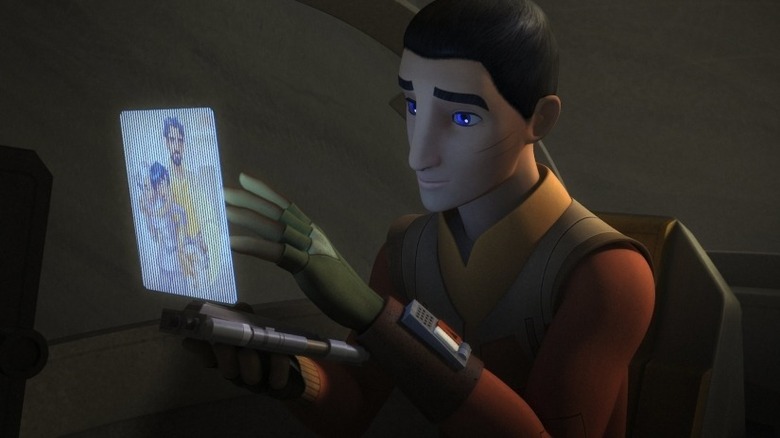 In this edition of Star Wars Bits:
Ahsoka!
More Ahsoka!!
Dave Filoni & co. discuss the series finale of Star Wars Rebels
Michael K. Williams reflects on his cut role in Solo
Leia and Chewbacca share a moment in the novelization of The Last Jedi
And much more!
Beware of spoilers for the last few episodes of Star Wars Rebels!
The Star Wars Explained channel put together an insightful review of the penultimate week's episodes of Star Wars Rebels, "Wolves and a Door" and "A World Between Worlds." The video offers a theory as to why Ezra couldn't enter the portal to save Kanan even if he decided to do so, and charts a path for Ahsoka after she returns to Malachor based on Dave Filoni's artwork from some Topps trading cards.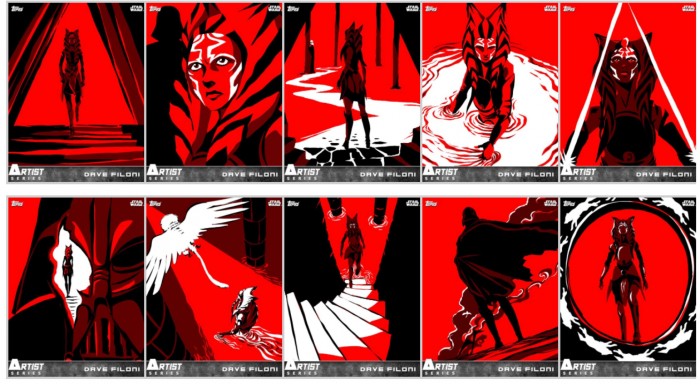 After last week's episodes, Nerdist posted an illuminating interview with Dave Filoni about Ahsoka's long-awaited return. In the interview, Filoni talked about a C.S. Lewis book that influenced the idea of portals between worlds and shed some light on how the rescue of Ahsoka came to pass: "The only thing Kanan really engineers, that I think is questionably a little bit selfish, is he engineers the rescue of Ahsoka," Filoni said. "Kanan's correcting that thing where she otherwise dies. Now she's back in play which is, I think, a good thing because she's an interesting character."
Star Wars Explained also published a video that syncs up the voices heard in "A World Between World" with the visuals from the source footage. Chills: I HAZ THEM.
Before the airing of the Rebels series finale, Filoni sat down with Collider Jedi Council leader Kristian Harloff to discuss the series, the process of collaborating with other Star Wars creators, Filoni's metaphorical ascension from a Padawan to a Master, and much more.
After the airing of the series finale, at a special screening on the Disney lot in Los Angeles, Filoni sat down with several cast members from Rebels to deconstruct the last few episodes in an emotional conversation moderated by Amy Ratcliffe. Plus: Taylor Gray (Ezra) finds out where babies come from! Check out the video above or on the Skywalking Through Neverland podcast's YouTube channel.
#StarWarsRebels Season 01, Opening Scene #StarWarsRebelsFinale Season 04, Closing Scene.
Well done guys. pic.twitter.com/OpgbXVIDWc

— Kevin Rubio (@TheKevinRubio) March 6, 2018
As pointed out by Twitter user Kevin Rubio (among others), Rebels brilliantly mirrors the opening and closing shots of the series. Narrative symmetry is a beautiful thing, my friends.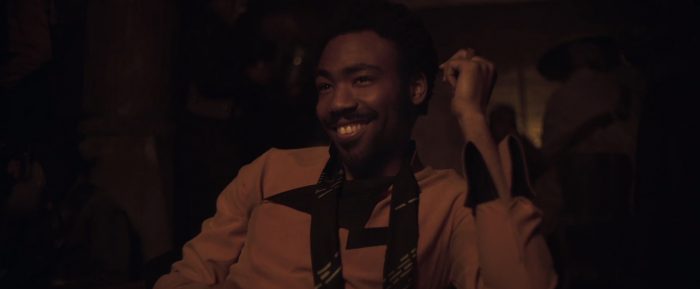 In an interview with The New Yorker, Donald Glover offered an eerie glimpse into the sci-fi future of our dreams-slash-nightmares by revealing that he is now officially "scanned" into the Lucasfilm database. He added: "Who's to say that at some point they won't take that scan and say, 'Let's make another movie with Donald. He's been dead for fifteen years, but we can do whatever we want with him.'" Hey, at least it's not carbonite.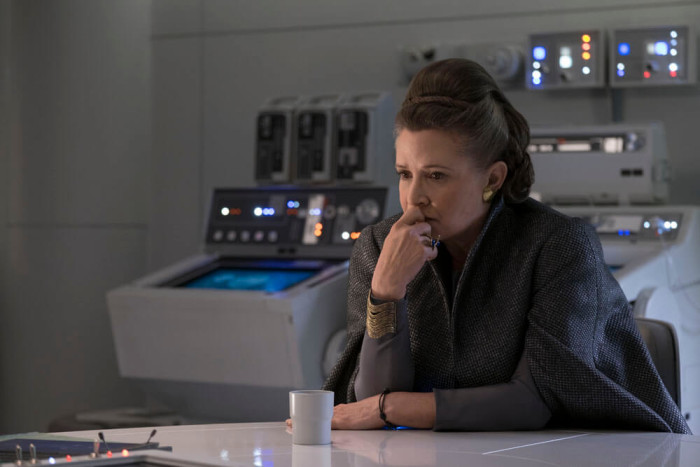 The recently released novelization of The Last Jedi, written by Jason Fry, contains a ton of new details about cut scenes, backstories, and the inner lives of certain characters. One big reveal, regarding Leia's final words to Chewbacca at the end of The Last Jedi, will leave you needing a fuzzy and comforting Wookie hug of your own. Hit up MovieWeb for those four words and more.
An international trailer for Solo has been released, and while it mostly recycles the same footage we saw in the Super Bowl trailer, there are a couple new angles of the Millennium Falcon. A new poster (that has not yet been accused of plagiarism!) has also been unveiled, and can be viewed at Heroic Hollywood.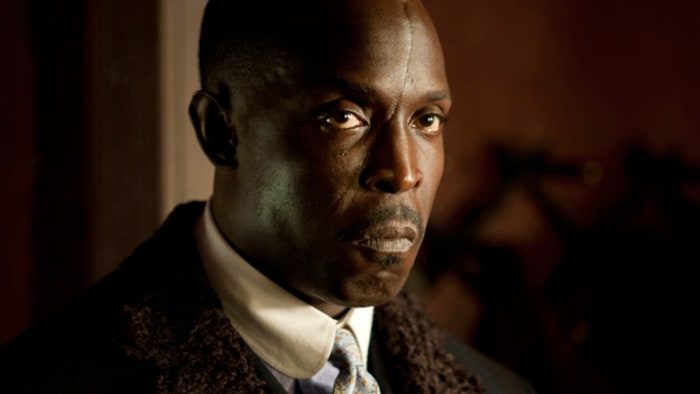 We may never know exactly how much the change of directors affected Solo: A Star Wars Story, but we do know that new director Ron Howard was forced to replace actor Michael K. Williams with Paul Bettany when Williams was unavailable to make it to set for reshoots. In an interview with Entertainment Weekly, Williams recognized that the situation was "an odd turn of events," but he certainly sounded regretful that audiences will never get to see his scenes. "What saddens me most is I was very proud of the work that I did. What I believe I have created with Emilia Clarke and Woody Harrelson and Alden [Ehrenreich]... I thought it was some great work." Fingers crossed for a make-up role in a subsequent Star Wars project!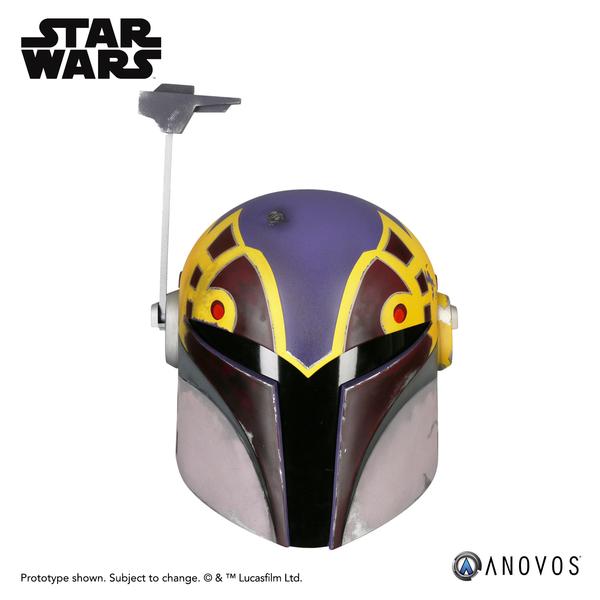 Do you aspire to be more like Grand Admiral Thrawn? (ie, collect more Mandalorian art, not murder more species in the name of the Empire, obviously.) Well, you're in luck: ANOVOS is selling a wearable replica of Sabine Wren's colorful helmet from Star Wars Rebels for only (Please hide my wallet) $499. You can pre-order the helmet here. DM me for my address so you know where to send it.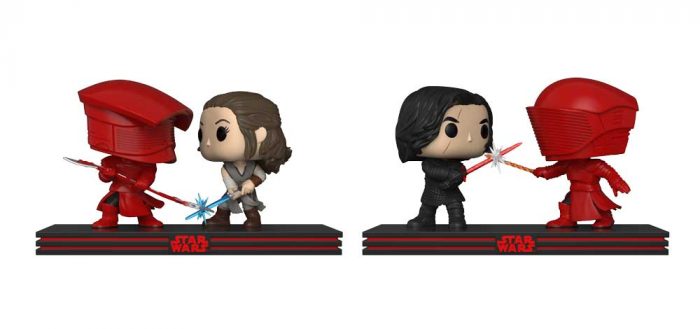 Moar collectibles! The second wave of Funko Pop! figures from The Last Jedi has been announced, and if you don't absolutely need miniature models of Kylo and Rey fighting Praetorian guards in Snoke's throne room then I honestly don't know what you're doing with your life. More Pop! figures from The Last Jedi can be viewed at the link above.
If you've been thinking that Solo: A Star Wars Story should sound more like Guardians of the Galaxy, editor Kristian Repshus hears you. Repshus re-cut the Solo trailer to the tune of Blue Swede's "Hooked on a Feeling," and the result is pretty glorious. Check out his version of the trailer above.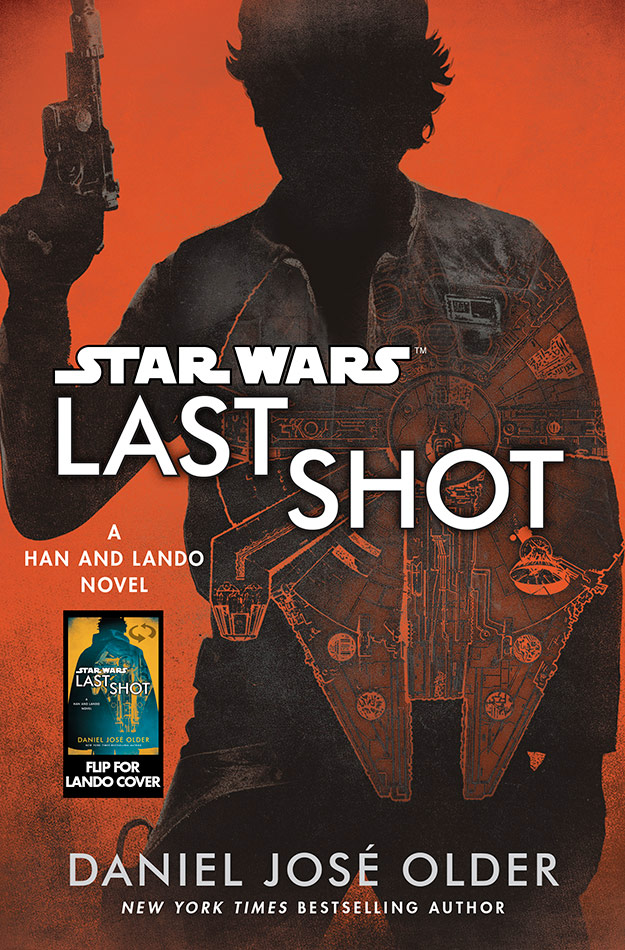 StarWars.com has an exclusive excerpt from Daniel José Older's upcoming Han Solo-centric novel, Last Shot. The book takes place a couple of years after Return of the Jedi and teases an intriguing Han and Lando adventure. But first, as we can see in the novel's excerpt, Han must learn to manage his stay-at-home-dad duties. What are the chances that baby Ben Solo sleeps through the night? Never tell Han the odds!
If the excerpt has piqued your curiosity, Random House has published a detailed summary of the novel, which hints at a potential villain for the Solo film...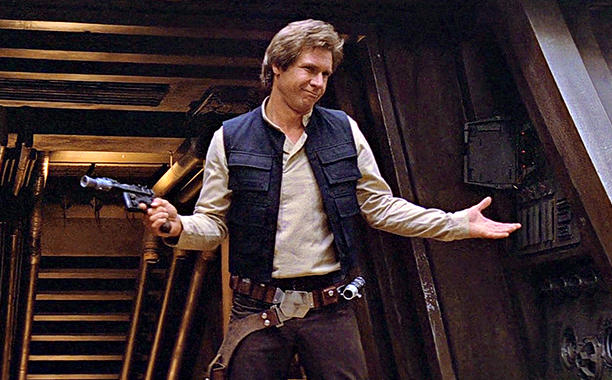 Jump ahead a couple of decades, and Han's original portrayer, Harrison Ford, is neck-deep in his new persona as a grumpy old man who yells at kids to get off his lawn. Though at times Ford reflects graciously on his time playing the notorious smuggler, he also tends to disparage anything associated with his "legacy." When asked by the New York Times how he felt about "passing the baton" to John Boyega's Finn after Han's death in The Force Awakens, Ford replied, "I don't know that I thought of it that way at all. I was there to die. And I didn't really give a rat's ass who got my sword."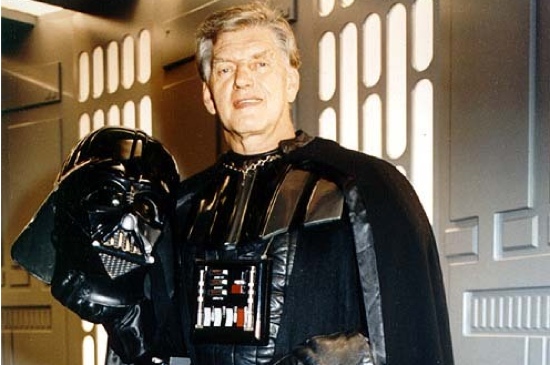 British filmmaker Marc John is suing Lucasfilm for "blocking" an interview with Darth Vader actor David Prowse, one that he claims would have aired live in 1,200 theaters and would have netted him 1.35 million pounds. Sure, dude, just be careful not to choke on your aspirations. Check out BBC.com for more info on this bonkers case.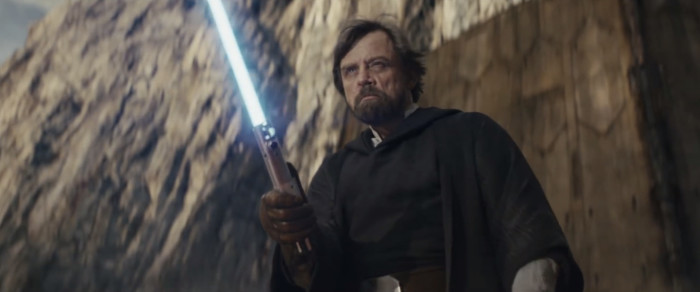 Mark Hamill is having a little bit of trouble releasing Luke Skywalker into the Force. At the Oscar Wilde Awards ceremony (AKA the "Irish Oscars"), Hamill shared a theory with the BBC about Luke's whereabouts: "I refuse to believe that he's gone. My theory is he just teleported to somewhere else and left his robe behind. He teleported to a nudist colony, that's what I'm hoping." All joking aside, this sounds like an epic sequel to The Leftovers...
Tighten your VR gear, nerds: ILMxLAB and The VOID have announced that the insanely cool, hyper-reality experience Star Wars: Secrets of the Empire will be opening in a new location in London on March 29. Click here to reserve your tickets and begin your mission to infiltrate the Empire. Godspeed, Rebels!