Watch: Edgar Wright And Spike Jonze Directed Great Commercials For Nike And Apple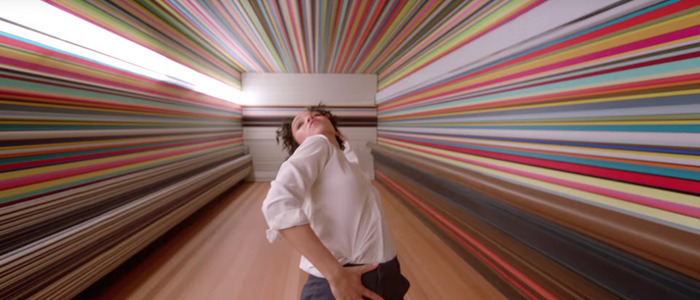 Edgar Wright and Spike Jonze released new projects in the last few days, but not on the big screen. The Baby Driver and Her filmmakers have turned their talents towards commercials, filming ads for Nike and HomePod, respectively. Watch both the Edgar Wright commercial and the Spike Jonze commercial below.
Edgar Wright Commercial
Filmmakers Edgar Wright and Spike Jones brought their considerable skills to the magical world of advertising!
First up, we have a star-studded ad for Nike helmed by Wright, the filmmaker behind Baby Driver, Shaun of the Dead, Scott Pilgrim vs. the World, and more. Featuring Kobe Bryant, Bill Nye, Kevin Hart, Odell Beckham Jr., Simone Biles, Giannis Antetokounmpo, Sadie Sink and more, the commercial is predicated on the 100% scientifically accurate concept of running fast enough to alter the rotation of the earth. In the commercial, earth has stopped spinning. Humanity decides to band together to lace-up their expensive running shoes and get running. The running, according to Bill Nye, will get the earth spinning again.
Needless to say, this is exactly what would happen if the world stopped spinning one day.
Wright brings the fast-paced editing and visual cues that populate his movies to the ad, and it makes for an entertaining enough watch. Now go make another movie, Mr. Wright. That's what we really want.
Spike Jonze Commercial
As much as I enjoy Wright as a filmmaker, and as entertaining as his commercial is, it's got nothing on this HomePod ad filmed by Spike Jonze. Jonze has a background in commercial work, and here he creates a stunning, colorful ad for Apple's speaker/intelligent home assistant. I suppose you could argue that this ad doesn't do the best job promoting HomePod – the HomePod only makes a brief appearance, and I have my doubts that the device can turn your apartment into an ever-expanding rainbow wonderland. Still, this ad is eye-popping.
FKA Twigs comes home, asks Siri (via her HomePod) to play her something she'd like, and from there the ad launches into a series of mind-blowing events that I'm almost positive are all created via practical effects (rather than CGI). I'm not too crazy about the song ("Til It's Over" by Anderson Paak), but the look of this commercial is incredible.
Like Edgar Wright's commercial above, it makes me pine for another Spike Jonze movie. The filmmaker hasn't directed a feature film since 2013's Her (which, coincidentally enough, also dealt with another kind of intelligent home assistant).