Amazon's 'Good Omens' Recruits 'Parks And Rec' Actor Nick Offerman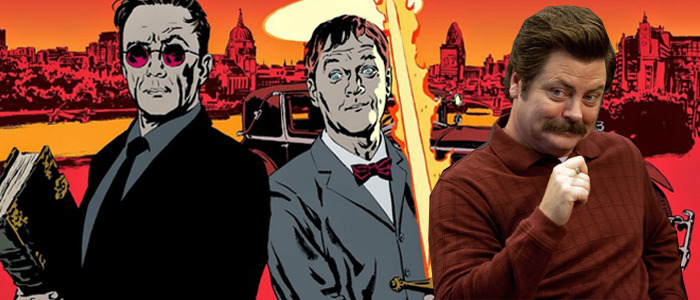 Amazon's Good Omens cast continues to improve: Parks and Recreation star Nick Offerman is the latest to join its ranks. Offerman will star alongside Michael Sheen, David Tennant, Jon Hamm, Miranda Richardson, Michael McKean, and more. Continue reading to find out who he'll play in the small screen adaptation of the beloved novel.
Good Omens: The Nice and Accurate Prophecies of Agnes Nutter, Witch is a 1990 novel co-written by acclaimed authors Neil Gaiman and Terry Pratchett, and it's described as an apocalyptic comedy about the birth of the Antichrist and the onset of the end of the world. Here's the breakdown from Amazon:
According to The Nice and Accurate Prophecies of Agnes Nutter, Witch (the world's only completely accurate book of prophecies, written in 1655, before she exploded), the world will end on a Saturday. Next Saturday, in fact. Just before dinner.
So the armies of Good and Evil are amassing, Atlantis is rising, frogs are falling, tempers are flaring. Everything appears to be going according to Divine Plan. Except a somewhat fussy angel and a fast-living demon—both of whom have lived amongst Earth's mortals since The Beginning and have grown rather fond of the lifestyle—are not actually looking forward to the coming Rapture.
And someone seems to have misplaced the Antichrist...
According to Variety, Offerman will play "the U.S. Ambassador and father of the child Warlock in the series, who is mistakenly believed to be the Antichrist." We've already seen photos of Michael Sheen and David Tennant in character as an angel and a demon (respectively), and we know Jon Hamm is playing the archangel Gabriel in a role that was much larger than it was in the original novel.
Pratchett, who passed away in 2015, wrote Gaiman a letter giving him his blessing to make a TV adaptation of their book. Gaiman wrote the script and will be serving as the showrunner, and he thinks Offerman is particularly well-suited for this role:
"There may not be anyone alive who can deadpan a line quite as well as Nick Offerman. He's a terrific performer and has to say a lot of things in 'Good Omens' that are humanly impossible to deliver with a straight face. Fortunately, Nick is not entirely human."
Fans who fall in the Venn diagram of those tracking the production of Good Omens and those who follow Nick Offerman on Instagram may have been able to piece this information together already. The actor posted a video a few days ago from South Africa, where shooting is currently underway.
A post shared by Nick Offerman (@nickofferman) on
Offerman himself also released a statement about joining the production:
"If you had told me when I first read 'Good Omens' in the early '90s that I would one day visit South Africa to giggle with Neil Gaiman at laptop-screened footage of 'Dr. Who' and David Frost dancing because I was essaying a role in the adaptation of said book, I would likely have offered to purchase some of whatever you must be smoking. But here I am, still giggling at the luck of it."
Good Omens is expected to arrive on Amazon sometime in 2019.