Watch The Best Acceptance Speeches From The 2018 Oscars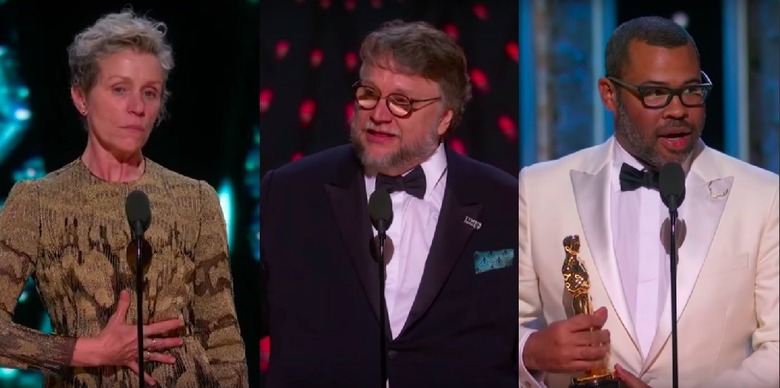 The 90th Academy Awards showed a Hollywood at an impasse.
With the industry in the midst of a sexual and political upheaval, Tinseltown's most glitzy awards ceremony found itself grappling with its message. The result: an overlong, messy Academy Awards ceremony that swung between self-congratulatory nods to the Time's Up movement and cheery apolitical, made-to-go-viral stunts.
But a few 2018 Oscars speeches salvaged the show. Fiery remarks and inspirational anecdotes helped galvanize the ceremony and make the four hour-plus TV event worth watching.
Frances McDormand
"So I'm hyperventilating a little bit, if I fall over, pick me up 'cos I got some things to say."
With that, Frances McDormand stole the show. Trading in her usual composed speeches for something that was alternately giddy, awkward, and exciting, McDormand used her Best Actress speech for Three Billboards Outside Ebbing, Missouri to celebrate all the night's female nominees and call for more diversity in front and behind the camera.
"If I may be so honored to have all the female nominees in every category stand with me in this room tonight," McDormand commanded, as women in the Dolby Theatre stood and cheered. "Look around, look around. ... We all have stories to tell and projects we need financed. I have two words to leave with you tonight, ladies and gentleman: inclusion rider," she said.
And what is an inclusion rider exactly? It's a clause that can be inserted in actors' contracts requiring that film casts and crews meet a certain level of diversity. It's a powerful statement on McDormand's part, and a brave gesture towards solidarity.
Guillermo del Toro
Guillermo del Toro gave two tearful speeches during Oscar night, both equally inspiring. But his most empowering speech — and one that brought politics to the forefront of the ceremony — was del Toro's acceptance speech for Best Director, in which he proudly declared, "I am an immigrant." The Mexican director's rousing love story The Shape of Water was an homage to disabled, minority, and LGBT people everywhere, and del Toro highlighted that in his speech.
"I think the greatest thing that does and our industry does is erase the line in the sand," del Toro said. "We should continue doing that, when the world tells us to make it deeper."
"Everyone that is dreaming of using fantasy to tell the stories about things that are real in the world today, you can do it," del Toro said later, while accepting the award for Best Picture. "This is the door. Kick it open and come in."
Lee Unkrich, Adrian Molina, and Darla K. Anderson
The politically-charged messaging of the night began with Best Animated Picture winner Coco. The speech also had one of the cutest moments of the night, with presenter Oscar Isaac running onstage to give a warm hug to Coco star and friend Gael Garcia Bernal.
Director Lee Unkrich thanked Mexico's warm and inviting culture, stating, "Coco would not exist without your endlessly beautiful culture and traditions," Unkrich said. Co-director Adrian Molina and producer Darla K. Anderson's breezy shout-outs to their partners gave another layer of importance to the trio's acceptance speeches.
"With Coco, we tried to take a step forward toward a world where all children can grow up seeing characters in movies that look and talk and live like they do," Unkrich added. "Marginalized people deserve to feel like they belong. Representation matters."
Jordan Peele
Jordan Peele is the definition of "if at first you don't succeed, try try again." And again.
The former Comedy Central star took home a historic win for Get Out, becoming the first black writer to win Best Original Screenplay. Peele gave a flustered and emotional acceptance speech, thanking the studios and audiences that made Get Out's win possible.
"I stopped writing this movie about 20 times because I thought it was impossible, " Peele said. "I thought it wasn't going to work, I thought no one would ever make this movie. But I kept coming back to it, because I knew if someone let me make this movie, that people would hear it and people would see it. Everybody who bought a ticket, who told somebody to buy a ticket, thank you. I love you for shouting out at the theater, for shouting out at the screen."
Sam Rockwell
Sam Rockwell reminded us of why we love movies, sharing a sweet anecdote about his father in a funny, genial acceptance speech for Best Supporting Actor. He recalled how when he was 8, his dad picked him up from school, faking an emergency.
"We got in the car and I said, 'What's wrong with Grandma?' And he said, 'Nothing, we're going to the movies,' " Rockwell joked. "My mom and dad's love of movies became my love of movies, so thank you for that, Mom and Dad.'"
He thanked his Billboards co-stars and "everyone who's ever looked at a billboard," and gave a sweet dedication to his late friend, Philip Seymour Hoffman.
Best Presenters: Tiffany Haddish and Maya Rudolph
Honorable Mention: Mark Bridges, Phantom Thread Costume Designer and Jet Ski Winner
The Oscars notoriously run over its intended time slot, so in a stunt to encourage shorter speeches, Jimmy Kimmel promised a jet ski to the shortest acceptance speech. And he wasn't kidding.
"I will be timing you. I have a stopwatch," Kimmel said.
Ultimately, costume designer Mark Bridges, who collected an Oscar for his work in Phantom Thread, won the jet ski. And the reveal of his award at the end of the ceremony, Bridges beaming while astride the jet ski with Helen Mirren behind him, was one of the best moments of the night.