'Mary Poppins Returns' Trailer: Everyone's Favorite Magical Nanny Is Back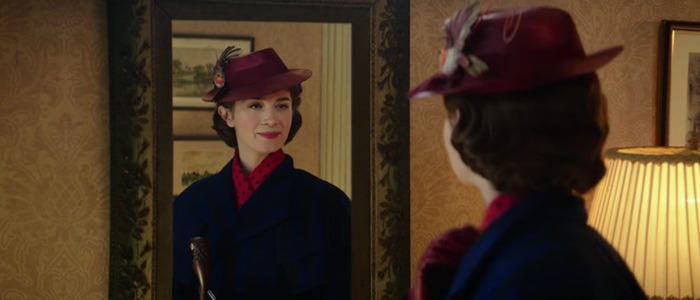 Disney dropped the highly-anticipated Mary Poppins Returns trailer during the Academy Awards, and the result is...kind of ominous? This may not be the best way to sell your big musical sequel, but it's certainly attention-grabbing. Watch the Mary Poppins Returns trailer below.
The Mary Poppins Returns trailer begins on a surprisingly spooky note, with stormy skies, ill winds, and a tattered kite. Then Hamilton's Lin-Manuel Miranda rides up on a bike. This is definitely the definition of a "teaser" – Mary herself doesn't show up until the very end. See for yourself.
Mary Poppins Returns Trailer 
Am I nuts, or does this give off a serious horror movie vibe? That shot of Mary in the stormy sky, clutching the kite, is a bit unsettling. Then you have that ending where Mary's mirror reflection comes to life on its own. Yes, I know the same thing was in the original film, but it didn't seem so...creepy there.
Mary Poppins Returns stars Emily Blunt as everyone's favorite flying nanny, who returns for the first time since her last on-screen adventure – the 1964 Mary Poppins starring Julie Andrews. Besides Blunt, Mary Poppins Returns also features Lin-Manuel Miranda as a lamplighter who is a friend to Ms. Poppins; Ben Whishaw and Emily Mortimer as the head of the Banks family; Colin Firth as bank employee, and Meryl Streep (!) as Mary Poppins' cousin Topsy.Into the Woods director Rob Marshall helms the film, with a script by David Magee. The film features music by Marc Shaiman, with songs by Shaiman and Scott Wittman.
I'm sure we'll get a longer, more detailed, and less creepy trailer as we get closer to Marry Poppins Returns' release date of December 25, 2018.
"Mary Poppins Returns" stars: Emily Blunt as the practically-perfect nanny with unique magical skills who can turn any task into an unforgettable, fantastic adventure; Lin-Manuel Miranda as her friend Jack, an optimistic street lamplighter who helps bring light—and life—to the streets of London; Ben Whishaw as Michael Banks; Emily Mortimer as Jane Banks; and Julie Walters as the Banks' housekeeper Ellen; with Colin Firth as Fidelity Fiduciary Bank's William Weatherall Wilkins; and Meryl Streep as Mary's eccentric cousin, Topsy. The film also introduces three new Banks' children played by Pixie Davies, Nathanael Saleh and newcomer Joel Dawson. Angela Lansbury appears as the Balloon Lady, a treasured character from the PL Travers books and Dick Van Dyke is Mr. Dawes Jr., the retired chairman of the bank now run by Firth's character.