Keanu Reeves In Talks To Star In Rick Famuyiwa Superhero Movie For Netflix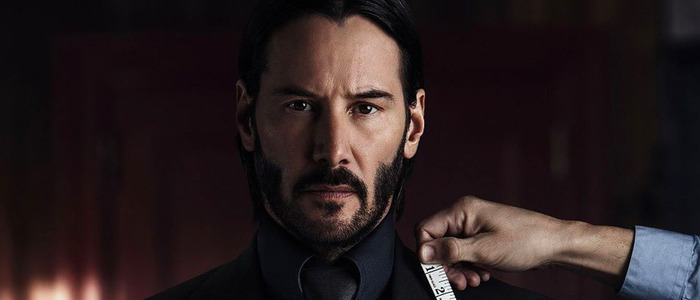 Director Rick Famuyiwa may have walked away from The Flash, but he's not done with superheroes. The Dope filmmaker will helm a new superhero movie for Netflix, with Keanu Reeves in talks to star.
This just jumped up to the top of my must-see list. Rick Famuyiwa, who helmed Dope and was previously attached to direct The Flash, has signed to direct Past Midnight for Netflix (per Deadline). The film is described as "a feature about a new kind of vigilante superhero." Famuyiwa's attachment is enough to pique my interest, but wait, there's more. According to Deadline, Keanu Reeves is in talks to star.
A Keanu Reeves vigilante superhero movie on Netflix? Yes, let's make this happen. Past Midnight will be written by T.J. Fixman (Ratchet and Clank) and produced by Avengers: Infinity War helmers Anthony and Joe Russo.
Reeves has history playing lone vigilantes having starred in John Wick and John Wick: Chapter 2. He'll reprise the role yet again for John Wick: Chapter 3, which begins shooting soon. The actor has had something of a remarkable comeback in recent years. I remember a period where people shrugged off Reeves as too wooden. Now everyone wants to see new Keanu Reeves movies.
This is the second Rick Famuyiwa project to be announced in a matter of days. Previously, word broke that Famuyiwa would helm the adaptation of the graphic novel Black Hole. The director is just the latest name to jump to Netflix, who continues to cultivate a killer line-up of talent as they attempt world domination through original streaming content.
Just a few weeks ago, Paramount made dumped the recent Cloverfield movie onto the streaming service, with Netflix paying more than $50 million for the film. In addition to that, the Duplass Brothers signed a four-picture deal with the streaming service. Other filmmakers and creative types who've joined Netflix include American Horror Story creator Ryan Murphy, who inked a big deal with Netflix; Shonda Rhimes, who signed a deal last year; and Martin Scorsese, whose highly anticipated The Irishman is currently filming and racking up a hefty production budget in the process. Filmmaker Luc Besson and his EuropaCorp are also mulling over a deal with Netflix. Comic book writer Mark Millar got into the Netflix business last year as well. It's all part of Netflix's plan. This year alone, the streaming service is set to create a total 700 original movies and TV shows. It's Netflix's world; we're all just living in it.