Warren Beatty And Faye Dunaway Will Present Best Picture At The Oscars Again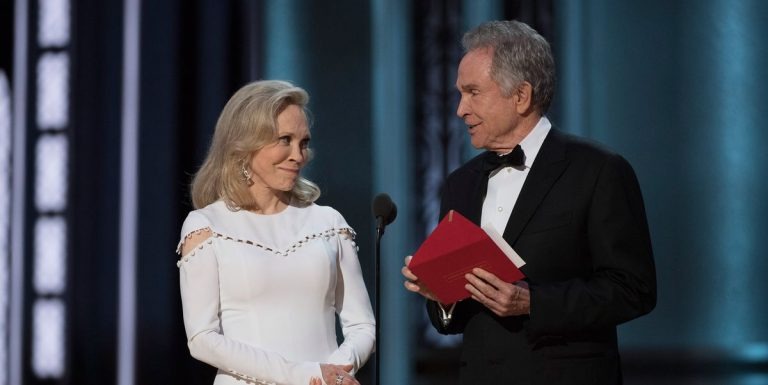 It was the biggest awards debacle of in all of Oscars history. You know what I'm talking about: the La La Land/Moonlight mix-up.
At the 2017 Oscars, La La Land was mistakenly awarded Best Picture before panicked producers announced that Moonlight was the real winner, resulting in candid photos of shocked celebrities that could rival a Renaissance painting. And the poor presenters, Warren Beatty and Faye Dunaway, received the brunt of the blame. Now, a year later, Beatty and Dunaway are returning to the Oscars to present Best Picture once again.
According to The Hollywood Reporter, Warren Beatty and Faye Dunaway will present the top honor for Best Picture at the 90th Academy Awards ceremony. Again.
The duo presented last year to coincide with the 50th anniversary of their classic film Bonnie and Clyde, but after an envelope mix-up by the accountants of PricewaterhouseCoopers, they accidentally gave the award to La La Land instead of Moonlight. Now they're returning to make up for their mistake, and possibly make a jab or two at last year's historic gaffe. Last year's host Jimmy Kimmel will also be returning (and has already made the mix-up his main joke).
I don't blame Beatty and Dunaway for wanting a do-over. These two are legendary actors whose performances defined a generation in movies like Bonnie and Clyde, Network, and Heaven Can Wait. Now, when you Google the two of them, you almost exclusively see photos of their gaffe at the 2017 Oscars. Instead of being seen as the iconic bank-robbing duo, they are now a meme.
TMZ first reported that Beatty and Dunaway will be presenting at the Oscars ceremony this Sunday. According to the outlet, the duo appeared at the Dolby Theatre to rehearse the presentation — along with a self-deprecating bit. "Presenting is better the second time around," Dunaway reportedly says, before Beatty jokes, "The winner is Gone with the Wind."
Haha, get it? Because it's the wrong movie!
In all seriousness: The Academy is intent on preventing last year's mistake from being repeated, unveiling a new set of guidelines this January. The rules include prohibiting PwC partners from using cell phones or social media — which we all know is the likely reason this mix-up happened in the first place. (Thanks, Emma Stone!)