'Muppet Babies' Clip: Get Ready For An Abundance Of Singing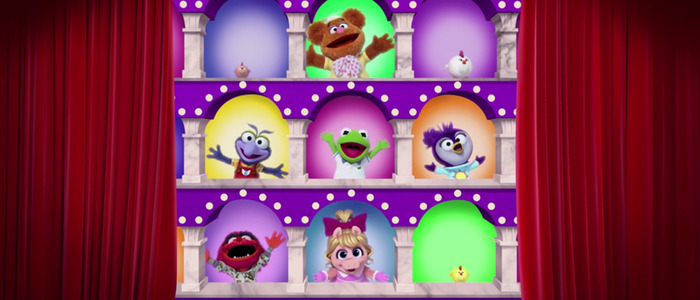 The Muppet Babies are coming back to make your dreams come true with an all-new animated series, whether you like it or not. A brand-new Muppet Babies clip introduces you to the cast of characters, and features a lot of singing.
So. Much. Singing. Muppet Babies is clearly geared towards very young children, and they will no doubt get a kick out of all the sunshiny singing in this clip, and the series as a whole. As for me, I watched this clip with a curious detachment. Check it out for yourself.
Muppet Babies Clip
A few takeaways from this clip:
There's a new character named Summer, who I guess is a penguin? I don't remember her from the classic Muppets lineup, or the original Muppet Babies animated series that used to play on Nickelodeon when I was a kid.
All the voices sound really weird, but I suppose that can be written off by the fact that these are supposed to be the Muppets as kids, so their voices are naturally different.
This song isn't even slightly catchy. Remember how catchy the original Muppet Babies theme song was? That thing was an earworm. This? I don't know what this is.
The animators did a pretty good job recreating the felt-like textures of the Muppet characters.
As Nerdist reports, before the new Muppet Babies series debuts, "Disney Junior will let the kids introduce themselves to a whole new generation of fans with the short form series "Muppet Babies: Show and Tell," which will also offer a look at their playroom, which can transform into anything their imaginations can dream up. The shorts will premiere Friday, March 2, on the Disney Channel, Disney Junior YouTube, as well as the DisneyNOW app." So be on the look out for that, I suppose.
Muppet Babies, featuring the voices of Matt Danner, Melanie Harrison, Dee Bradley Baker, Ben Diskin, Eric Bauza, Jessica DiCicco, and Jenny Slate, premiers March 23, 2018 on Disney Junior.
The MUPPET BABIES are here to make dreams come true! Join Kermit, Piggy, Fozzie, Animal, Gonzo and Summer on all their playroom adventures! Whether they're building a time machine, blasting off into outer space or watching Gonzo launch himself out of a cannon, the sky is definitely NOT the limit for the Muppet Babies! Along with the help of Miss Nanny, the Muppet Babies will use their imaginations to explore their playroom and beyond!