Greta Gerwig Is Planning Three More Sacramento Movies To Follow 'Lady Bird'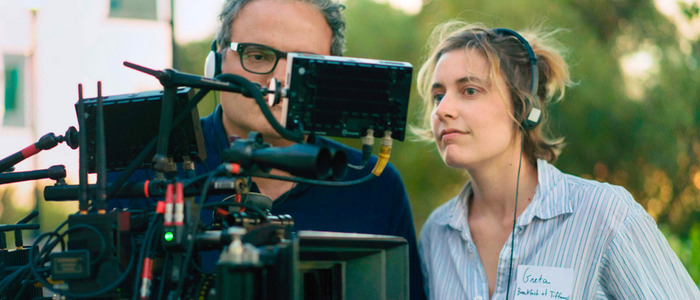 Lady Bird may have been the first in a series of films set in sunny Sacramento. In an interview with Moonlight director Barry Jenkins on the new A24 Podcast, director Greta Gerwig confessed she was hoping to make a quartet of films in the Lady Bird setting.
Super indie movie studio A24 just launched a podcast, and they managed to rustle up two extremely impressive hosts for the first episode: Moonlight director Barry Jenkins and Lady Bird filmmaker Greta Gerwig. During the conversation between the two directors, Gerwig revealed she'd like to make more films set in Sacramento, California. That's not only the setting of Lady Bird, but also the place Gerwig grew up.
"I'd like to make a total of four films that take place [in Sacramento]," Gerwig said (via Vulture). "I would like to do a quartet of Sacramento films. It's inspired by the Elena Ferrante Neapolitan quartet — she wrote these four books that took place mainly in Naples. They're so great. I thought, Oh I'd like to do that."
Gerwig goes on to say:
"Because [Lady Bird] was one part of Sacramento. There's a lot of different parts of Sacramento that I'd like to explore, too. I feel like I have the privilege of being from a place. I'm really from that place — my family didn't move, my family is still there, my friends are still there — I feel like I can actually speak to it with some feeling."
I support this concept. If Marvel can have its own cinematic universe, why can't there be the Greta Gerwig Sacramento Universe as well?
Gerwig has spoken of her love of her hometown in the past. "I really wanted to make a movie that was a reflection on home and what does home mean, and how does leaving home define what it is for you and your love for it," Gerwig said at the New York Film Festival Press Conference. "I felt like it was a love letter to Sacramento, and I felt like, what better way to make a love letter than through somebody who wants to get out, and then realizes that they loved it?"
For more Gerwig tidbits have, check out the A24 Podcast. If you need anymore convincing, here's all the various topics covered in this particular episode: Elena Ferrante, medieval triptychs, things that make Greta uncomfortable as a viewer, shooting through fog machines, the skirts of Isadora Duncan, fast-talking ladies, Grey Gardens, the possibility of a giant bad mess, budgetary constraints, Sacramento, the special birthday plate, and the YMCA aerobics class on 14th Street where Greta discovered her calling."