The Water Cooler: Magician Adventure Vlogs, 'Clue' Live Read, And Szechuan Sauce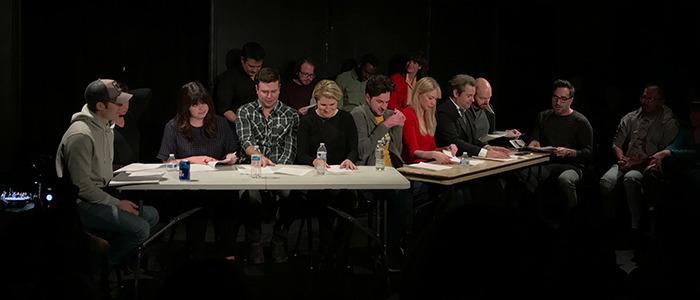 Welcome to The Water Cooler, a feature where the /Film staff is free to go off-topic and talk about everything except the movies and TV shows they normally write about. In this edition: Peter Sciretta talks about a YouTube channel he's addicted to, Chris Evangelista is watching ER on Hulu, Hoai-Tran Bui went to a pop-up bar, Ethan Anderton tried McDonald's Szechuan sauce, and Ben Pearson saw a live reading of the Clue script.
Peter Has Been Watching Chris Ramsay's YouTube Channel
Last year, I wrote about my deep dive into YouTube subscriptions, and specifically my discovery and enjoyment of The Tim Tracker, an Orlando-based husband and wife team who video blog their daily adventures and trips to the local theme parks. That Water Cooler entry got a good response and people have been asking me what other video bloggers I've become addicted to on YouTube. And since I don't really have an adventure to write about this week, I thought I'd take this opportunity to share another YouTube channel I'm addicted to.
Chris Ramsay is a Canadian-based professional magician with a YouTube channel with over 650,000 subscribers. As many of you know, I'm a big fan of magic and a member of Los Angeles' famed Academy of Magical Arts at the Magic Castle, so it makes sense that I follow a bunch of magicians on YouTube. But much like how The Tim Tracker is not only the best theme park video blogger, it's hard to find anyone even comparable to Ramsay in the magic realm. And don't worry, his channel isn't just for magicians, although I think magicians and cardists might get more out of it.
Magic can be thought of as a cheesy art form, but Chris Ramsay makes it look and feel authentic and cool. He's incredibly charismatic, and he knows how to shoot, making everything he does and everywhere he goes look almost like a professionally shot and edited documentary (I'm sure Peter McKinnon deserves some credit here).
Sometimes Chris showcases some of his own street magic, other times he's taking us with him on his travel adventures as the magic and social media fame takes him around the globe. Or he's at home showing off a new puzzle box or talking about the dynamics of the world of magic. My favorite video blogs are probably his adventures with fellow magician friends, goofing around, performing magic, and just having fun.
He's not afraid to criticize the community he belongs to, or call out a famous Facebook magician for faking the audience reactions to his tricks, or show himself messing up a magic trick on live television (it wasn't his fault), or teach you piece of sleight of hand you can learn (something that is wrongfully asked by stuffy old magicians who think secrets can't be taught unless you somehow pay a price).
Above I have embedded a video that was shot at a house party during Magic Live, a prominent Las Vegas magic convention with Chris harassing his magician friends to show a trick for his camera. It's shot at David Copperfield's producer Chris Kenner's house, and we get a look at his massive, impressive film prop collection. I'm not sure why I chose this video out of all the videos he's posted – it's probably not the best one. Maybe because it features a mix of video blogging an adventure and magic, which I think is the intersection of when this channel is at its best. Check out Chris Ramsay's YouTube channel here.
Ben Pearson Saw a Live Read of Clue
On Tuesday night, I went to the UCB Theater in Hollywood and saw a Live Read of the 1985 classic murder mystery film Clue. Jensen Karp (the owner of L.A.'s Gallery1988) organized the event and read the stage directions from the shooting script, which means there were some jokes that were read aloud that didn't make it into the movie. Karp recruited an amazing cast:
Wadsworth: Ben Schwartz
Mrs. White: Jillian Bell
Mr. Green: Taran Killam
Mrs. Peacock: Casey Wilson
Col. Mustard: Paul F. Tompkins
Prof. Plum: Paul Scheer
Miss Scarlet: Riki Lindhome
Yvette: Angela Trimbur
Mr. Boddy: Zach Gilford
As you can see, I captured a little video of the event to give you a sense of what it was like in the room. This section comes near the end of the film, when Wadsworth the butler reveals to the group that he knows who the murderer is.
The whole thing was a blast, and I have to give a special shout-out to the women of the show, who all killed it. Wilson was perfectly put out as Mrs. Peacock; Lindhome brought an excellent swagger to Miss Scarlet; Trimbur was endearing and hilarious as Yvette, because she admitted to not knowing how to do a French accent but gamely tried anyway; and Jillian Bell did a pitch perfect Madeline Khan impression as Mrs. White.
Ethan Anderton Got That Szechuan Sauce from McDonald's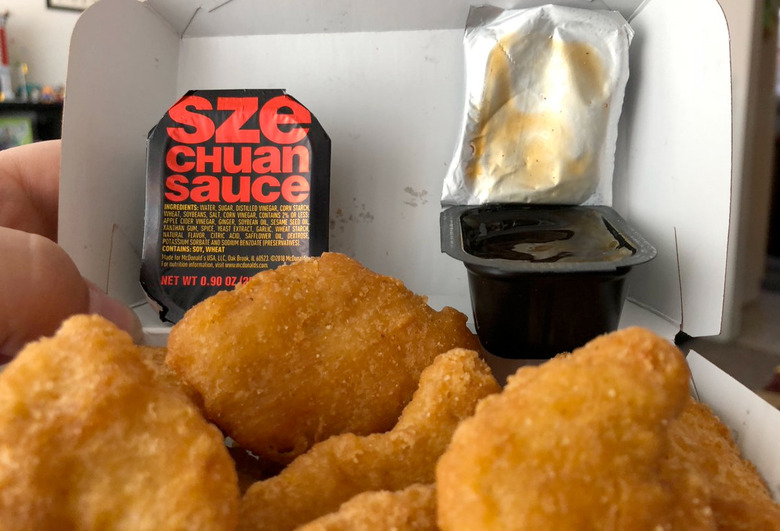 The limited edition revival of Szechuan sauce at McDonald's last fall ended up pissing off more Rick and Morty fans than it satisfied. So the fast food chain said they would make amends by bringing much more of the sauce back before winter was over. And that's exactly what they did.
On February 26, McDonald's locations all over the United States were stocked up with 20 million total packets of the sauce that first debuted as a Mulan cross-promotion 1998, and I made a stop by local McDonald's earlier this week for lunch to try some out.
Since I didn't try this sauce when it was first available back in 1998, I don't have a basis for comparison. Paired with the classic chicken nuggets, though, this sauce was tasty as hell. It's essentially a soy sauce with a bit of sweetness in it, almost like it includes some honey. I'm not sure it's worth all the rioting that happened after Rick and Morty fans didn't get enough of it last fall, but I'm just glad that our dimension has a healthy supply of it.
Hoai-Tran Went to a Cherry Blossom and Godzilla-Themed Pop-Up Bar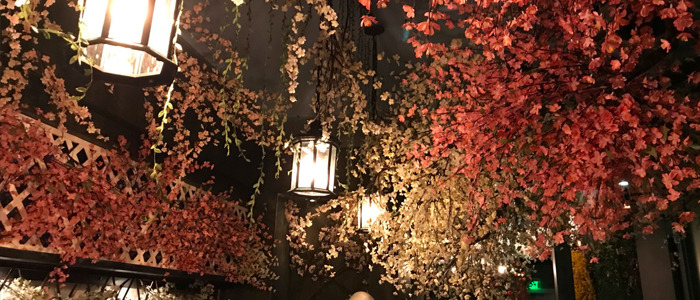 D.C. isn't exactly a mecca for hip pop culture. Usually, it's either politics or history — though they do have a pretty impressive underground music scene. But recently, there's been one pop-up bar company that is catering to the pop culture geek's every need.
Yeah, I'm talking about the people who did the Stranger Things and Game of Thrones bars. The company, called the Drink Company, first went viral with the Stranger Things bar back in 2016, and since then, they've been upping their pop-up game. I wrote an article last summer when the Game of Thrones bar opened — which was an astounding project that had detailed renderings of the Hall of Faces, a weirwood tree, and the Iron Throne itself. And they brought their A-game again with the new spring pop-up centered around Washington D.C.'s famous cherry blossom festival.
To be honest, I didn't expect much walking in. But I was pleasantly surprised to see that not only did the pop-up bar, called Cherry Blossom PUB, have immaculate recreations of cherry blossom trees indoors, they also had set up a fake dingy Japanese alleyway bar and huge Godzilla and Mothra figures. Whoever researched the design has either been to Japan or is a Japanese culture uber-fan, because the room set up to look like a Japanese alley brought me back immediately to Memory Lane in Tokyo, when took a trip there in 2015.
The cocktails were novel and fun (one was served in a Japanese maneki-neko cup!) and the details were so meticulous that I would say this is the Drink Company's best pop-up since the Game of Thrones bar.
Chris Evangelista Has Been Watching ER on Hulu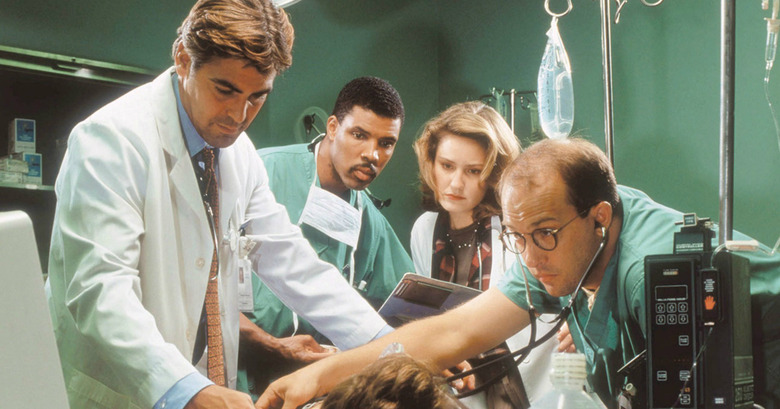 I watch a lot of TV shows and movies for work, so I'm always looking for some form of entertainment to unwind with on the side. Something I don't have to take notes during. Hulu recently added all 15 (!) seasons of the medical drama ER to their streaming service, and I was intrigued. I remember watching random episodes of ER here and there when I was younger, but I had never sat down and watched the whole thing. Hulu was the one streaming service I didn't have, but I decided to bite the bullet and subscribe just so my wife and I could start watching ER.It was worth it. Folks: ER is great. While some of the show screams 1990s – primarily the haircuts and baggy clothes – the series remains surprisingly fresh. More than that, it's a very well made show. While a lot of TV from that era is stagey, with flat blocking, ER is constantly moving – the camera whip-pans down hallways, through operating rooms, and beyond. Doors are always bursting open; doctors are always hustling around in a frenzy. It's addictive as hell. The cast is great too, particularly Anthony Edwards and pre-fame George Clooney. I can't get enough of this show. Thankfully there's over 300 episodes to get through.