Marvel Moves Up 'Avengers: Infinity War' Release Date To April 27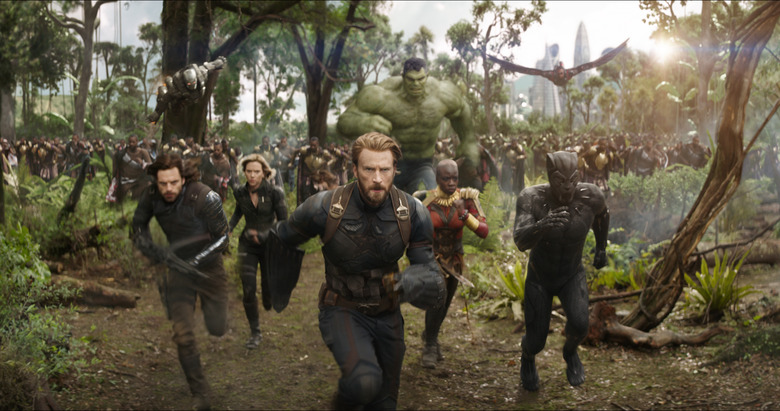 Ask, and ye shall receive a faster release of Avengers: Infinity War. At least, you will if you're Robert Downey Jr.
In an unforeseen turn of events, the Avengers Infinity War release date has been moved up from its initial May 4 date to April 27, 2018.
Merely three months before Infinity War was scheduled to fly into theaters, Marvel Studios has bumped up the release date for the ensemble superhero sequel to April 27. And apparently, it's all at the (very strategic) request of Robert Downey Jr.
Read the entire unbelievable thread below.
Any chance I could see it earlier?

— Robert Downey Jr (@RobertDowneyJr) March 1, 2018
Great. With friends?

— Robert Downey Jr (@RobertDowneyJr) March 1, 2018
The entire world?

— Robert Downey Jr (@RobertDowneyJr) March 1, 2018
That's a FANTASTIC idea! Done.

Avengers: #InfinityWar in theaters everywhere April 27th. pic.twitter.com/n5JhJWpnqc

— Marvel Studios (@MarvelStudios) March 1, 2018
You guys wanted it. You got it. See you there April 27th. pic.twitter.com/DsllNH2ko6

— Robert Downey Jr (@RobertDowneyJr) March 1, 2018
It's an ingenious piece of marketing. But Avengers: Infinity War was already one of the most anticipated movies of 2018. What was the point of moving it up a few weeks?
Well, in May it would have been going up against other box office heavyweights like Deadpool 2 on May 18 and Solo: A Star Wars Story on May 25. With its earlier release date on April 27, Infinity War's stiffest competition would be the animated Animal Crackers, Geostorm director Dean Devlin's crime thriller Bad Samaritan, Amy Schumer's I Feel Pretty, and the Paula Patton thriller Traffik. Other films planned for release that day include the independent drama Disobedience starring Rachel McAdams and Rachel Weisz, Kings starring Halle Barry and Daniel Craig, and something called Selfie Dad.
So there's no question that Infinity War would be the biggest release that weekend, but is the shift really necessary? Honestly, it's smarter to get the Marvel Cinematic Universe tentpole away from Deadpool 2 and Solo — allowing the Avengers sequel to have longer legs at the theater, and rake in as much box office love as possible. And perhaps Marvel wants to take advantage of the attention that the record-breaking Black Panther has attracted. With all eyes on Wakanda, it's a smart move to remind audiences that they can see T'Challa and company again in just two months.
Here is the synopsis for Avengers: Infinity War:
Iron Man, Thor, the Hulk and the rest of the Avengers unite to battle their most powerful enemy yet — the evil Thanos. On a mission to collect all six Infinity Stones, Thanos plans to use the artifacts to inflict his twisted will on reality. The fate of the planet and existence itself has never been more uncertain as everything the Avengers have fought for has led up to this moment.
Avengers: Infinity War will now hit theaters on April 27, 2018.