How Oscar Screeners Were Accidentally Invented By A Desperate Director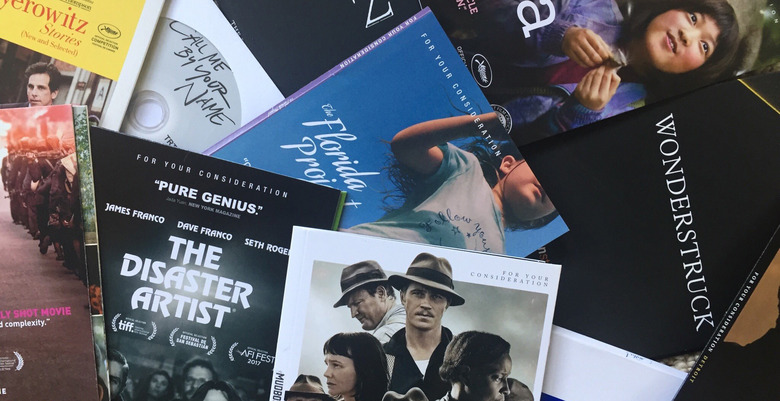 It's a privilege only a select few know: the dingy envelope, the annoying watermark, the prestigious movies that can be watched comfortably at home. The coveted Oscar screeners.
Screeners have been a staple of the Academy Awards circuit for decades now, but does anyone know how it started? It turns out it all began with a desperate filmmaker, a chaotic distributor, and some free VHS rentals.
Before the 1990s, it wasn't common for distributors to send out screeners of Oscar hopefuls. Instead, the only way to watch the movies that could potentially be up for Oscar nominations was through large screenings held for the members of the Academy.
But that all changed in 1985.
The LA Times reported the accidental invention of the Oscar screener, describing how director John Boorman was desperate to get his critically acclaimed film The Emerald Forest in front of Academy members, but with his distributor in disarray, there was no hope of getting a theatrical screening. With no for-your-consideration Academy Awards campaign from the distributor, Boorman feared it would be overlooked. So, he took matters into his own hands.
Boorman arranged for several hundred VHS copies of The Emerald Forest to be made available for free to Academy members at their local VHS stores. He split the $15,000 cost of distributing the VHS tapes and taking out ads in trade publications with the distributor. Boorman told the LA Times:
"It was just a rather desperate act of trying to get some recognition for the picture. I was aware that it hadn't been done before."
LA Times journalist Daniel Miller posted a picture of the publication's bemused reaction to Boorman's unique campaign back in 1986.
We found in our archives the 1986 article in which Boorman outlined his gambit. We called it "one of the oddest offers in the annals of Oscar campaigning." But as screeners proliferated, people seem to have forgotten the backstory. Here's the original piece: pic.twitter.com/BXp1pTaD1c

— Daniel Miller (@DanielNMiller) March 1, 2018
Sadly, the gambit didn't work out. The Emerald Forest received no Oscar nominations ("It made the picture look small," Boorman said), but it did change the awards circuit forever.
In a few years Tri-Star Pictures and Orion Pictures started sending awards screeners. By 1990, heavyweights Walt Disney Co. and Universal Pictures had joined in. Now, it's the preferred way for Academy members to see potential Oscar movies. (And the preferred way that pirates steal copies of Oscar favorites.)
It's a quirky origin story for the Oscar screener — one that Boorman is not flattered, but not surprised by. "Most things in filmmaking happen by accident," he said.