'The Endless' Trailer: There's Something Out Here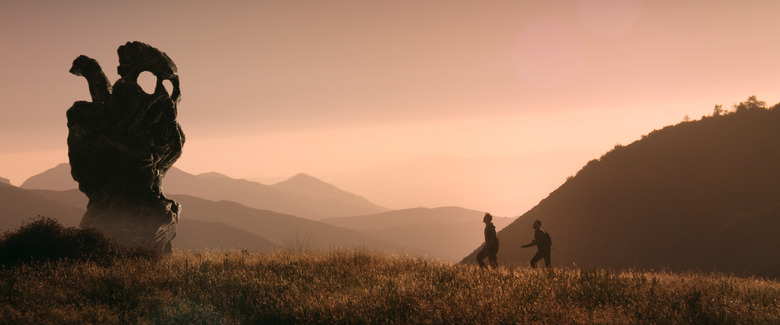 A new The Endless trailer has arrived, loaded with pull-quotes, intense music, and what looks to be one of the most interesting genre thrillers of the year. Watch the new The Endless trailer below.
Give me this movie now, please. The Endless is another one of those festival circuit movies that I've somehow managed to miss seeing for months. I'm dying to see this thing, folks, especially because it's from Justin Benson and Aaron Moorhead, the filmmakers behind the phenomenal romantic horror movie Spring. The Endless follows two brothers (played by Benson and Moorhead) who return to the cult they once escaped from, only to learn the cult's crazy ideas might not be so crazy after all. Please watch this new The Endless trailer and marvel at how cool the movie looks.
The Endless Trailer 
Ugh, that looks really good. Best of all: while this trailer offers up plenty of alluring imagery, it never tips its hand. The bulk of the film still remains a mystery, which will no doubt make your viewing experience of the movie all the more rewarding. In short, this is an incredibly well-edited trailer.
In her review of The Endless for /Film, Jamie Righetti proclaimed that the film is destined to be one of "your new favorite horror movies" and wrote:
"The Endless isn't just terrific – it's poised to be that breakout genre hit that It Follows and The Babadook were in past years. This isn't just hype. The film is sharply written, smart and funny. It's tense and uncertain at moments, but it's not overtly scary, which actually works in its favor. There's no pressure to deliver big scares and there's no let down when it doesn't and it allows the film to just be really good."
That's high praise, but I have no doubt it's accurate. Benson and Moorhead have fast become two of the most captivating indie horror filmmakers in recent years. Besides the excellent Spring, they also helmed the weird, engrossing 2012 film Resolution. I can't wait to see The Endless, and I can't wait to see what they do next.
The Endless opens in NYC on April 6 at the IFC Center, and in LA April 13 at the Arclight, with national rollout later in April.
Following their Lovecraftian modern cult classic SPRING, writer/directors Justin Benson and Aaron Moorhead star as brothers who receive a mysterious message inspiring them to pay a visit to the cult they escaped as children. As unsettling events and phenomena begin to occur, the brothers are forced to question whether the cult's supernatural beliefs might not be entirely made up – and if, now that they've returned, they'll be allowed to leave again.