'Jessica Jones' Season 2 Featurette: The Super Women In Front Of And Behind The Camera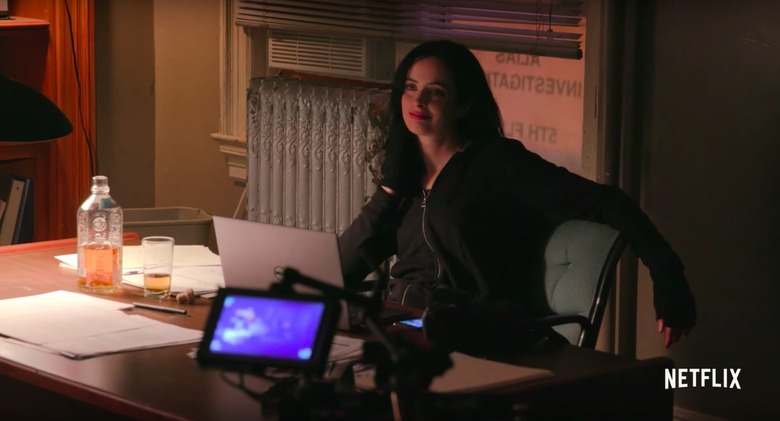 Jessica Jones is unlike any female superhero we've seen before. And it's thanks to the fantastic women in front of and behind the camera that we're getting to see her for a second season in Netflix's Jessica Jones.
The newest featurette for the best Marvel Netflix series spotlights the women of Jessica Jones. Not just its incredible, multi-faceted characters played by Krysten Ritter, Rachael Raylor, and Carrie-Anne Moss, but its bold creator and showrunner Melissa Rosenberg.
Jessica Jones Season 2 Featurette
Jessica Jones never asked for this. To be a hero, to be an idol to young kids who ask if she knows Captain America. But unfortunately, as one of the few female superheroes on screen, she has to shoulder that burden. But she won't carry it alone.
Alongside Krysten Ritter's scowly Jessica stands her best friend, the noble and idealistic Trish Walker (Taylor) and her austere boss Jeri Hogarth (Moss). And behind the camera stand a whole crowd of female directors, crew members, and creators. The most important of which is Melissa Rosenberg, who created the show and helped win the first season its critical acclaim and cultural impact. For season 2, she plans to emphasize much of the same gritty realism that the first season wielded so well. In the new Jessica Jones featurette, Rosenberg says:
"It's not necessarily about a women's perspective. It's about a balanced perspective. A powerful female protagonist, or female director or female showrunner, that shouldn't be unique."
"It's not about being a superhero. It's about being a human being in the world," Rosenberg adds.
The entire featurette is incredibly empowering, though it curiously de-emphasizes much of Jessica's comic book origins. I noticed the last few trailers doing so as well, and wonder if its because of Jessica Jones' immense popularity around the non-superhero show crowd. But that shouldn't be too concerning because, like Chris Evangelista says in his /Film review of Jessica Jones season 2, "the show's main draw remains Ritter and her marvelous lead performance. Equal parts droll, damaged and fierce, Ritter is so damn charismatic that she's able to carry most of the lopsided season with seeming ease, and almost (almost) distract you from plotting issues."
Here is the official synopsis for Jessica Jones season 2:
New York City private investigator Jessica Jones (Krysten Ritter) is beginning to put her life back together after murdering her tormenter, Kilgrave. Now known throughout the city as a super-powered killer, a new case makes her reluctantly confront who she really is while digging deeper into her past to explore the reasons why.
Jessica Jones also stars Rachael Taylor, Carrie-Anne Moss, and Eka Darville. Newcomers include Twilight's Leah Gibson as Ingrid, and Tumbleweeds' Janet McTeer.
Jessica Jones season 2 will premiere on Netflix on March 8, 2018.