'Men In Black' Reboot Wants To Recruit Chris Hemsworth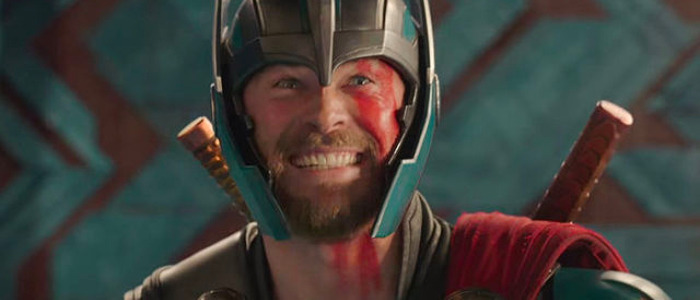 Chris Hemsworth, known for his abs and surprisingly great comic timing, might be joining the Men in Black reboot. The Thor star is in early negotiations to join the new take on the 1997 sci-fi comedy, with F. Gary Gray in talks to direct.
Here come the Men in Black. Again. Sony is ready ready to re-launch their hit sci-fi comedy series, and they might have found their new star. The Hollywood Reporter confirms that Chris Hemsworth is in negotiations to join the Men in Black reboot. Rather than remake the original film, this new Men in Black is being said to be akin to Jurassic World – creating new characters that piggy-back off a previously existing franchise. THR reports the film will be set in London, and Sony wants to cast "a white character, a black woman, and an older man" for the three leads. Not sure who they could cast for the "older man", but I wouldn't be surprised if Sony is hoping to land Tiffany Haddish to co-star along Hemsworth.
The original Men in Black hit theaters in 1997, and became a box office sensation. The film came on the heels of Independence Day, and helped cement Will Smith as a bonafide blockbuster star. In the original, Smith played a New York City cop who is recruited to join a secret government organization that polices extraterrestrials on earth. Smith's comedic sensibilities were paired with the dry, wry work of co-star Tommy Lee Jones to great effect. The film still holds up, which is more than you can say for the dreadful sequel Men in Black II. The franchise slightly redeemed itself with the surprisingly good Men in Black 3, featuring Josh Brolin doing a spot-on Tommy Lee Jones impression. By then, however, the series felt as if it had run out of steam.
Remember That 21 Jump Street/Men In Black Crossover?
For a period, Sony was considering rebooting the series as a cross-over film with the 21 Jump Street franchise. James Bobin (The Muppets, Alice Through the Looking Glass) was in early talks to helm the movie, with 21 Jump Street's Channing Tatum and Jonah Hill set to star. The project never really got off the ground, and Jonah Hill later said, "I doubt that movie will get made."
Now, Sony is set to reboot the series minus the 21 Jump Street idea. Adding Hemsworth to the cast is a good move. Ghostbusters confirmed Hemsworth had surprisingly great comic timing, and his work in Thor: Ragnarok showed the actor could balance both comedy and action at once. The Men in Black reboot is currently set to open June 14, 2019.