Disneyland Paris $2 Billion Expansion To Include Marvel, Star Wars, And Frozen Lands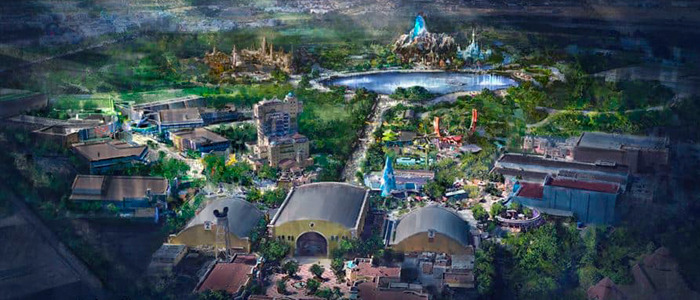 Walt Disney Company CEO Bob Iger has built a name for himself as an acquisitions guy, pulling Pixar, Marvel, and Lucasfilm under the Disney umbrella during his tenure. But he's also concentrated on expanding the footprint of Disney theme parks outside the United States. Shanghai Disney has been his multi-billion dollar baby from the beginning, and now he's dropping more than $2 billion into a huge multi-year Disneyland Paris resort expansion that will include Marvel, Star Wars, and Frozen lands.
Iger announced details of the Disneyland Paris expansion earlier today, revealing that the company will spend two billion Euro (nearly 2.5 billion dollars) to transform the current Disney park, adding three major new areas, new attractions, and live entertainment experiences. A new lake is also being added as a central point that connects all three of the new areas (you can see it in the concept art above).
"We're very excited about the future of Disneyland Paris and continue to invest in its long-term success," Iger said. "The resort is already the leading tourist destination in Europe, and the transformative expansion we announced today will add even more of our beloved characters and unparalleled storytelling to create new lands, attractions and entertainment that further elevate the guest experience and drive new opportunities for tourism in this dynamic region."
The new expansions will gradually roll out beginning in 2021, with new developments and existing experiences being reworked to fit the new plan; for example, the park's Aerosmith Rock 'n' Roller Coaster is being revamped into a "high-speed, hyper-kinetic" Iron Man attraction. Disney is still holding details close to the vest about what else we can expect to see, but with Star Wars: Galaxy's Edge coming to Orlando next year, it was only a matter of time before that concept reached the other Disney parks.
Frozen already has a ride at Walt Disney World's Epcot, and Disney has already announced both Frozen and Marvel expansion plans for Hong Kong Disneyland, with an Ant-Man and the Wasp attraction replacing Buzz Lightyear's Astro Blasters. But without any specific details about the newly-announced lands heading to Disneyland Paris, it's unclear what Disney's approach will be here. Could this new Star Wars land provide a wholly unique set of rides? The Star Wars lands in Florida and California are virtually identical, so it's still up in the air.
Disneyland Paris has been a park in search of an identity for years, and a hugely expensive overhaul might be just what it needs to skyrocket to the next level. It worked for California Adventure, so why not in the City of Love?