'Fahrenheit 451' Trailer: Michael B. Jordan Wants To Burn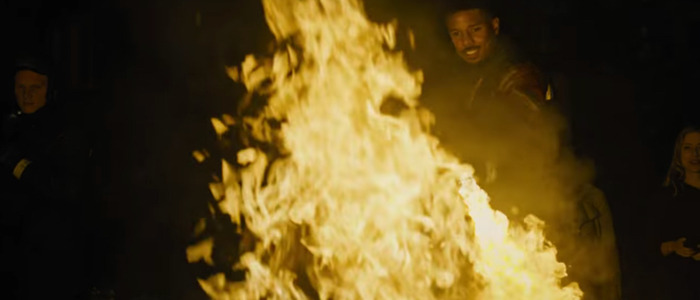 Ray Bradbury's classic novel Fahrenheit 451 is getting a sleek, neon-lit, star-studded update courtesy of HBO. The new Fahrenheit 451 trailer features Michael B. Jordan and Michael Shannon as futuristic fireman who burn books for a living. Sweat and tension follow.
"Have you ever seen a physical book before?" Michael Shannon asks with his trademark intensity. "Do you want to know what's inside? Insanity." Thus begins the extremely effective Fahrenheit 451 trailer, giving us our first real glimpse of HBO's new take on Ray Bradbury's classic novel. There's style aplenty on display here, and there's the added bonus of Shannon and Michael B. Jordan in the lead roles. Check it out.
Fahrenheit 451 Trailer
The film, like Bradbury's novel, is set in a totalitarian future where books are outlawed, and "firemen" are tasked with the job of finding any remaining written works and torching them for the greater good. Michael B. Jordan – who is currently making audiences fan themselves when he takes his shirt off in Black Panther – plays Guy Montag, a young fireman who begins to have serious doubts about his profession.
This new take on Fahrenheit comes from Ramin Bahrani, who directed Shannon in the indie film 99 Homes. Bahrani wrote the script with Amir Naderi. "I have always loved Ray Bradbury's prophetic novel Fahrenheit 451," Bahrani said when the project was announced. "Two years ago, as I looked at the world around me, it seemed like the ideal time to do a modern interpretation. I am grateful to HBO for helping me bring my vision of the film to audiences with this incredible cast."
Fahrenheit 451 was previously adapted in 1966 by French New Wave filmmaker François Truffaut. Bradbury's story has also been often imitated by similar totalitarian society flicks, most notably the goofy-as-hell Equilibrium, which basically told the same exact story but also added gun-fu. I'm very curious to see what Bahrani does with the material, especially since he's working with Jordan and Shannon – two actors who are fantastic in everything they do. Fahrenheit 451 also stars Sofia Boutella (The Mummy, Atomic Blonde).
Look for Fahrenheit 451 on HBO in May.
Starring Michael B. Jordan and Michael Shannon, Fahrenheit 451 is based on Ray Bradbury's classic novel. In a future where the media is an opiate, history is rewritten and "firemen" burn books, Jordan plays Montag, a young fireman who struggles with his role as law enforcer. Battling his mentor, fire captain Beatty, played by Shannon, he forsakes his world in an effort to regain his humanity.