'Thoroughbreds' Clip: Learn The Technique Behind Fake Tears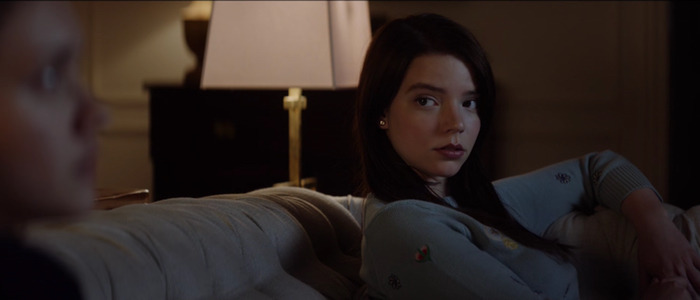 In Thoroughbreds, two childhood friends reunite, and promptly bring out each other's destructive tendencies. The black comedy stars indie film stars Anya Taylor-Joy and Olivia Cooke. Below, a Thoroughbreds clip introduces you to "the technique."
Thoroughbreds has been a long time coming to the big screen. The dark comedy has been making the festival circuit rounds for a while now, having originally premiered at the 2017 Sundance Film Festival. As the film nears its March release date, a new Thoroughbreds clip has arrived. In it, stars Anya Taylor-Joy (The Witch) and Olivia Cooke (Me and Earl and The Dying Girl) bond over an old movie, and discuss the intricacies of fake tears.
Watch the Thoroughbreds Clip
Thoroughbreds also stars Paul Sparks, Francie Swift, Kaili Vernoff and the late Anton Yelchin. The film marks the directorial debut of writer-director Cory Finley. Speaking with Borrowing Tape, Finley discussed what inspired him to write the film:
"I often start writing plays from an image and the first image had to do with a violently euthanized horse and if I were to psychoanalyze myself, it would probably stem from the idea of putting pets to sleep as a kid. That was my first experience with death and it's something that's very intense, like a mercy killing that's primal and ancient. Something about that image stuck with me and freaked me out. I have a very low tolerance for violence myself, but I just followed that thread that led me to create the two main characters."
The dark comedy has garnered a string of positive reviews (it's currently sitting at 84% on Rotten Tomatoes), with critics praising the film for being "Tense and tightly coiled," and describing it as "A razor-sharp horror/satire that plays like an update of Heavenly Creatures for the era of the Kardashians."
Thoroughbreds opens March 9, 2018.
Childhood friends Lily and Amanda reconnect in suburban Connecticut after years of growing apart. Lily has turned into a polished, upper-class teenager, with a fancy boarding school on her transcript and a coveted internship on her resume; Amanda has developed a sharp wit and her own particular attitude, but all in the process of becoming a social outcast. Though they initially seem completely at odds, the pair bond over Lily's contempt for her oppressive stepfather, Mark, and as their friendship grows, they begin to bring out one another's most destructive tendencies. Their ambitions lead them to hire a local hustler, Tim, and take matters into their own hands to set their lives straight.