'A Wrinkle In Time' Clips And Featurette: Meet Mrs. Who, Mrs. Which, And Mrs. Whatsit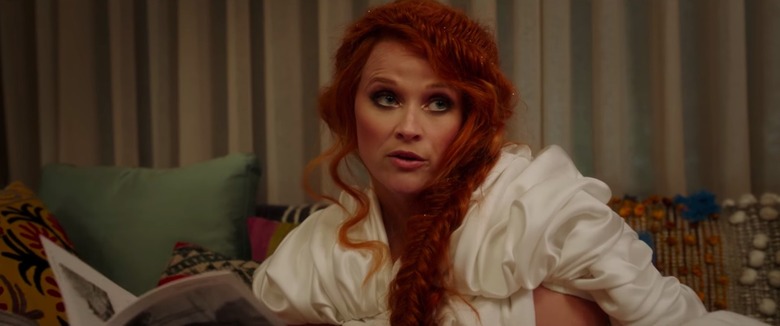 Wondering about the who, which, and whatsit of A Wrinkle in Time? Well, the newest clips, TV spots, and featurettes for the upcoming Disney sci-fi film are here to answer your questions. Kind of.
Specifically, your questions about Mrs. Who, Mrs. Which, and Mrs. Whatsit, the celestial beings played by Mindy Kaling, Oprah Winfrey, and Reese Witherspoon, respectively. While the marketing for the film has been focused on Storm Reid's Meg Murry, we can now gain a better idea of who these glamorous, inhuman beings are.
A Wrinkle in Time Clip
Reese Witherspoon lends a playful, eccentric air to her Mrs. Whatsit, who cryptically refuses to answer any of Meg or Mrs. Murry's (Gugu M'Batha Raw) questions about why this beautifully-dressed stranger has just walked into their home. The brief scene doesn't give you much information — except that Meg's little brother Charles Wallace (Deric McCabe) is a genius — but it is a tantalizing introduction to the celestial beings who will guide Meg on her journey to find her missing scientist father (Chris Pine).
It's a great day for these characters, who get a featurette spotlighting their ethereal costumes and hair design. Because it takes a lot of work to make a celestial being.
The glamorous costumes and elaborate hairstyles all have a purpose. Whether it's the flowing florals of the young Mrs. Whatsit, the Eastern-inspired fabrics of Mrs. Who, and the structured metallics of Mrs. Which, everything acts as a reflection of each of their personalities.
In the featurette, director Ava Duvernay gives gushing praise to costume designer Paco Delgado as well as head hair stylist Kim Kimble and make-up designer LaLette Littlejohn.
It all comes together in the latest TV spot for A Wrinkle in Time:
Based off of Madeleine L'Engle's 1962 novel of the same name, A Wrinkle in Time is a highly anticipated fantasy sci-fi that looks to boast dazzling visuals and a rich story about family. Here is the official synopsis:
Meg Murry and her little brother, Charles Wallace, have been without their scientist father, Mr. Murry, for five years, ever since he discovered a new planet and used the concept known as a tesseract to travel there. Joined by Meg's classmate Calvin O'Keefe and guided by the three mysterious astral travelers known as Mrs. Whatsit, Mrs. Who and Mrs. Which, the children brave a dangerous journey to a planet that possesses all of the evil in the universe.
A Wrinkle in Time also stars Michael Peña and Zach Galifianakis. The movie hits theaters on March 9, 2018.