How Disney California Adventure Unexpectedly Became The Future Of Theme Parks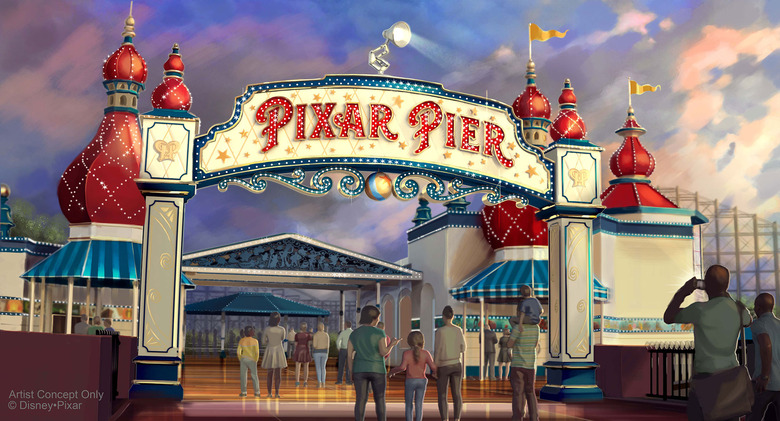 The future of the Disney California Adventure theme park is a bright one. At D23 this past summer, it was announced that Paradise Pier, DCA's throwback to seaside boardwalks and Victorian-era amusement parks, would be getting a makeover – which also symbolically marks the end of a long journey for a theme park that's been through hell and back.
Among the renovations and reimaginings are four new neighborhoods that will transform Paradise Pier into Pixar Pier. These sections will be represented by notable IP from Disney and Pixar. Toy Story Mania, already a popular staple of the pier, makes up part of the first neighborhood themed for the Toy Story franchise.The other three will be themed for The Incredibles, where California Screamin' will be transformed into The Incredicoaster; Inside Out, which will feature a new attraction not yet announced; and each of the 24 gondolas on Mickey's Fun Wheel will feature a different Pixar character (in a very aesthetically smart move, the wheel's Mickey Mouse centerpiece is staying put). The nearby boardwalk games will also be redesigned with character themes. Starting on April 13, Pixar Pier will open for a limited-time during the first-ever Pixar Fest, which also introduces a new Incredibles-themed float to the "Paint the Night" parade and sees the return of the Pixar Play Parade. The reimagined land will officially debut on June 23.
This transformation is groundbreaking, but it is almost overshadowed by what it represents: Disney California Adventure's epic journey of redemption.
From the very start, DCA suffered from an identity crisis. Upon its grand opening in early 2001, criticisms of the park ranged from complaints about a lack of attractions, to attacks on its foundational theme of "The California Dream." Fast forward to today, the park that was once ridiculed by The Simpsons for its lack of popularity (twice in the same episode) became California's number one most Instagrammed place in 2017 (ninth overall in the U.S.).
What could get lost amidst exciting development news is how the park has been, finally, fulfilling promises and goals that were first made upon its conception. In order to appreciate what lies ahead for DCA, it's essential to understand its history of failure and success, criticism and praise.
The Second Gate
"You know, Mickey, I think this is the beginning of a beautiful theme park."
Emphasis on the word: "beginning." This nod to the famous quote from Casablanca was spoken by then-Disney CEO Michael Eisner at the end of a TV special produced to promote the house of mouse's new theme park in Anaheim. The DCA that's showcased is incredibly different than the park we know today. Before there was Guardians of the Galaxy – Mission: BREAKOUT!, before there was even The Twilight Zone Tower of Terror, there was just parking spaces.
The 55-acre parking lot across from Disneyland had long been envisioned as the future home of Anaheim's "second gate." The first half of the decade had been spent working on Westcot, a west coast take on Disney World's Epcot Center, along with other speculative parks. After these plans proved too ambitious and expensive for the company, Eisner needed to hear new ideas. In the fall of 1995, he summoned executives and Imagineers to Aspen. Among several pitches within those few days in Colorado was one concept that resonated with Eisner and... that was kind of it. For better or worse, the fate of Disneyland's sister park was sealed.
"The whole idea is that we're celebrating the dreams of California – the special qualities that draw people here – and so we're trying to take and three-dimensionalize each of those qualities," Disney Imagineer Barry Braverman told the LA times in 2001.
While recreating several of the state's iconic figures and landmarks, the premise was also to offer samples of different California experiences. This idea would be mocked. What's the point of a model of the Golden Gate Bridge when people can go see it in that very state?
Well, hold-up. Anaheim to San Francisco is at least a seven-hour drive. Heck, if a family on vacation was staying in Hollywood, chances are good they might not even venture past Westwood. So, there's that. Overall, the park's vision had legs, but it lacked source material, and therefore an obvious execution in pulling it off. Celebrating California could mean a lot of different things, and it's actually the park's dangerously broad theme that what would allow for the scope of future reimaginings.
When you wish upon a star?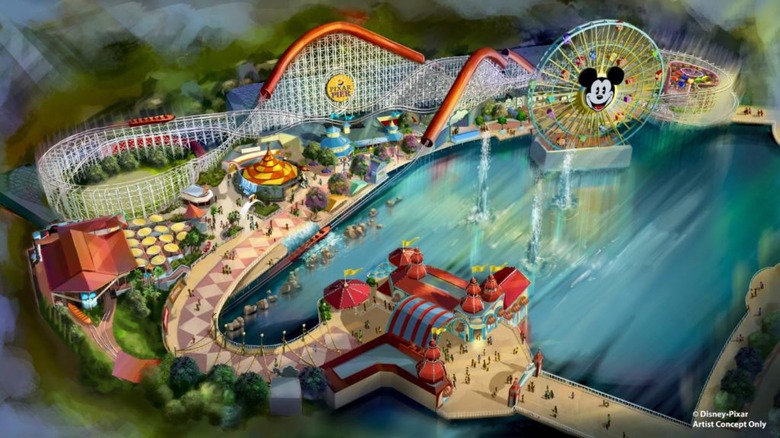 In February of 2001, the park had its opening ceremony, where Eisner gave the following remarks on what everyone who passes through the turnstiles could expect:
"To all who believe in the power of dreams, welcome. Disney's California Adventure opens its golden gates to you. Here we pay tribute to the dreamers of the past: the native people, explorers, immigrants, aviators, entrepreneurs and entertainers who built the Golden State. And we salute a new generation of dreamers who are creating the wonders of tomorrow, from the silver screen to the computer screen, from the fertile farmlands to the far reaches of space. Disney's California Adventure celebrates the richness and the diversity of California... its land, its people, its spirit and, above all, the dreams that it continues to inspire."
That's all great and everything, but a couple of things should be noted.
DCA deserves all of the credit in the world for building an entire park on a very modest budget. In fact, it's clear most of DCA's initial problems and criticisms can be blamed on its $600 million price tag, which even for 2001 was a pretty low figure to create an entire world from scratch – especially with Disney's legendary high standards for creativity and quality.
"We tried to do some new things and push the envelope," said Paul Pressler in 2002. As then chairman of Disney Parks and Resorts, he also shepherded DCA with Braverman since that first meeting in Aspen. "It turned out our guests want what we traditionally have given them."
People really didn't like the park and many of their complaints have only become more valid in retrospect. As they walked past the Bountiful Valley Farms or Superstar Limo, there was a lack of magic. A lack of Disney. Instead of complementing its sister park, it became the weird step-child no one knew what to think of. Guests complained about the lack of attractions and local media critics happily pointed out that the park is especially disappointing considering its original design was a beautiful version of Epcot for the west coast.
However, the young DCA deserves a point for its boldness. Braverman and other Imagineers were attempting an almost completely IP-free park. This creative direction would result in, among other unique choices, original characters like Whoopi Goldberg's "Califia" in its "Golden Dreams" film presentation, and eateries such as "Bur-r-r Bank Ice Cream." They swung for the fences with varying results.
But what did it have? Paradise Pier.
"We wanted it to have kind of a nostalgic look back on the golden days of theme parks, but we also wanted to utilize state-of-the art technology for everything," said Braverman.
The boardwalk, ferris wheel, roller coaster, and man-made lake amalgamate into what is arguably the best scenic view within the Disneyland resort, which has no doubt contributed to DCA's stellar Instagram stats. It also fulfilled one of the park's earliest goals, which was to enhance the Disneyland experience. A wide-open area, it allows guests to breathe and feel less claustrophobic, while simultaneously creating an immersive experience that's bigger than any region within the flagship park.
As guests enter the re-imagined land this summer, it will be clear where the heart of the park can still be found and where it's always been. While a slew of IP reimaginings are introduced, the pier itself will shine as DCA's most original and successful creation. The iconic, picturesque view is sure to become synonymous with the park the same way Sleeping Beauty Castle is for Disneyland or Spaceship Earth is for Epcot.
The pier and bay have remained one of the most untouched locations in the park over the years, acting as a touchstone for those who believed that with patience, money, and a fresh creative direction, the park still had a chance to live up to its potential.
"...as long as there's imagination left in the world."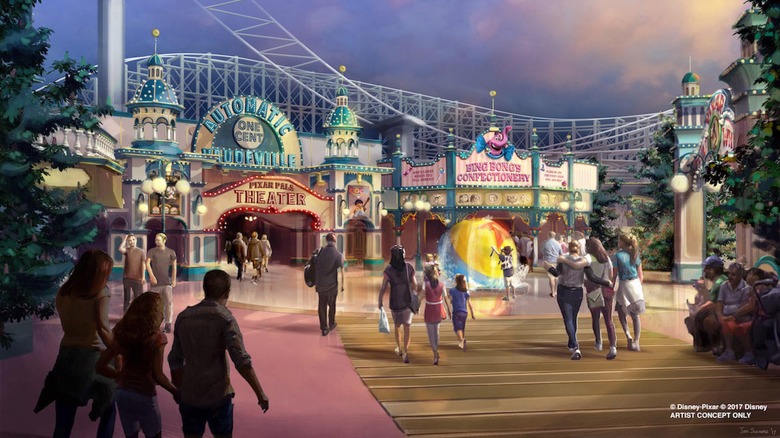 From 2007 to today, Disney California Adventure would drop a whole lot more than just the "s" and apostrophe in its name. After Michael Eisner left the company in 2005, then-head of ABC Robert Iger was hired on as CEO, and brought on a billion dollar investment two years later.
Numerous attractions, rides, restaurants, and stores would close at varying points during this time ("Soap Opera Bistro," a restaurant themed for daytime dramas, lasted less than two years before it fell into a coma it would never actually awake from). Much of what the park seemed to be missing was some of that Disney magic, something reminiscent of what the founder originally injected into Disneyland. As it turned out, the park didn't need Walt's input. It needed his life story.
In 2012, Iger gave these remarks at the "re-opening" ceremony for DCA, which echoed Eisner's speech from 11 years previously:
"To all who come to this place of dreams, welcome. Disney California Adventure celebrates the spirit of optimism and the promise of endless opportunities, ignited by the imagination of daring dreamers such as Walt Disney and those like him who forever changed- and were forever changed by- The Golden State. This unique place embraces the richness and diversity of California... Its land, its people, its stories and, above all, the dreamers it continues to inspire."
The new IP the park implemented was Walt Disney, the man. His personal California dream that DCA could branch off from. Is there a more famous California dreamer than Walt himself? Well, if there is, it's Steve Jobs, the man who bought Pixar in 1986, and turned a computer hardware company into an animated storytelling empire. After the creation of Pixar Pier, DCA will give you dreamers that can do both.
Back in 1996, legendary Imagineer Marty Sklar told the LA Times that part of DCA's attempt to capture California was representing a part of Hollywood that doesn't exist anymore:
"You know what Hollywood Boulevard is like now, and you can't get into most of the studios. The whole Walt Disney story of coming out from Kansas City as a 21-year-old, that's a real California success story. All of these things add up to something larger in people's minds than what actually exists here."
Later, the park doubled down on Sklar's remarks. A complete redesign transformed DCA's entrance plaza into Buena Vista Street, which is filled with callbacks and homages to 1920s Hollywood.
"The street resembles what Walt Disney would have experienced when he first arrived in Hollywood in 1923," Imagineer Lisa Girolami said amidst the construction in 2012. "In keeping with that, what we've done is we've created this wonderful street that has beautiful Los Angeles historic icons recreated for our guests."
By this point, enough time had passed that Disney also had no problem referring to the refurbishment as an apology tour. "We knew that California Adventure didn't measure up to what we knew it could be and should be," said Thomas Staggs, then chairman of Disney Parks and Resorts, in 2012. "So we set out to change that."
Also debuting in 2012 was Cars Land. It's a near-perfect execution of theme park design, to the extent where you don't mind hearing Larry the Cable Guy's voice for an entire ride. Entering this life-size Radiator Springs has got to be a mind blowing experience for children who are fans of the Cars franchise. Come nighttime, the glow of Flo's Cafe and other neon signs light up the region's main street, making it one of the best places to take a stroll as your Disney experience comes to an end.
Cars Land is also a great example of DCA's habit of falling ass-backwards into representing the history of California. First, there was the Route 66, desert-town aesthetic in Cars and subsequently Cars Land. Now, the new queue station for The Incredicoaster will be modeled after the movie's mid-century modern look, which just so happens to highlight one of California's most notable architectural styles. Hopefully, the upcoming Marvel-themed land can take a note from this trend and replicate the home of Tony Stark. The production designer of the Iron Man films has stated he found inspiration for the circular house from famous California architect John Lautner. After that, DCA will just need a tribute to craftsman style to cover its architectural bases.
These aesthetic details certainly wouldn't justify a label of celebrating California by themselves, but DCA is no longer about literal interpretations. The park's theme – "The California Dream" – is more of a direction to aspire toward and less of a firm mandate. This is what gave the second gate a second chance.
Soarin' Over Expectations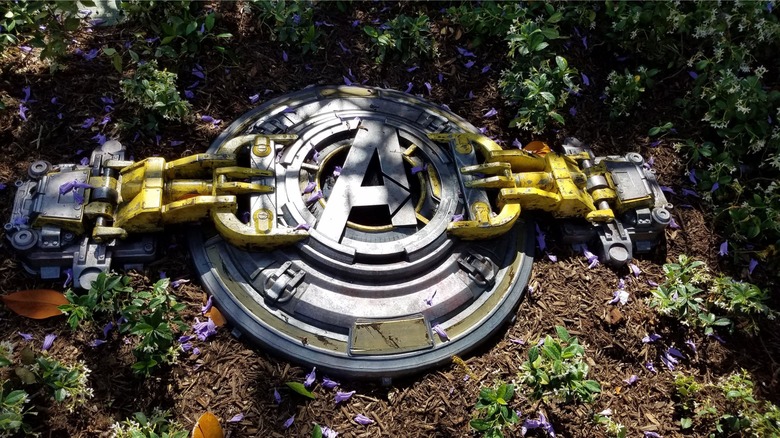 On top of representing the history of California and those who have gone after their dreams in the Golden State, there was another mission for Disney California Adventure that was more important than any other. The end goal for DCA was to turn Anaheim into what Disney executives referred to as a "total destination resort." Meaning... Disney World. A location with multiple parks that families will need more than one day to enjoy, which necessitates staying in Disney hotels and eating at Disney restaurants. Strides have been made, and Downtown Disney has already premiered "Star Wars: Secret of the Empire." This adds VR to Disney's roster of completely immersive experiences, bringing the Disneyland Resort one step closer toward becoming a total destination.
In hindsight, DCA became the little theme park that could. Not only has it earned a seat at the Disney table, the park has its finger on the pulse of the future. So says Bob Chapek, the current chairman of Disney Parks and Resorts, at the same D23 event where Pixar Pier was announced:
"Soon the Guardians will be joined by Spider-Man and the Avengers in what will become a completely immersive superhero universe at Disney California Adventure."
This was announced four months before there were even any rumblings of Disney buying Twentieth Century Fox and a wide collection of superhero rights along with it. Suffice to say, the possibilities for rides and attractions will only continue to expand.
This prospective "Marvel Land" could change everything. Along with having the entire Marvel catalog to utilize, it's been suggested the attractions could have their own interconnected story cannon, akin to the Marvel Cinematic Universe. While Star Wars: Galaxy's Edge is certainly a game-changer all by itself, an entire park land dedicated to superheroes has the potential to take theme park fandom to a whole new level.
Much to my surprise, I did not have a lot of free time on a recent trip to DCA, even with no park hopping. There was a solid fastpass strategy in place, and I still only had just enough time to fit all of the attractions I wanted to do in a 14-hour visit to the park. With future reimaginings, I suspect there will be fans who want to go on every Marvel attraction, and everything else in the park will become the "if we have enough time" rides. DCA has come a long way since the cries from critics about the park being boring.
The park started from the bottom. It had an onslaught of terrible reviews – some even coming from Disney's own Imagineers – that damaged its reputation for years. Today, the park no longer suffers from a lack of direction or identity, and with the integration of Marvel in the years to come, I doubt it's going to need to worry about that pesky budget ever again. The medal DCA deserves for "Most Improved" should be as big as Mickey's Fun Wheel. A decade and a half later, through persistence and imagination, this park doesn't just celebrate "The California Dream." It became one.