'Goosebumps' Sequel Adds 'Jumanji' And 'It' Stars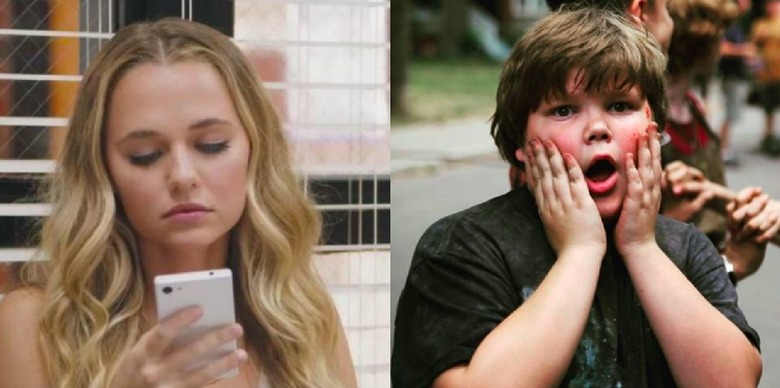 Things are starting to move forward with Goosebumps 2, with Sony Pictures expanding the Goosebumps sequel cast.
Four young stars have been cast in the lead roles of Goosebumps 2. And two of them are familiar faces to the movie audiences, having starred in two of the biggest blockbusters of 2017.
Sony Pictures has cast Jumanji: Welcome to the Jungle star Madison Iseman and It star Jeremy Ray Taylor in Goosebumps 2, along with Ben O'Brien and Caleel Harris, according to Variety.
Goosebumps 2, which will be helmed by The DUFF and When We First Met director Ari Sandel, will be a direct sequel to the 2015 Goosebumps adaptation starring Jack Black as R.L. Stine, the horror author whose creations start coming to life. But Black has not been confirmed to return for the sequel.
Iseman recently appeared on the big screen in the monster hit Jumanji: Welcome to the Jungle, where she played the narcissistic popular girl Bethany Walker. Iseman has a tight connection to original Goosebumps star Black — he plays her avatar in Jumanji when she and her fellow detention mates are stuck in a mystical video game.
Meanwhile, one of the talented young stars if It, Jeremy Ray Taylor, has his next high profile project with Goosebumps 2. Taylor played Ben Hanscom in It, the overweight newcomer to the small New England town of Derry.
Caleel Harris also has Stephen King ties, having recently starred in the King/J.J. Abrams horror-thriller Hulu series Castle Rock. He may also be recognizable to audiences from his supporting roles in Think Like a Man and its sequel. Ben O'Brien briefly appeared in Manchester By the Sea, but the Goosebumps sequel will be his first lead role in a major motion picture.
The cast for Goosebumps 2 is notably skewing much younger than the first film, which could suggest a more family-friendly approach. But the 2015 Goosebumps was already a fun romp, with Black stealing the show as the beleaguered author, so it's likely shooting for a similar tone. Original stars Dylan Minnette and Odeya Rush don't seem to be returning for the sequel, though there are rumors that Black could still reprise his role as Stine, as well as voicing the villainous puppet, Slappy.
Sony has Goosebumps 2 set to hit theaters on October 12, 2018. Whether it makes that date is anyone's guess.